🍳 Brunch Briefing | The Sublime and Ridiculous at CES
Goop, headless cats, and incels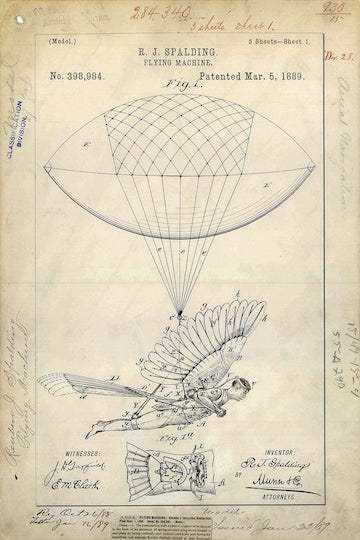 In this week's BB, you'll learn about…
🧠 The liberal Facebook exec hailing Trump's genius
🐶 Headless cats and dog wearables at CES
📊 The KPIs incels track on Tinder
😈 A vendetta against Gwyneth Paltrow
🥣 The holy treat taking over your cereal bowl
🤫 An surfeit of mystery venture jobs
🏖️ Masa's meltdown, Uber's retreat, and Khosla's surf spot
⛅ The final riddlers of 2019, and a fresh challenge

—
🔮 For those that haven't had a chance, check out The Generalist's predictions for 2020. One reader gave this rather lovely endorsement:
"For every written word enthusiast…I recommend jumping in. You'll find the usual sleepy market analysis, draped in pulsing poetry."
Thanks for the kind words, CK! For those of you that read and enjoyed it, please do share with someone you think might take pleasure in it.

---
🐰 Overheard
(Quotes from clever people)

Was Facebook responsible for Donald Trump getting elected? I think the answer is yes, but not for the reasons anyone thinks. He didn't get elected because of Russia or misinformation or Cambridge Analytica. He got elected because he ran the single best digital ad campaign I've ever seen from any advertiser. Period.

On a week when social media's Big Blue captured headlines for banning deepfakes but retaining to their laissez-faire political ads policy, Andrew Bosworth's "Thoughts for 2020" went relatively under the radar. In an admirably digressive memo, the former head of Facebook's ad division touches on John Rawls's "Veil of Ignorance," as well as the moral quandary faced by Galadriel in Lord of the Rings to describe the causes and consequences of the 2016 electoral win.
Ultimately, 'Boz' — often perceived to be a Zuckerberg surrogate — minimizes the impact of foreign interference, Cambridge Analytica, and filter bubbles, focusing instead on the Trump team's mastery of the medium. "Trump just did unbelievable work," Bosworth notes, "the use of custom audiences, video, ecommerce, and fresh creative remains the high water mark of digital ad campaigns."
An intriguing — if self-serving — perspective from inside 1 Hacker Way, as well as a bellwether for the company's behavior in 2020. Unwilling to accept they have a problem, a solution may be a distant dream.
---
✨ The Sublime and Ridiculous
(The noteworthy reveals of CES)


Las Vegas breathed life into a panoply of inventions this week, showcasing deranged, compelling, useless, and engaging visions of the future. In many ways, reminiscent of this collection of US Patents filed between 1871 and 1933. The proposed design for a flying-machine shown above.
---
🖼️ 1000 words
(Something to look at)


Tinder is stoking a radical flame. What started as a post on the subreddit r/dataisbeautiful has spawned its own community. In August of last year, r/tinderdata was set up as a dedicated home for the charts and graphs that had started to flood the 1.4MM-strong Reddit channel. In the time since, it has become a bustling hub for the unlucky in love to commiserate over the leakiness of their dating funnel with one chart showing a user swiping 20K times for 6 matches. It is also a place to share extreme views typical of the incel movement, with accusations of female superficiality and a belief that a 'chin that can cut glass' is the key to finding a mate. The most radical incels advocate the legalization of rape.
Kaitlyn Regehr, a professor at Kent University that specializes in studying incels has found a clear correlation between social media and the popularization of the incel community. It may be that dating apps have a similar effect, embittering young men and supplying data to cement extreme beliefs and justify hateful ideas.
---
😱 Signs of the apocalypse
(Look on my Works, ye Mighty, and despair!)

Up in smoke. The fires decimating the Australian coast have produced 400MM metric tons of carbon dioxide to date, greater than the emissions of the 116 lowest-producing countries per year. Experts estimate 10MM hectacres have burned, roughly 13x the damage of the 2018 fires in California.

Goop Scoop. A good week for Gwyneth is a bad week for my sanity. The Oscar-winning actor and founder of Goop — a dangerous nonsense-factory for the gullible — will release her Netflix show later this month. Expect "boundary-pushing wellness topics" and banal quackery.
---
📡 Signal
(One exploding Google Trend)


A religious devotion. Named after Buddhist cenobites enamored with its sugary taste and medicinal properties, monk fruit is currently seeing 33K searches a month. Frequently used by keto diet disciples since it doesn't raise blood sugar levels, monk fruit is increasingly cropping up in health-conscious gummies, chocolate chips, and other sweet-tooth substitutes. Expect "the new Stevia" to show up on the back of more packages as savvy brands follow the template set by Magic Spoon, Four Sigmatic, and Cure Hydration.
---
📈 Jobs for interesting people
(Openings at companies and funds building something cool)

---
🐒 Long tail
(Best of the rest)

Bleeding out. Masayoshi may be beginning to suspect he's stuck in a time loop, à la "Russian Doll." This week, Softbank hit the headlines for walking away from term sheets, while portfolio companies from Rappi, Oyo, Zume, and Getaround laid off staff.

No bueno. Speaking of Russia, Uber seems to be having a Napoleon-in-Maloyaroslavets moment, writ global. After setbacks in London and Berlin, the ride-sharing giant may need to retreat from Colombia after a court determined the company broke competitive rules. This on the same week The Information exposed the waning internal enthusiasm for CEO Khosrowshahi.

It's a small world, after all. Or at least, it must seem that way to the folks running Disney+, given the short time they've taken to conquer it. Barclays recently valued the company's streaming business (which includes Hulu and ESPN+) at $108B, 74% of Netflix's market cap. The streaming service is expected to acquire 25MM subscribers by the end of Q1.

The Untalented Mr. Ripley. Faced with a fan backlash, Musical.ly influencer Paul Zimmer left social media. Two years later, he reappeared, posting about a teen actor with a startling resemblance to him. An interesting tale of reinvention in the age of social media.

Life's a beach. Particularly for iconic VC, Vinod Khosla who was sued by the California State Lands Commission on Monday. For years the irascible billionaire has denied public access to Martins Beach, a tract of land he purchased, fighting a series of suits to do so.

Following the money. Japanese billionaire Yusaku Maezawa has pledged to give away $9MM to his Twitter followers as a nebulous universal basic income experiment. For your chance to win $9K, alongside 999 others, RT this.
---
🧩 Puzzler
(A question, conundrum, or riddle to mull over)

A pregnant woman has six children. They are named Dominique, Reginald, Micheal, Fawn, Sophie and Lara. What will she name her next child? Timothy, Francine, Arnold, or Karan?

Bill M. reached the buzzer first to answer the year's final riddle. He was joined by frequent contributors Steve V and CLL in providing the correct response: a cloud. A doff of the cap to all three, and to the other valiant sleuths that proffered guesses in 2019.
I hope you enjoyed today's edition. Sending all my best for an abundant and recumbent Sunday. 💙