Are millennials the unluckiest generation since WW2?
​
Editor's Letter: Millennials face financial ruin
Roy Sullivan was struck by lightning seven times. As follows.
Lookout tower, 1942. As a park ranger in Shenandoah, Sullivan waited out a savage storm in a guard tower. It was struck multiples times, sending "fire jumping around the room." As Sullivan ran outside, lightning hit his leg and left a hole in his shoe.

Truck, 1969. A bolt deflected off a nearby tree and through the open window. It knocked Sullivan unconscious and set his eyebrows and hair on fire. His truck rolled to a stop at the edge of a cliff, narrowly avoiding a steep drop.

Front yard, 1970. Ricocheting off a transformer, lightning hit Sullivan's left shoulder.

Ranger station, 1971. Sullivan's hair was set on fire again and only extinguished with a wet towel after he tried (and failed) to fit his head under the tap. To prepare for future strikes, Sullivan began carrying a can of water with him wherever he went.

On patrol, 1973. Spotting a storm cloud, Sullivan drove in the other direction. The cloud followed him. After finally believing himself to be safe, Sullivan exited his truck and was, of course, struck by lightning. His shoe was knocked off and his hair set on fire. The can of water came in handy.

Walking, 1976. Sullivan spotted another cloud following him. He tried to outrun it but lightning his his ankle. He retired from the park service.

Fishing, 1977. Sitting in front of a freshwater pool enjoying his retirement, Sullivan was struck on the top of his head. His hair, once again, was set alight. As Sullivan staggered back to his car, he was attacked by a bear that attempted to steal the trout he had caught. Sullivan hit the bear with a stick, successfully chasing it off.
Though born in Virginia in 1912, Sullivan shares something in common with today's young: he could not catch a break. If the 2008 financial crisis was the Act of God that stacked the deck against Millennials, 2020 is the year Fate began to palm cards. Though circumstances have not quite reached the farce of Sullivan, make no mistake: lightning has struck twice for the much-maligned generation.
Statistically, those unlucky enough to begin their careers during a recession never recover. Earning potential is capped — a phenomenon known as "wage scarring" — and relative to other generations, workers occupy lower-level positions even after their career has matured. Even personal lives are affected: mortality and divorce rates both increase for those whose employment begins in a downturn.
For Millennials, the effect of 2008 has been profound. Millennial men earn less than Baby Boomers at the same age, while Millennial women bring in less than both Boomers and Gen X. These discrepancies are especially stark amongst those that have not received college degrees. Those that are fortunate enough to attain higher education must bear a high cost: Millennials are burdened by a staggering amount of debt compared to previous generations. The surging cost of college — over 100% since 2001 — has necessitated twice as many Millennials to take out double the amount in loans.
​
The result is a financially insecure generation with low salaries, limited homeownership, few investments, and significant debt.
Coronavirus is revealing the precariousness of this position. Early indications suggest the while the old are most physically vulnerable, the young are particularly financially susceptible. A recent survey from Data for Progress indicated that 52% of those 45 years old or younger had lost their jobs or been put on leave because of Covid-19 compared to just 26% over 45. Gig workers, bearing the brunt of the pandemic, are disproportionately young, with 50% of 1099s between 16-35.
​
The outcome of another economic shock may, again, be persistent. Facing more sclerotic wage growth, Millennials may be forced to further delay marriage, children, and homeownership as meaningful wealth accumulation remains out of reach.
After surviving seven strikes that left his body damaged and scarred, Roy Sullivan killed himself at the age of 71, apparently over unrequited love. Others speculated that he was murdered by his wife. Whatever the case, it represented a grim end for the folkloric hero. For Millennials, there may be a silver lining: those that start their careers in a recession may earn less, but they value their jobs more. They derive more pleasure from them, finding the good in suboptimal circumstances. And they are, in some respect, made into better people. Narcissism, the quality of self-absorption found disproportionately in those that commit ethical violations, is tempered by setbacks. Those that graduate in a recession show less of it, even at the CEO-level. For a generation ridiculed for its selfie sticks and participation trophies that may be the most fitting outcome of all.
​
Brief
E.O. Wilson's words to the discoverer of the double-helix

Banksy's work from home hobbies

Why Disney > Netflix

The explicit apps capitalizing on layoffs

Assassin's Creed gets educational while lawyers strip down

How furniture company Branch executed a "pandemic pivot"

Venture and CoS jobs on both coasts

A new riddler comes to the fore

Overheard
​
Good news
Banksy works from home
The street artist posted a new piece showing his trademark rats wreaking havoc on his home bathroom. The photo is captioned "my wife hates it when I work from home."
​
Surf the earth
The NYT has released a riff on its "52 Places" list, the publisher's recommended destinations in a given year. "52 Places Virtually," collects resources related to some of the world's most intriguing locations. You'll find videos of Greenland's sparse landscapes, stories of surviving in a Colombian jungle, tutorials for conversational Malay, and plenty more.
Short bites
​
1000 words
In partnership with Praxis, MBLM released an index of the most brands consumers feel most "intimate" with. Companies that generate close relationships with consumers — measured by the fulfillment, identity, enhancement, nostalgia, indulgence, and ritual they give to customers — tend to perform better. Those with strong intimacy scores saw revenue grow 1.40% more than the Fortune 500 between 2009-18, while profit grew 21.25% more.
A few observations from the chart above, and the rest of MBLM's study:
Gaming growth. Playstation is the mosttrusted brand among those 18-34, a sign of gaming's primacy among younger consumers. Of Millennials specifically, 50% expressed a strong affinity with the brand. This was echoed by Gen Z who felt most intimacy with Microsoft's Xbox.

Disney > Netflix? Though Gen X preferred Netflix, younger generations felt a stronger affinity for Disney, which placed second across age groups. The brand was noted for its high "nostalgia" score, which may be felt more strongly by those closer in age to the stories associated with the brand. Those feelings, along with "ritual", "indulgence" and others may be strengthed by Disney+'s streaming service, which has racked up ~30MM subscribers already. Interestingly, despite boasting a higher intimacy score, a slightly higher percentage of those surveyed were willing to pay 20% more for Netflix's service than Disney's.

Ubiquitous Amazon. The big winner across generations was Amazon, which scored particularly highly on the "enhancement" vector, suggesting consumers feel they are made better by using the service.

Dying brands. While Macy's and Costco remained popular with Baby Boomers, neither featured in the top ten of Gen Z, Millennials, or Gen X. Other brands that Boomers still feel an attachment to included Kellogg's, Pillsbury, Hershey's and Pepsi. This generation contributes to 50% of CPG sales. As DTC microbrands have captured the attention of younger consumers, incumbents seem to have seen their ties weaken.

Signs of declining car ownership? With indications that car output is slowing, the absence of an automotive brand in Gen Z/Millennials' top five may be notable, though Jeep did place sixth. Boomers, meanwhile, favored Toyota.
​
Signal
As unemployment spikes, many are exploring new avenues to make ends meet. OnlyFans, a platform that allows creators to earn money from their fans, has seen a particularly sharp spike with 170K new users joining the platform every day, a 75% increase. Patreon, which offers a similar service, has seen 50K new creators join in March.
While OnlyFans can be used by any content creator, it is favored by explicit artists, including amateur porn performers that share nude photos and videos with followers. Similar sites include Just for Fans, NiteFlirt, and IsMyGirl, all of which appear to be benefitting as sex workers are forced to work from home and service workers find themselves furloughed. According to a statement from IsMyGirl, the company is actively targeting laid-off hotel workers and McDonald's employees, offering the ability to earn "upwards of $100K a year."
Though these platforms do allow creators to earn a living remotely, it comes with risks. Many performers reported stories of disturbing subscriber requests, financial scams, leaked personal information, and stalking.
​
Long tail
A new Odyssey
Unable to take his high school students on a class trip to Athens, teacher Kevin Péloquin searched for a fitting substitute. In the game, "Assassin's Creed: Odyssey," he found it: the Ubisoft vehicle has an educational mode that allows students to explore the deeply researched world without having to kill anyone. Other educators are turning to Minecraft and Roblox to teach concepts from biology and ecology among other things.
Fortnite's visions to control the metaverse edge towards reality. More here​

Selena Gomez has sued the creators of "Clothes Forever" game for using her likeness without permission. More here​
​
Shirtless lawyers
Justice never sleeps, though it does work from bed, apparently. A judge in Florida sent a letter asking for a little more professionalism from the lawyers whose arguments he heard over Zoom. One showed up shirtless, another called in poolside, and a third poked their head out from under the covers. Jurisdictions are taking different approaches during lockdown, with some using video calls for pleas and hearings. In May, the Supreme Court will begin hearing arguments by telephone.
One frustrated videoconferencer created "Zoombot," a tool that allows you to create a virtual doppelgänger for your calls. More here​

TikTok's initial rules for moderators included surpressing content from the "ugly." More here​

Bill Gates has become a target of harassment for coronavirus conspiracy theorists. More here​
Taking stock
Startups are asking workers to take voluntary pay cuts in exchange for more equity. Companies including Medal.tv, Oh My Green, Sensorydata, and others have encouraged employees to forgo 10-60% of their salary to reduce burn, dangling the potential for greater upside. Given the long odds of startup success and the volatility of the market, that may be a particularly risky bet to make.
Lime has bought the remnants of Boosted Board after Yamaha pulled out. More here​

An advocacy group has called on Amazon workers to strike on April 24. More here​
Backtracking
"If the ability to track social contacts exists to stop a contagion, I can guarantee you it will be used to track the spread of dissent." Those words come from Richard Brooks, a professor at Clemson commenting on the proliferation of surveillance tools rolled out by governments around the world. While these new programs are being used to combat Covid-19 in the short-term, they may be difficult to unwind after the fact.
​More here ​
Amazon tracks warehouse workers' temperature through thermal cameras. More here​

Phunware, a location tracking firm favored by Trump's reelection team, is looking to capitalize on the coronavirus. More here​
​
Special report: Inside a pandemic pivot
If you were to specifically devise a business to be vulnerable to the coronavirus, you might give it the following characteristics: a reliance on Chinese manufacturing, a complicated, sophisticated supply-chain, a pipeline of SMBs sensitive to economic disruption, and a product for physical offices.
​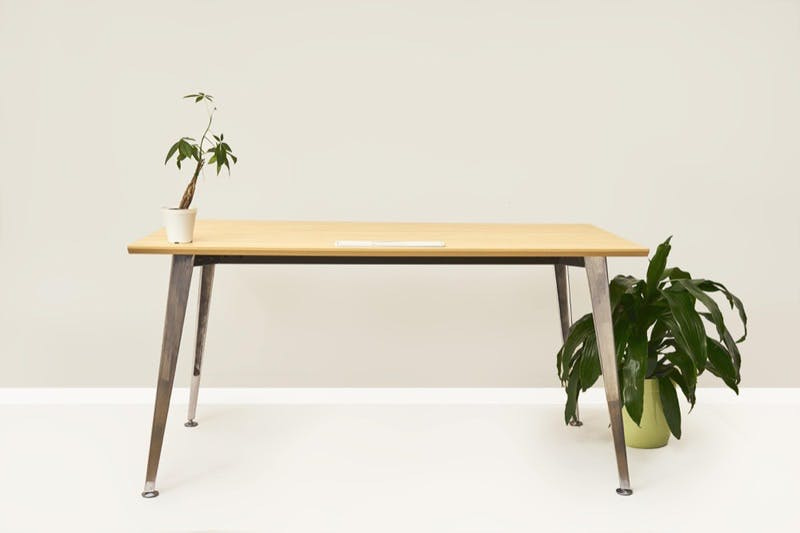 In short, you might design a company that looks a lot like Branch. Yet less than a month after America entered lockdown, the office furniture retailer is doing thousands of dollars in sales a day, serving an entirely new customer base: consumers working from home. Founder Sib Mahapatra gave us a rundown of the company's "pandemic pivot."
The meltdown
In normal times, Branch manufactures high-end office furniture to serve growing companies. Their team realized the potential for upheaval about a month before the rest of us. In early January, Branch got word from manufacturers in southern China that they would be delayed in reopening after Chinese New Year. While it initially looked like Branch would face a supply crunch, it became clear the real impact would be felt on the demand side of the business after the first cases hit Seattle. "The majority of our Q2 pipeline evaporated in two weeks," Sib said.
The pivot
With their typical customers neither in the mood to spend tens of thousands on furniture nor even in the office, the team set about making changes, retooling the business to create a "WFH Collection." That required changes in product, personnel, and processes, as the company adapted from sales-driven acquisition and white-glove delivery to Instagram marketing and UPS. "Everyone's jobs changed overnight," Sib said. "Our sales team is handling customer experience, growth is rebuilding our acquisition funnel, and operations is retooling packaging and fulfillment to handle 10x more volume."
The lessons
From a cold start, Branch is now selling hundreds of products a week and receiving coverage from the WSJ, Forbes, Gear Patrol, and Business Insider. As you can see from the graph above, the plan seems to be working. Sib attributes the efficiency of the company's response to a few decisions:
Getting investors and advisors aligned. Proactive communication with VCs and angels paid off, with investors assisting with outreach and one advisor providing a connect to UPS that reduced shipping costs by 80%.

Starting from zero. The company halted all discretionary spending as soon as the pipeline began to soften, from advertising and agencies to SaaS services. Then they rebuilt the budget from scratch, asking themselves which line items contributed to acquiring and serving their new customers.

Playing to their strengths. Unlike most consumer furniture brands, Branch has an enterprise sales team, which they've put to use striking deals with companies, platforms, and other vendors to reach consumers. On the product front, they're leveraging office design capabilities to offer an ergonomic consult and differentiate from the Wayfairs of the world. "About the only advantage a small startup has in a situation like this is flexibility," Sib said, "so we're using it to create unfair advantages as best we can."
If you're looking to give your home office an upgrade, you can check out Branch's new collection here. The Generalist is donating 100% of its affiliate fees to Direct Relief, an organization bringing protective gear to medical professionals on the frontline.
​
Jobs
​
Puzzler
If eleven plus two equals one, what does nine plus five equal?
​
A streak is being established, with Greg L retaining his place at the front of the pack. Paulina M joined him shortly after. Congratulations to them both, especially given the trickiness of the question. Respect is also due to NMT, valiant in his effort. Next time.
As a reminder, last week's riddle was an anagram of a common phrase:
​
Angels roar, so moonlights nest.
The answer? A rolling stone gathers no moss. Hopefully, we are all able to find some momentum in these strange times.
Keep an eye out for The Generalist's inteview with Zach Reitano, dropping next Wednesday, after which I'll be taking a short break. There will be no email next Sunday, but The Generalist will be back in action the following week.
Thank you all for reading, and wishing you balance and renewal for the week ahead.
​
​
---
​
In The Generalist community
This newsletter is fortunate to have a readership of impressive individuals, including the folks above. Each week I'll highlight a few creations from you, our subscribers. If you've launched a product or published something you're proud of, I'd love to hear from you.