Bill Gates and IPO history
This post first went out to subscribers of The Generalist. Sign up to join thousands of founders, investors, operators, and thinkers.
​
Editor's Letter: Pexip is making IPO history
If there's an art to a roadshow, Bill Gates didn't have it.
In the lead up to Microsoft's 1986 IPO, the man described as a "gawky, washed out-blond" and "something of a ladies' man" in a Fortune profile written at the time had reached the end of his rope. Sick of the coaching received from the company's attorneys who told him to stick to the information included in the prospectus, he finally snapped.
"With my mouth taped, what's the point of giving a speech?"
Gates's frustration wouldn't matter of course, with the company debuting at $21 a share before shooting up to $35.50 over opening day. Within a year, the company would be the largest software business in the world by sales.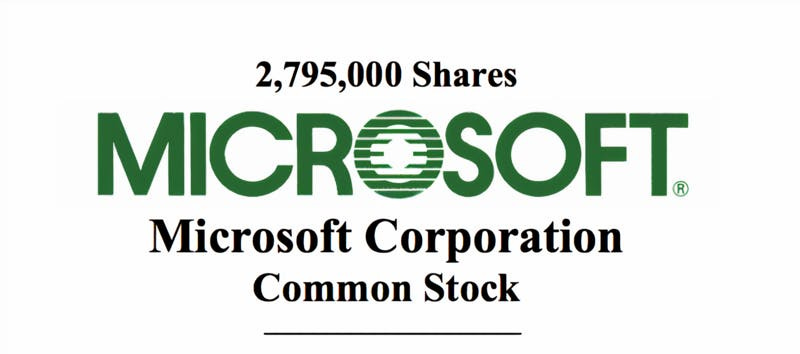 That context and the benefit of hindsight makes Gates's frustration a piece of roadshow history, a curio to place alongside other vignettes that occurred on the (occasionally perilous) path to IPO. A few examples below.
​
These are precisely the sort of stories The Generalist plans to dissect as part of a new series, developed in conjunction with Tom Guthrie of Onejob. Once a month, the S-1 Club will unpack a forthcoming IPO, curating diverse opinions on game-changing companies making their public debut.
It feels particularly fitting to begin with Pexip, a video-conferencing company seeking to unseat Zoom. The Norweigan firm is one of the first to host a digital roadshow, leveraging its own video technology to host investor conversations.
In that respect, the company is one of a small cadre willing to brave the bracing volatility of the current markets to ring the bell. In Europe — Pexip will list on the Oslo stock exchange — just 22 companies have gone public in 2020, raising a total of $1.2B. Last year over the same period, 38 businesses had taken the plunge for a total of $7.5B, while 2018 saw close to $20B raised in the same timeframe. A similar pattern is taking place in the US: only two listings occurred in April and just 22 over the year.
For all that uncertainty, Pexip appears well-poised to capitalize. Since lockdown forced many to work from home, the company has seen a 7x increase in usage, with more and more businesses joining Spotify, PayPal, and Amnesty International in choosing Pexip's privacy-oriented solution.
On the brink of becoming Scandinavia's largest software IPO on record, Pexip will hope that its historic moment maps more closely to Microsoft or Google, rather than Vonage.
Stay tuned for more analysis, next week.
In other news...
The good people at the "Founder Friendly" podcast interviewed me recently. Just in case you'd like to map a voice to these emails, you can hear me talk about the early-stage investment landscape, spaces to watch in the time of coronavirus, and making bad predictions. Thank you to Taco and Skye for having me.
Additionally, my colleagues and I at Charge distilled our research on the no-code space in this recent piece "Where next for no-code?" It provides a market map of the industry, along with a few spaces to keep an eye on.
​
Brief
Upton Sinclair on cognitive dissonance

The best memes of the lockdown

China's stranglehold on digital payments

A secret society gaining traction

What the US health system can learn from the porn industry

The grandads that pulled off a diamond heist

Remote-friendly investing gigs

A proliferation of puzzling geniuses
​
Overheard
​
Good news
Simple pleasures
Twitter account "Can You Pet The Dog?" has a simple mission: letting players know if a dog is, in fact, pettable in a certain video game. "Boomer" from Far Cry 5 looks particularly cute. More here​
​
Ducks in a row
"All ducks go to bed!" One farmer has trained his drakes to return to their shelter at the sound of his yelled instruction. Quite hilarious.
The seat of justice
A mystery enveloped the Supreme Court this week as oral arguments were heard via phone to accommodate social distancing. During Roman Martinez's speech on Wednesday, a toilet was flushed, prompting an online investigation to identify the guilty party. At the time of writing, the culprit remains at-large.
All the memes
Proving that every day we do indeed stray further from God's light, Vox compiled the most notable coronavirus memes in a single place. Enjoy lots of "nature is healing" riffs, Tiger King cosplay, and bad haircuts.
​
​
1000 words
"They're not terribly imaginative," then-presidential candidate Carly Fiorina said of the Chinese in 2015. "They're not entrepreneurial. They don't innovate."
When it comes to mobile payments, the People's Republic may beg to differ. The country has the highest mobile payment adoption, per Statista, topping 35% as of 2019. That compares favorably to India, just below 30%, and far surpasses the US's 8.8%.
China's digital payments infrastructure took another step forward over the past month, as the country rolled out its "digital yuan" across four cities. This is in stark contrast to the US's paper-first system, a serious impediment at a time in which the government needs to get cash into citizens' hands quickly. As many as 20MM households are still awaiting relief payments.
Though chairman of the Fed, Jerome Powell, has expressed a disclination towards a digital dollar, it would bring with it several advantages. As dissected by Harvard's Belfer Center, creating digital accounts would introduce 8MM unbanked Americans to the financial system, while provisioning dollars virtually would allow the government to more closely track consumer spending, guiding future stimulus packages. (The privacy issues such an introduction might pose are worthy of a fuller discussion.)
Beyond the demands of the current crisis, delaying a digital currency has geopolitical implications. By embracing innovation and building out a robust infrastructure, China's financial technology stack may be favored by emerging economies looking to build their own systems. By winning financial allies as America bumbles, technocrats at the Zhongnanhai, the seat of Communist Party power, will earn an unparalleled view of global monetary movement.
If the US is to keep its reputation as a truly imaginative, innovative economy it may be time to follow China's lead.
​
Signal
A toaster that can only be referred to in the first-person. A never-ending staircase. A Nazi bunker, only accessible through a woman's nose.
All of the above are "SCP objects," strange phenomena documented by The SCP Foundation, an online collaborative-fiction project. Per the organization's invented history, The SCP Foundation is a secret governmental organization tasked with identifying and capturing world-bending people, places, or objects.
Though founded in 2008, the site appears to have seen a surge in traffic over the past couple months, reaching a new high in lockdown. While that may be due to the increased time readers and writers have at their disposal, it is also reflective of the sheer bizarreness of the current circumstances, and the desire for community. In that respect, it may benefit from the same catalysts that have brought online gaming to new highs.
It may also be connected to the human tendency to retreat into fantasy worlds when faced with trauma. In 2002, Dr. Eli Somer coined the term "maladaptive daydreaming" to describe individuals that found themselves trapped by excessive, involved reveries to the detriment of their social lives and careers. As many as 25% of maladaptive dreamers were survivors of childhood abuse. Intriguingly, interest in the term "maladaptive dreaming" hit a 5 year high between April 12-18 of this year.
Whether locked in our minds, peregrinating a virtual world, or delving into the annals of a paranoid fan-fiction community, coronavirus has exacerbated the need for immersive, all-absorbing escapism.
​
Long tail
Porn leads the way
"Bareback sex with strangers 20 times a month? It would be like the most dangerous job in the world." That was adult performer Lance Bass's take on a porn industry without the PASS program, a set of procedures put in place to stop the transmission of HIV. As part of PASS, performers are tested every 14 days, sets across the country are immediately shut down in case of an outbreak, and contact tracing is commonplace. The director of Harvard's Global Health Institute, Ashish Jha, believes that when devising a Covid-19 test protocol, there are worse places to start than in porn, "The adult film industry teaches us that as a proof of concept, this can work. We just have to scale it up."
​
Refund U
Dissatisfied with their virtual experience, students from 25 colleges are filing for partial tuition refunds. Meanwhile, colleges argue that students are receiving what they paid for — tutelage from top professors and the opportunity to earn credit towards a degree. Columbia, Brown, Cornell, Michigan State, Purdue, and the University of Colorado are among the institutions holding tight to their multi-billion dollar endowments.
Followers, but no Franklins
Despite its status as the world's most highly valued private company, TikTok is a hard place to make a living. Personalities like @nymphettamine and @Keondra.K. may boast hundreds of thousands of followers, but with no influencer payment program in place, creators struggle to monetize. That's become increasingly the case since the outbreak, as brands pullback sponsorships in the $6.6B influencer economy.
​
Detour
A complaint filed this past Thursday in Manhattan federal court alleged that "evil computer geniuses with sociopathic traits" bilked $24MM of cryptocurrency out of Michael Terpin, an advisor to blockchain businesses. At the time of the supposed theft, defendant Ellis Pinksy was just 15 years old.
That brings to mind a set of criminals at the other end of life's journey, the geriatric heisters behind the Hatton Garden burglary.
​
Over Easter weekend in 2015, the nine-strong "Grandad Gang," ranging in age from 60 to 76, undertook one of Britain's most daring heists, making off with £14MM in diamonds, gold, and cash from a safety deposit box company. The men extracted the goods after disabling CCTV and drilling through a concrete wall.
They were eventually caught after their cars were bugged by suspicious police officers. Among the incriminating snippets, was one quite sentimental phrase.
"If we get nicked, at least we can hold our heads up that we had a last go," one man says to another.
​
Jobs
Though not a job, the "Blueprint Investor Track" program for aspiring VCs from underrepresented groups looks worthwhile. Organized by First Round and Dorm Room Fund. More here​
​
Puzzler
Forward I am heavy, backward I am not. What am I?
All guesses welcome and clues given to those curious enough to message.
Great minds thought alike this week, as stalwart NMT was joined in the VIP lounge by luminaries Harry S, and Jimmy S. All three managed to respond correctly to last week's riddle, listed below.
There is one sport in which neither spectators nor participants know the score or leader until the contest ends. What is it?
The right answer? Boxing. Several readers brought interesting alternatives to the table including Terence F who suggested "Life" as an answer and Sam P who proffered "Chess." Both seem rather plausible. My favorite response of the week goes to DD who said, "The answer to the puzzler is obviously: metal detecting — the grandest most mysterious sport of them all, huzzah!" Hear hear.
Thank you for reading. If you've been enjoying The Generalist, consider sending today's edition to your most interesting friend. Wishing you a relaxing Sunday. Call your mother, or someone you love.
​
---
​
In The Generalist community
This newsletter is fortunate to have a readership of impressive individuals, including the folks above. Every so often I'll highlight a few creations from you, our subscribers. If you've launched a product or published something you're proud of, I'd love to hear from you.