In Flight | Mem Labs 🧠
Welcome aboard. For those just joining us, In Flight exists to give readers the chance to try new tech, first. It also helps founders find their first true believers. Thanks for being here.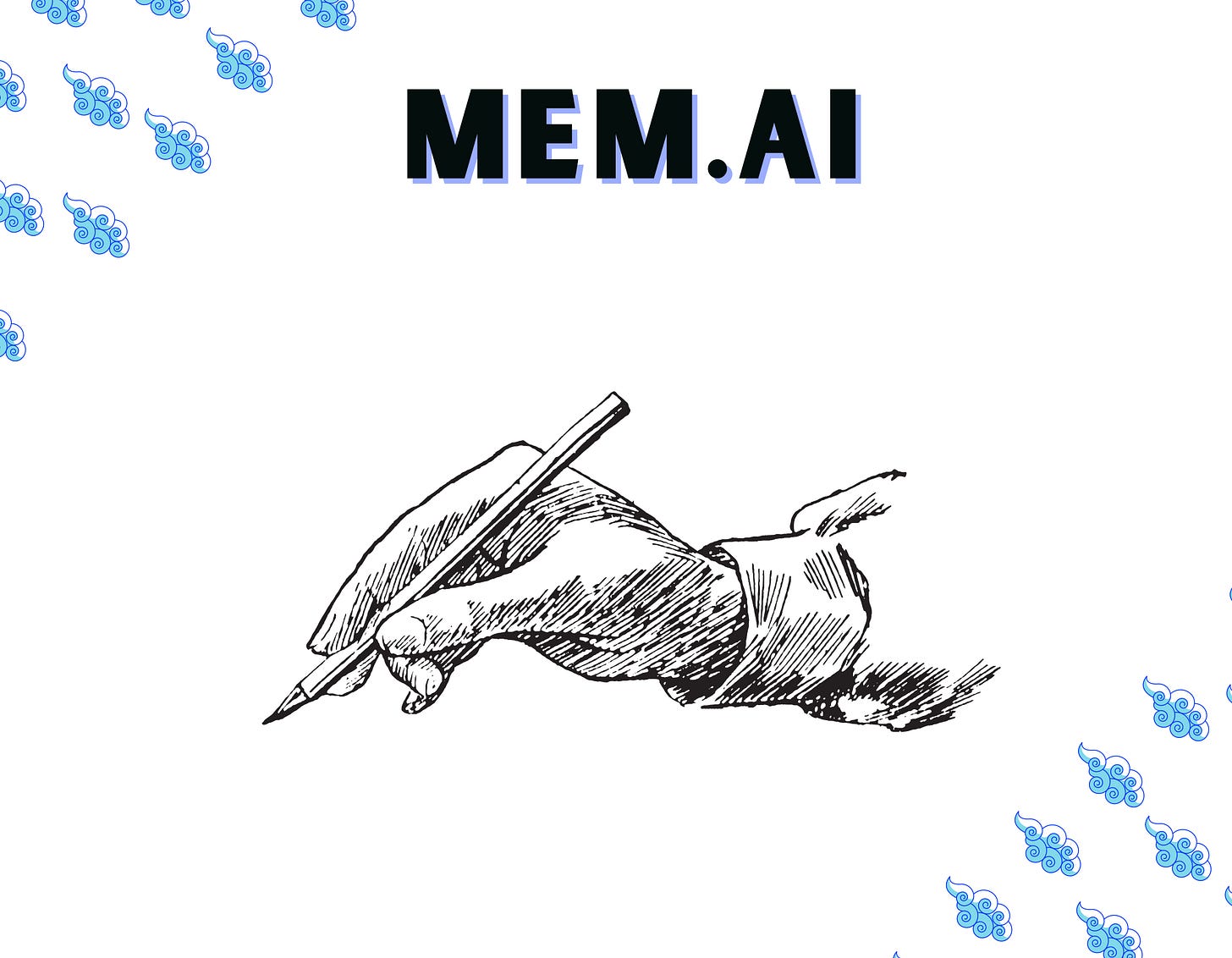 Today, I'm excited to share Mem.ai, a note-taking tool with superpowers. Since I was introduced to the product over a month ago, I've used it almost every day. It's become both my go-to scratchpad, document drafter, and home for my to-dos.
Below, you'll learn more about what Dennis and Kevin are building and have the chance to apply for access. If you'd like to stop receiving the In Flight series, click here to opt-out. You'll still receive your regular emails.
With that, buckle up and get ready for take-off.
---
What's the 1-line description for Mem?
Mem is your augmented memory. Capture anything, share what you know, and make use of the information that matters.
Who's behind the company?



We — Kevin Moody and Dennis Xu — met during our freshman year of college and became best friends almost immediately. Kevin grew up in Florida and built his first business, Seholo, in high school. That business sold community service tracking software to other schools. He was subsequently a PM at Google .
Dennis grew up in Canada and wanted to play professional basketball for 8 years of his life (sadly, he stopped growing at 6'2). He was later a PM on the Marketplaces team at Yelp before starting Mem.
Our first attempt at starting a company, Rhythmiq, came through Lightspeed's Summer Fellowship program back in 2015.
What inspired you to start Mem?
Throughout the seven years we've known each other, we've been fascinated by the idea of using technology to augment humans. The human brain is incredible at synthesizing and uncovering meaning from information but is largely deficient (compared to computers) at long-term memory storage and raw processing power. At various work experiences we've had over the years (both Google and Yelp), a common problem came up: critical information didn't arrive at the right place at the right time. It was often due to the limitations described above.
We started Mem because we wanted to solve the problem of information flow, ensuring people had knowledge when they needed it.
What are Mem's key features?
The most obvious one is how fast the product is. It's the first thing users are delighted by. It's surprising that in 2020, "fast" can actually be a feature, but speed isn't a priority for many products.
Beyond that, the most exciting features are those that illustrate the capabilities of Mem as a natural language database — the most powerful of which is the Mem Spotlight. The Mem Spotlight is a universally available search bar that you can pull up from anywhere on your computer. It provides a window into everything that you've chosen to store inside of Mem. It can surface results at various levels of fidelity. That includes entire mems, subsections of mems, specific facts, and so on.
What gap do you see in the market?
In the short term, most of our users consider us as a replacement for whatever tool they use to capture and retrieve information (often the native notes app on their computer). Despite the numerous options that exist for this purpose today, none exist that promise the combination of blazingly fast capture, an effortless way to form connections that model the human brain, and the ability to seamlessly make use of what you capture in other contexts.
Long term, what's missing is the ability to surface the most useful piece of information, given any context, at the right time. There's so much manual work required to make the information we know useful. What's missing is the sci-fi dream of telepathy.
What do you see as your biggest challenges?
For us, it's always been walking the tightrope of building power without sacrificing simplicity. One of our core product philosophies is that power left unused is not power — it's complexity. We only build features that we believe 80% of our user base (current and future) will end up using regularly.
What is your vision for Mem?
We think of what we're building as Augmented Memory.
In one year, Mem will be where you capture anything, share what you know, and make use of the information that matters.
In three years, Mem will look like an API through which all the information you capture and generate flows in and out.
In ten years, Mem will look like a tool that enables telepathy.
How many testers are you looking for?
We'd love to bring a few dozen folks into the product.
What rap lyric captures Mem?
What's a mob to a king?
What's a king to a God?
What's a God to a non-believer
Who don't believe in anything?
We're here to fundamentally re-define how people capture, organize, and share information. In other words, we're trying to change how people work. As a result, there's a lot of commonly accepted dogma (folders, for example) that we've intentionally chosen to ignore.
PS - As always, if you enjoyed today's piece or have any thoughts to share, I'd love to hear from you.