Discover more from The Generalist
Learn what matters in tech, AI, and venture capital – for free.
Over 103,000 subscribers
S-1 Club | Can Pexip crash Zoom's party?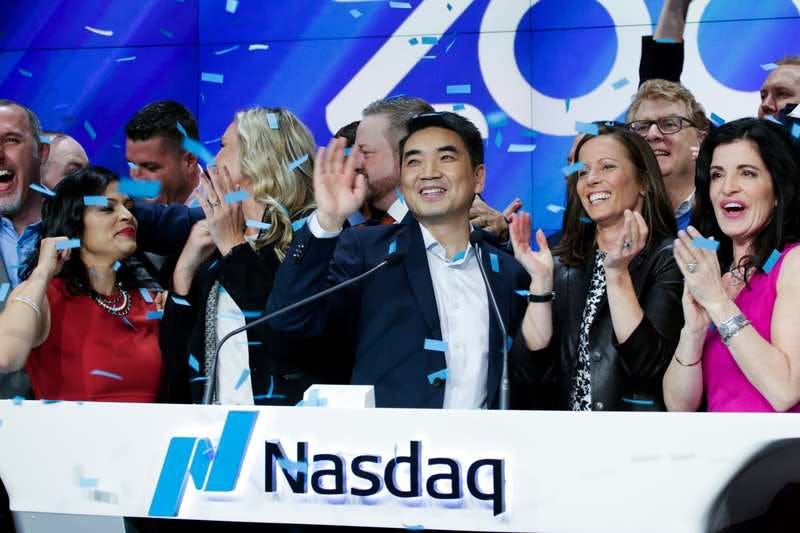 ​
Welcome
To bulls and bears alike, I'm excited to introduce The S-1 Club, a newsletter for those that want to be in the know, before the opening bell.
The edition is a collaboration between The Generalist and Tom Guthrie, the creator of Onejob. (For those that haven't signed up and are considering their next career move, I'd highly recommend it.)
Once a month, the S-1 Club will break down a business prepping for its public bow. In addition to that analysis, I'll curate insights from experts, and the broader community. That includes price predictions, sectoral wisdom, sentiments of bullishness and bearishness, and other commentary worth hearing.
Above all, the goal is to build a community around game-changing businesses, all in the hope of challenging tightly held convictions, engaging in robust discussion, and above all, learning. We aspire to create a place in which outspoken opinions are shared and revised, recalibrated, and surrendered. To get to the point: this is a clubhouse for "strong opinions, loosely held."
It is at this point that I must inform you, of course, that nothing you will read as part of this newsletter should be construed as financial advice. Indeed, I am aiming for something much less prescriptive, and more collaborative.
To that end, to join the club and hear more about the companies redefining the rules of the game, sign up with this Typeform. (You can also hit the big button.) You'll notice that in addition to your email, we'll ask for your quick take on the business in question, Pexip. The results will be shared in a future edition.
And with that, on to today's briefing.
Company summary
If you're familiar with Zoom, you understand what Pexip does. Much in the same vein as the "social network of the coronavirus," Pexip provides videoconferencing software for business. The company describes its vision as making "virtual meetings even better than meeting in-person," a sadly unattainable goal for those of us that have watched someone eat soup over Zoom without muting themselves.
While the House of Eric Yuan was founded in 2011 (and initially called "Saasbee," curiously enough), Pexip is a rather more contemporary organization, at least in its current form. As it stands today, the business is the product of a 2018 merger between Videxio and the prior incarnation of Pexip. According to Gartner, that marriage created a "scalable VC solution that provides a unified experience across mobile, desktop, and conference room endpoints."
Despite that comparative greenness, Pexip has amassed an impressive customer base winning over giants like General Mills, Accenture, the US Department of Veteran Affairs, Kayak, Spotify, Intel, and others. In total, the company has won 70 of the Fortune 500. Much of that may be down to the company's focus on security, a particular advantage given the name "Zoom" is most often followed by the word "bombing." Breaches have become the sole blemish in Zoom's historic 1900% pandemic breakout and may be the most effective vector to attack videoconferencing's Big Blue.
That sell appears to have resonated with investors, too. Pexip's CEO noted "tremendous interest" during the company's virtual roadshow. Pexip will begin its life as a public company on May 14th.
​
Brief
Pexip makes video conference software. It's Zoom, but Scandinavian.

Video conferencing is estimated to be a $10B market, growing at ~23% CAGR. By 2023, it's expected to have nearly doubled.

The company is raising ~$230MM (Nkr 2.4B) on the Oslo Stock Exchange and seeking a valuation of ~$620MM (Nkr 6.4B). Reported share prices are between $6-9.

Customers include Fortune 500s and governmental organizations, charmed by the firm's security-focused approach.

Since the coronavirus forced an increase in working from home, the company has seen usage surge 7x.

The company's revenue is 97% recurring, with a customer net retention rate of 99%.

Pexip's did ~$36MM in revenue in 2019 (Nkr 370MM). Contracted annual revenue grew 32% year-over-year.
​
Management team
As you'd expect, Pexip's management team is a mix of Pexip 1.0 stalwarts, Videxio executives, and the mandatory smattering of ex-McKinsey consultants. The man at the helm, Odd Sverre Østlie only joined the company in 2018, having served as CEO of Kinly, another video conferencing solution based in Amsterdam. Like Zoom CEO Eric Yuan, Østlie had a stint at Cisco Systems earlier in his career. Indeed, of the five-man leadership team only one of them didn't work at the videoconfereing OG. #ciscomafia
Odd Sverre Østlie, CEO
CEO since March 2018. Previously CEO of Kinly AS from September 2017 to March 2018 and president and CEO of VIJU Group from January 2014 to September 2017. Earlier in his career, Østlie worked at Tanberg, McKinsey, Microsoft, and Cisco. More here​
Giles Russell Chamberlin, CTO, and co-founder
36 years of software engineering experience, 26 years of video conferencing experience. Overlapped with Østlie at Tanberg and Cisco. More here​
Tom Erik Lia, CCO, and co-founder
Leads the company's go-to-market strategy. Previously was co-founder and CEO of Videxio, which merged with Pexip 1.0 in October 2018. Before that he worked at Cisco. Of course. More here​
Nicolas Cormier, CCO
Worked with Pexip and Pexip 1.0 for 8 years in engineering and technical roles. Previously worked at Cisco, Nasdaq and a startup called Fuse Farm. More here​
Oystein Dahl Hem, CFO
Worked in B2B sales and marketing for 6 years at Telenor Norway and McKinsey for 2 years. Did not work at Cisco which means he misses out on all the super cool inside jokes. More here
​​
Investors
While Zoom's IPO brought tales of Sequoia and Emergence Capital riches, Pexip's bow looks set to send a cascade of kroner over local firm, Stavanger Venture. The Norweigan fund has announced eight investments to date, and won't mind that you haven't heard of them. Their cryptic website notes that the three words that best encapsulate the fund are "Engaged. Value adding. Discreet." The eagle-eyed among you might notice that that's four words. But who are we to quibble with a +$60MM payout.
​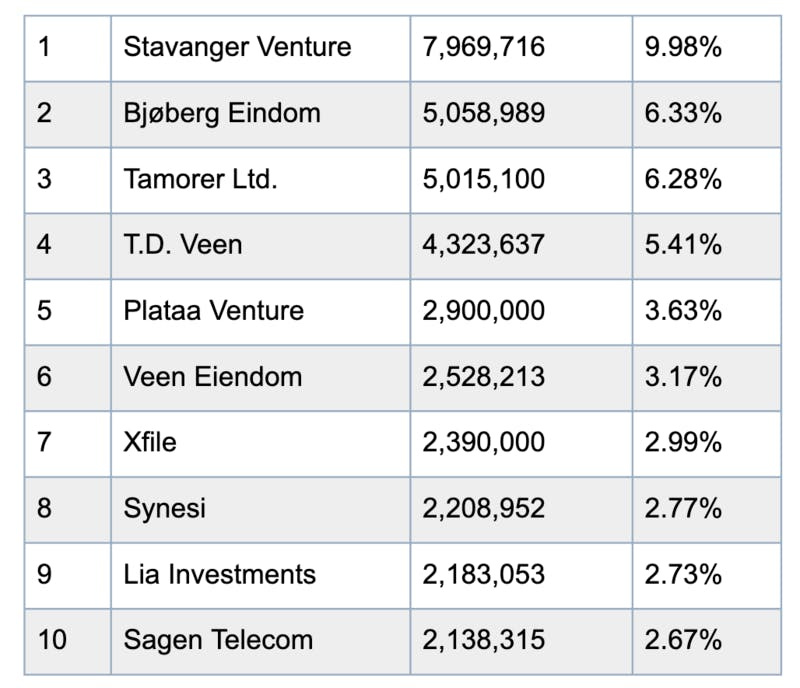 ​
Business model
Pexip has two main products: Infinity (their software application) and Cloud Services (their SaaS offering). Both are sold with annual contracts, with 97% of revenues generated from recurring subscription fees. Infinity is the company's bread-and-butter, providing 73% of revenue, while Cloud Services adds the remaining 27%.
Interestingly, Pexip does not sell software directly, choosing to leverage a 300-strong army of channel partners. As a result, the company devotes significant resources to channel enablement, pumping out training courses and certification programs through Pexip Academy.
As part of its partnership efforts, Pexip has scored some big names. Both Microsoft and Google co-market with the Scandinavians.
​
Financial Highlights
As you might expect for a company HQ'd in Norway, the majority of Pexip's revenue comes from the EMEA region. That said, 33% from the Americas is nothing to sniff at. Beyond the 32% YoY revenue growth mentioned earlier, the company seems to have been off to a flyer in 2020 with $57MM in revenue arriving in Q1, a 21% improvement on the entirety of 2019, and a 50% jump from 1Q19. Even more remarkably, the company has fuelled its ~70% CAGR from cashflows, with seemingly little reliance on venture funding.
​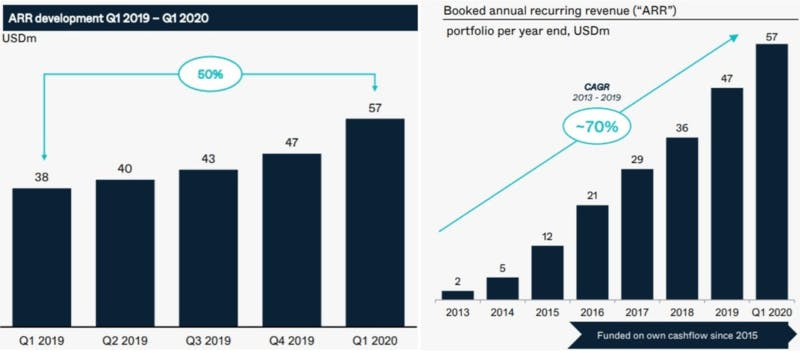 Outside of revenue, the most striking piece of data to our mind is the 99% net retention rate. Pexip's CEO notes that company surpassed their annual goal with respect to this measure — it suggests a highly satisfied, bought-in customer base.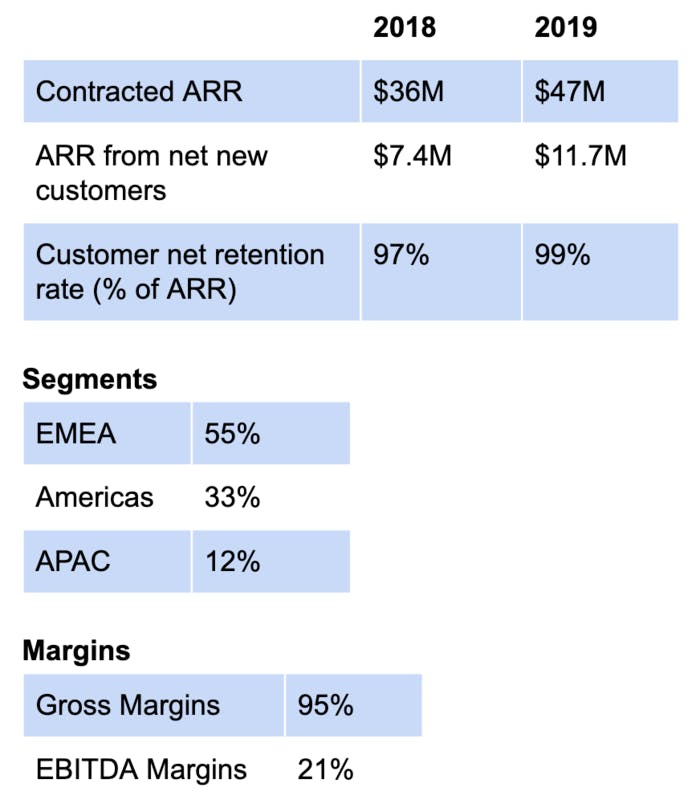 While all of this sounds impressive when viewed in isolation, looking at Zoom's pre-IPO data makes for less soothing reading. The company's S-1 indicated +100% YoY revenue growth with $450MM in ARR. Net revenue retention was a whopping 140%.
​
Competition
Beyond Zoom, Pexip has much of Big Tech with which to compete. Microsoft, Google, Cisco, and even Adobe ("Adobe Connect" is a thing?) provide solutions of their own, though Pexip seeks to play nicely with several of those.
Indeed, one of Pexip's key points of differentiation is interoperability — the company has struck partnerships with Google and Microsoft. As part of these integrations, users can invite outside parties into a Microsoft Teams or Google Meet call, without requiring them to sign up for accounts. Instead, those external users can sign-in via Skype, Cisco, or other providers. Kayak, for example, uses Pexip as the bridge between their Cisco system, and sister company OpenTable's Google Meet set-up.
​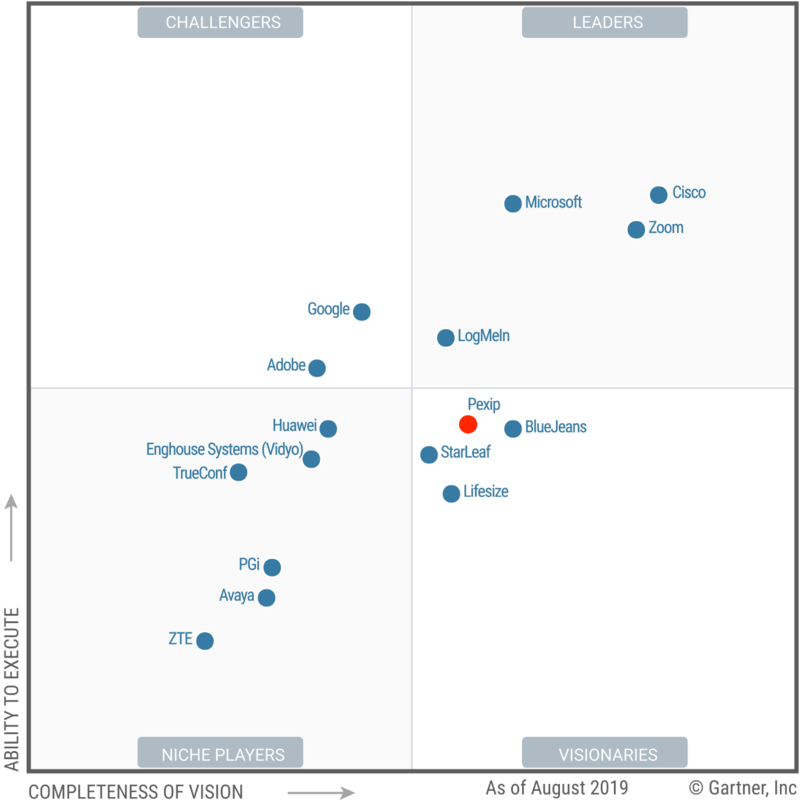 By contrast, Gartner's report noted that interoperability was a weakness for several other solutions including Zoom, Google Meet, LogMeIn, Microsoft Teams, Avaya, and Vidyo. Only StarLeaf, a British company, was commended for similar features.
Security is another place that Pexip shines. While Zoom will hope its acquisition of Keybase, an end-to-end encryption platform, staves off the public's ire, Pexip takes a different approach. Specifically, the company provides self-hosted options, allowing privacy-sensitive users to run their meetings through private clouds.
For further color on the space, a selection of competitors from Gartner's rundown of meeting solutions, with key strengths and weaknesses summarized.
​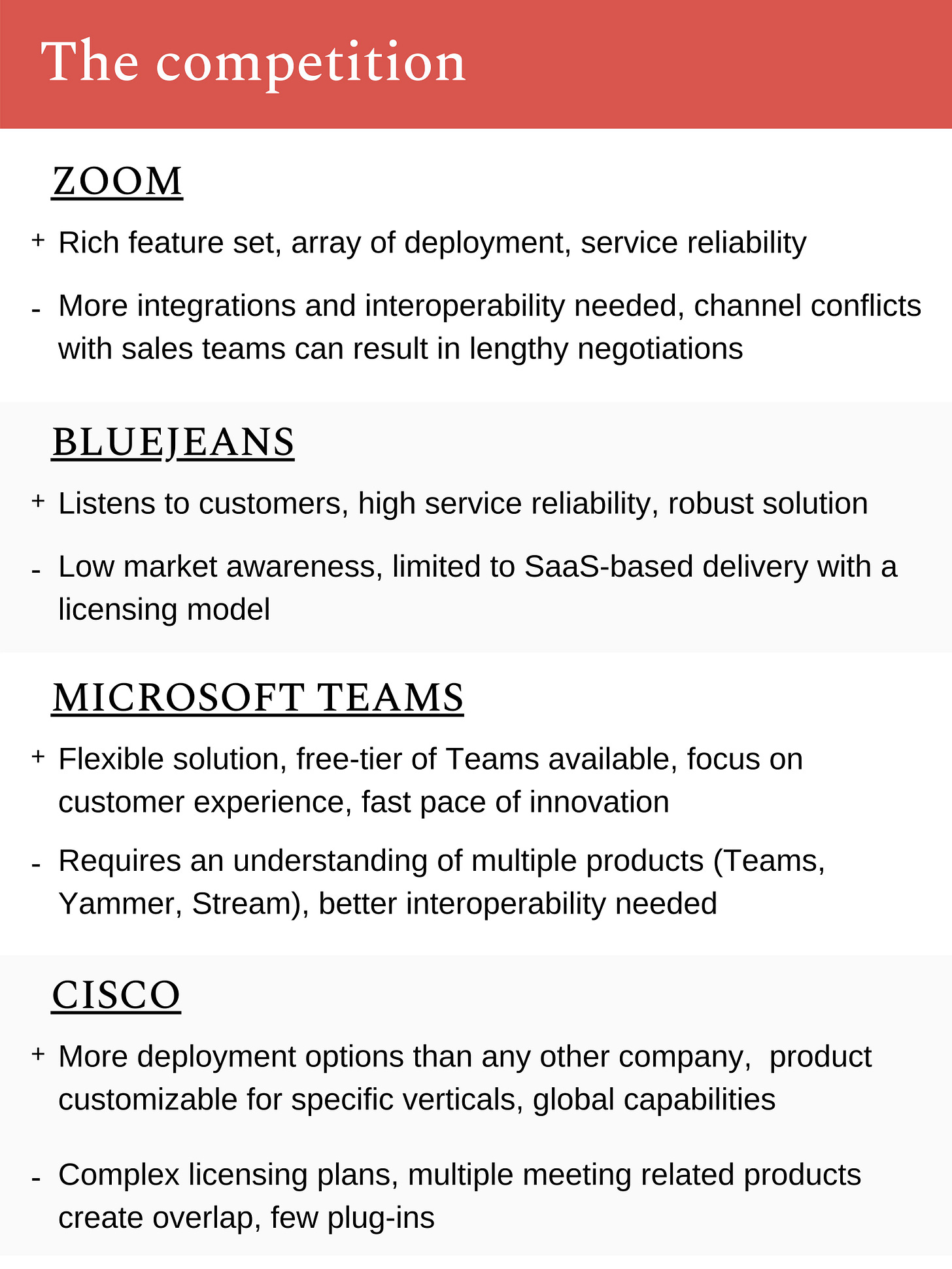 ​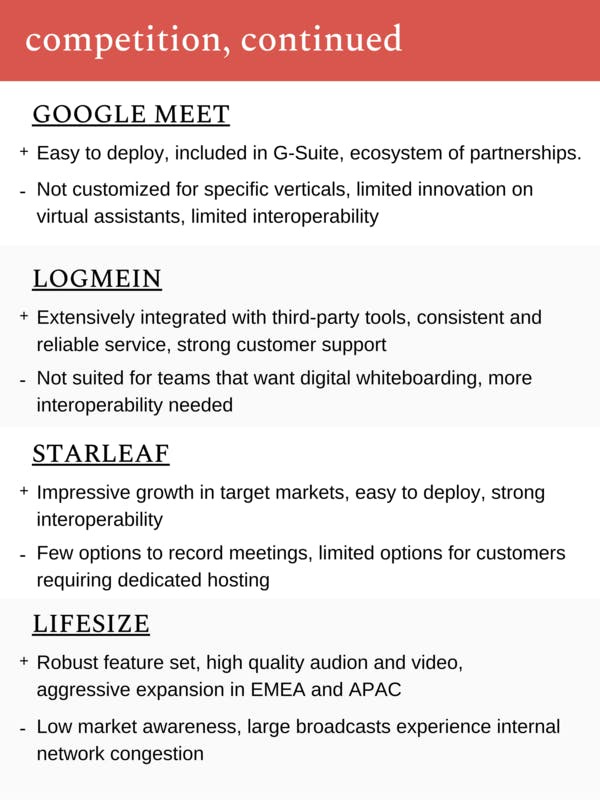 ​
Net-net
Pexip is a credible Zoom competitor at a fraction of the valuation. While the company has a long way to go to establish the same sort of name recognition of other solutions in the space (including Big Tech's offerings) its focus on security and interoperability appears savvy. With contracted revenue growing 32% YoY, and usage spiking 7x during the coronavirus, the implied revenue multiple of ~17x may not be unwarranted, particularly when compared to the 71x at which Zoom is trading.
Bullish on Pexip's future? Or will early buyers be left holding the bag as Zoom sucks the oxygen out of the room? We'd love your thoughts.

​
---
​
Company materials
​Pexip presentation from April 29, 2020​
​