Discover more from The Generalist
Learn what matters in tech, AI, and venture capital – for free.
Over 103,000 subscribers
Are we officially post-human?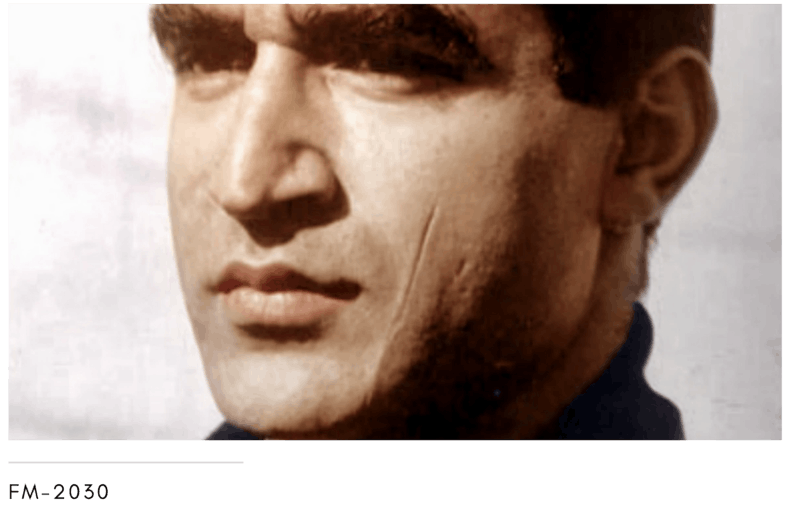 Editor's Letter: The coronavirus is hastening the post-human era
In the mid-1970s, Professor Fereidoun M. Esfandiary decided to change his name. From then on he would be legally called "FM-2030."
"Conventional names define a person's past: ancestry, ethnicity, nationality, religion. I am not who I was ten years ago...The name 2030 reflects my conviction that the years around 2030 will be a magical time. In 2030 we will be ageless and everyone will have an excellent chance to live forever. 2030 is a dream and a goal," he offered in explanation.
It didn't hurt that by 2030, he would be 100 years old, an age he was sure he would reach.
Already in his forty-odd years of living, FM — which some speculated stood for "Future Man" — defied easy categorization. The son of an Iranian diplomat, he lived in 17 countries by the age of 11 and would go on to represent his country's basketball team at the 1948 Olympic Games before beginning an academic career. He was educated at Berkeley and UCLA before becoming one of the first professors of futurology at the New School. It was there that he would begin to espouse "new concepts of the human," discussing the steps necessary to transition to post-humanity. FM described this as an epoch in which homo sapiens became "post-biological organisms," transcending the limits of their body through technology.
Much of the 21st century has seen us hurtle towards a post-human future, fulfilling predictions FM made half a century earlier. Over the course of his career, he foresaw the creation of 3D printers — which he referred to as "Santa Claus machines" — along with the advent of telemedicine, teleconferencing, teleshopping, and genetic editing.
​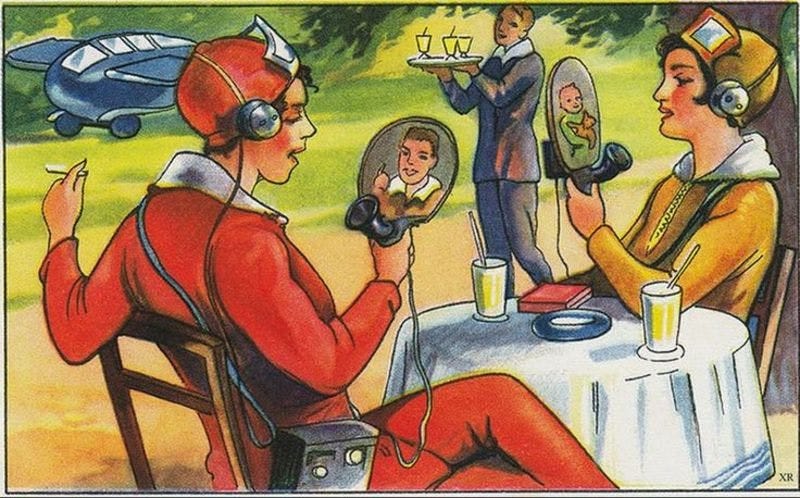 While we have been racing towards this future for some time, we may look back on 2020 and the coronavirus crisis as a crossing over. A time in which our relationship to core aspects of our humanity is fundamentally remade. In particular, I believe we are seeing meaningful recalibrations of our relationship to our own identity, labor, and health. In short, the post-human era is beginning in earnest.
Identity
The shift to a locked-in world has accelerated the acceptance of identity as distinct from physical body or place. We still want to communicate, socialize, and play during this time but have only a digital version to offer. Those constraints are forcing new expressions of selfhood. This is in stark contrast to the masked, distant, de-individuated person we show outside our homes. A few examples of synthetic identities coming to the fore:
​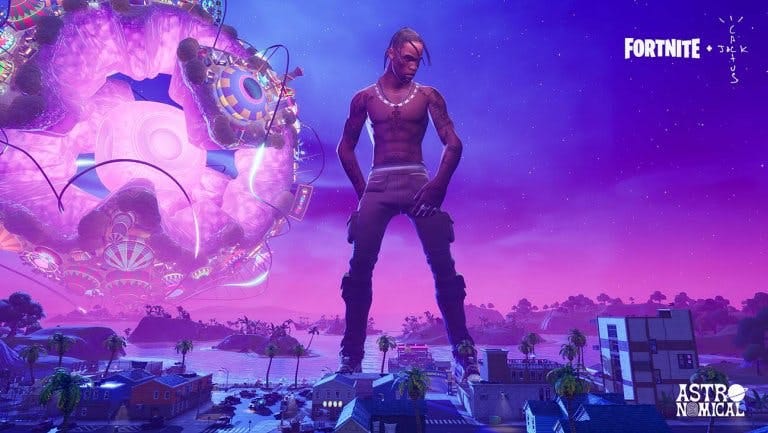 Labor
"Work gives you meaning and purpose and life is empty without it," said Stephen Hawking. Whether that is an assessment you agree with or not, much of our conception of ourselves is tied up in work. The effect of covid-19 is accelerating a shift away from humans and towards machines, doing so at a time in which we may actually feel grateful for cyborg usurpers as they keep critical services up and running and spare humans from disease. Those humans that remain necessary are viewed increasingly as mechanized systems. Those that are low-income, young, and of color are particularly at risk of displacement.
​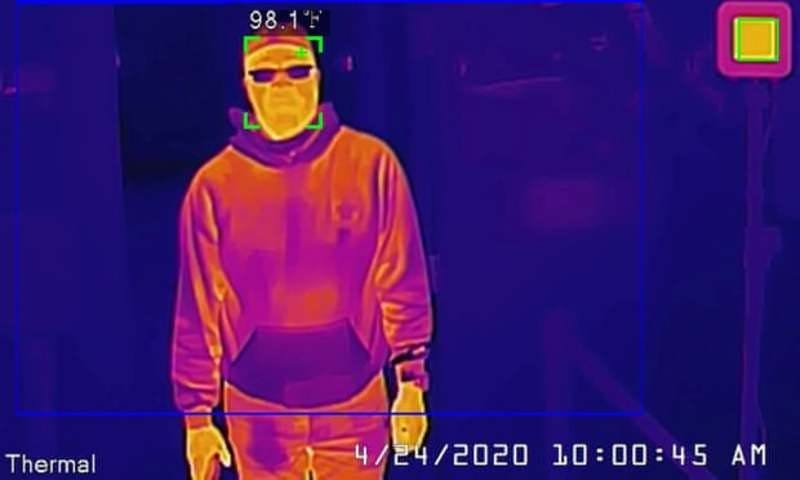 Health
Much of our waking life is filled with health-related ruminations. As we become more aware of our vulnerabilities, we are turning to technologies to extend corporeal limitations, in turn treating our bodies more like software with which we can experiment. It is a period of self-love and self-hate: as much as we may try to do everything possible to keep ourselves sane, we are also in active conflict with our physical being (and the beings of others), maintaining distance, suppressing breath, cleansing ourselves.
​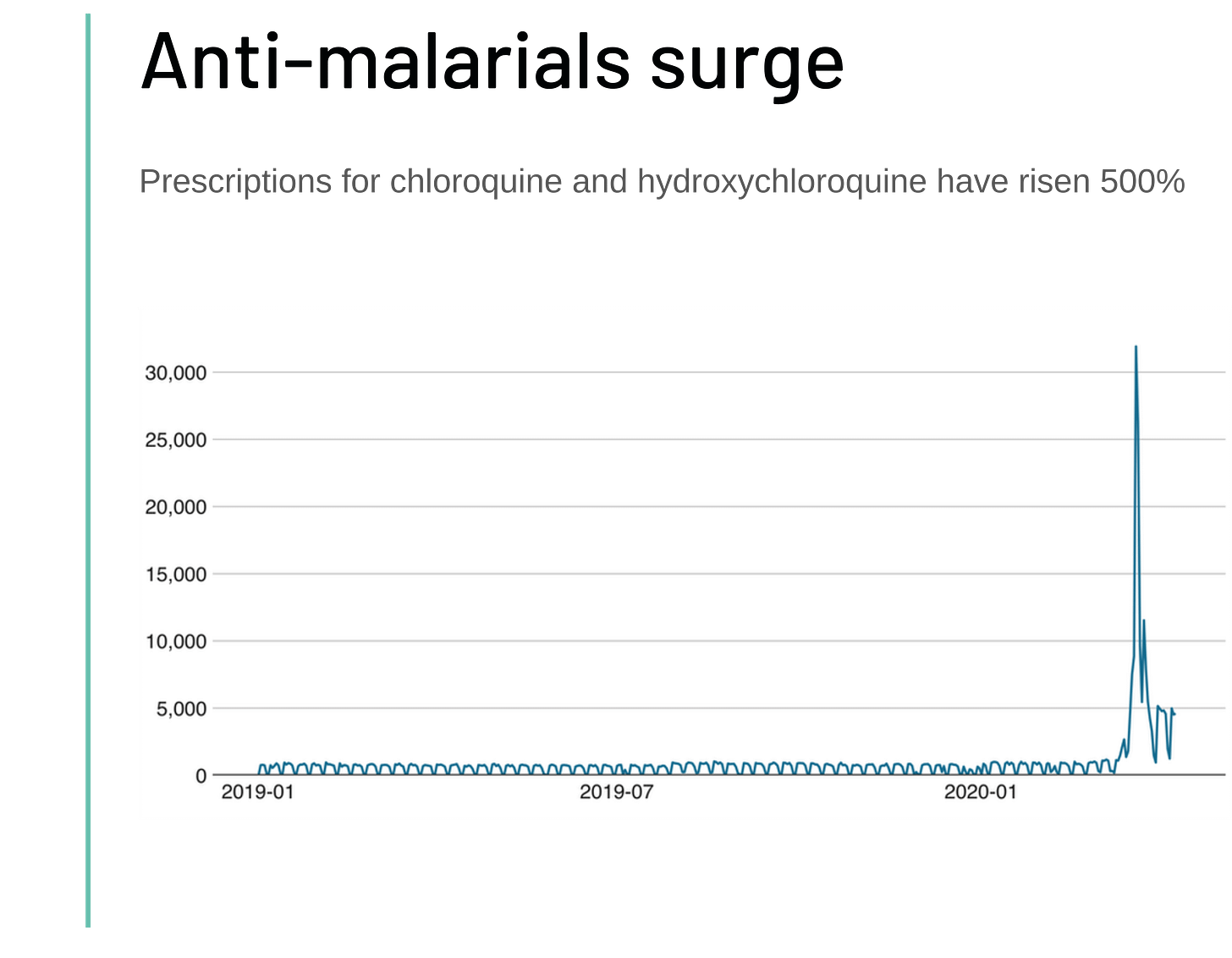 The self, as we know it, is being decimated. That may not be a bad thing. As identity moves online, as work is stripped from us, as our physical bodies are optimized like an OS, new opportunities will emerge. Humans will find meaning in new modes of self-expression, discover purpose beyond work (or reclassify what work means), and re-engineer physical limits as "biology eats the world." We are undergoing a period of Schumpeterian "creative destruction," felt at the anthropological rather than industrial level. Great things may come of it.
For FM-2030, the future was something at which to marvel, where "people will belong to no specific families or factions...we will free-flow across the planet and beyond. Highly individual yet universal." Though the changes wrought by the coronavirus often appear bleak, some of FM's vision feels true: we are united as a world, fighting against against a common enemy, more connected than ever before. Perhaps, in time, the rest of FM's dream will be made manifest.
For all of his prescience, however, FM-2030 got one prediction very wrong. He did not make his 100th birthday, dying of pancreatic cancer in 2000. He was just 69. If he has his way though, he could still have a role to play in the creation of the future. Though dead, FM's body remains frozen in a state of cryonic suspension in Scottsdale, Arizona. Perhaps he is waiting for the world to catch up.
​
Brief
Albert Camus on picking sides in a plague

Seinfeld: The Game

Online learning's disappointing results

The unintended rise of AI girlfriends

The marijuana trade, renewables in ruins, and Frank Sinatra's newest hit

Charles Darwin's appetite

VCs hiring remote roles

A very timely winner
​
Overheard

Good news
Having an ale of a time
Sounding very much like a riff on a Simon Pegg film, two Londoners are spending lockdown in a pub. Dom Townsend, the assistant manager of The Prince in Stoke Newington, has been sheltering in place with roommate Steve Pond, taking advantage of the watering hole they live above. Days are filled with unlimited pints, barbecues, and makeshift crazy golf.
​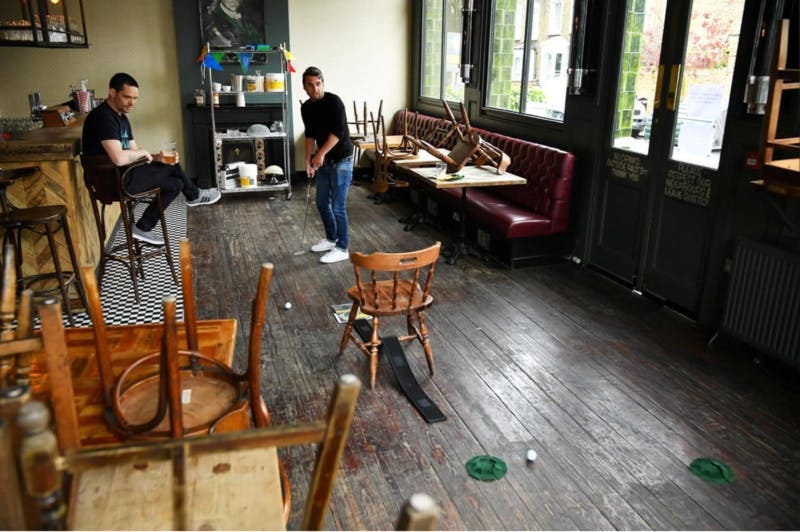 Short bites
​
1000 words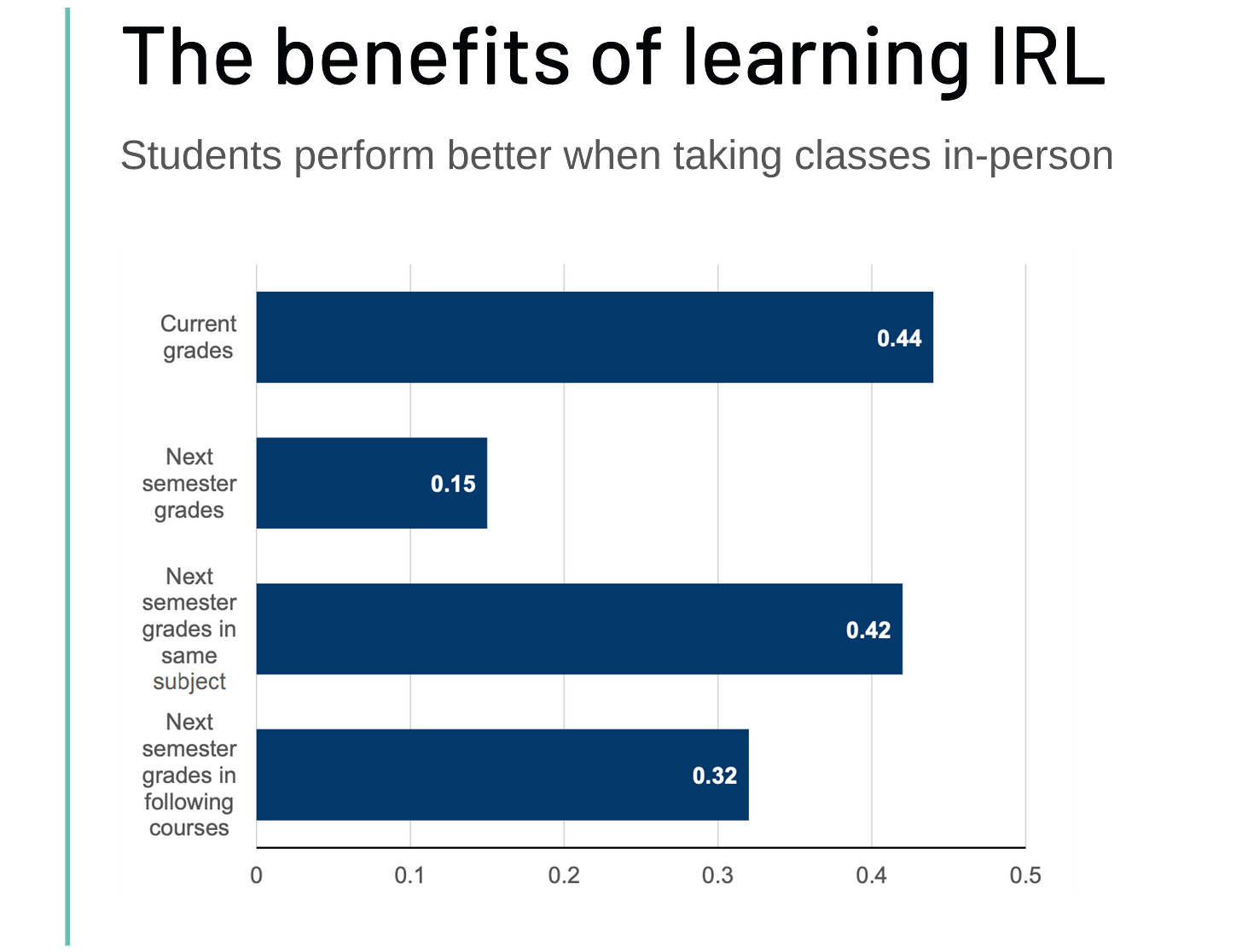 As colleges plan for a fall semester provisioned virtually, some analysts have asked if students will get their money's worth. Beyond the social capital that may be lost, data from the Brookings Institute indicates that students receive a demonstrably less effective education when provisioned online.
Brookings reviewed data from 230K students at DeVry University, a school that offers a hybrid in-person and virtual model. A few observations from the chart above, and the rest of the study:
Lower grades. Students that took classes online averaged 0.44 lower scores on a 4-point scale, meaning that while those in-person earned a B- on average, online learners received a C.

Persistence of performance. This discrepancy does not only affect the semester in question. Online students received lower grades in subsequent classes, particularly those in the same subject area, suggesting less had been learned in the initial online course.

Struggling students fare worst. Elsewhere in the study, data indicates that while online courses have little effect on high-performing students, those in the bottom decile are especially hard hit. Their grades drop by 0.8 points, almost a full letter grade.

Higher dropout rates. The semester after taking a course online, students are 9% less likely to remain enrolled. Those that do stay enroll tend to reduce their credit count.
With 75% of surveyed college students expressing disappointment with the quality of their e-learning experience during lockdown, it may be time for universities to rethink what remote class looks like. Some have proposed more skill-based progression, allowing students to learn at their own pace and move forward only once they have mastered a concept, while others believe digital social gatherings will narrow the experience gap.
For those currently attending class or teaching online, I'd be curious to hear about your experience. How could it be improved? What should the future look like?
​
Signal
​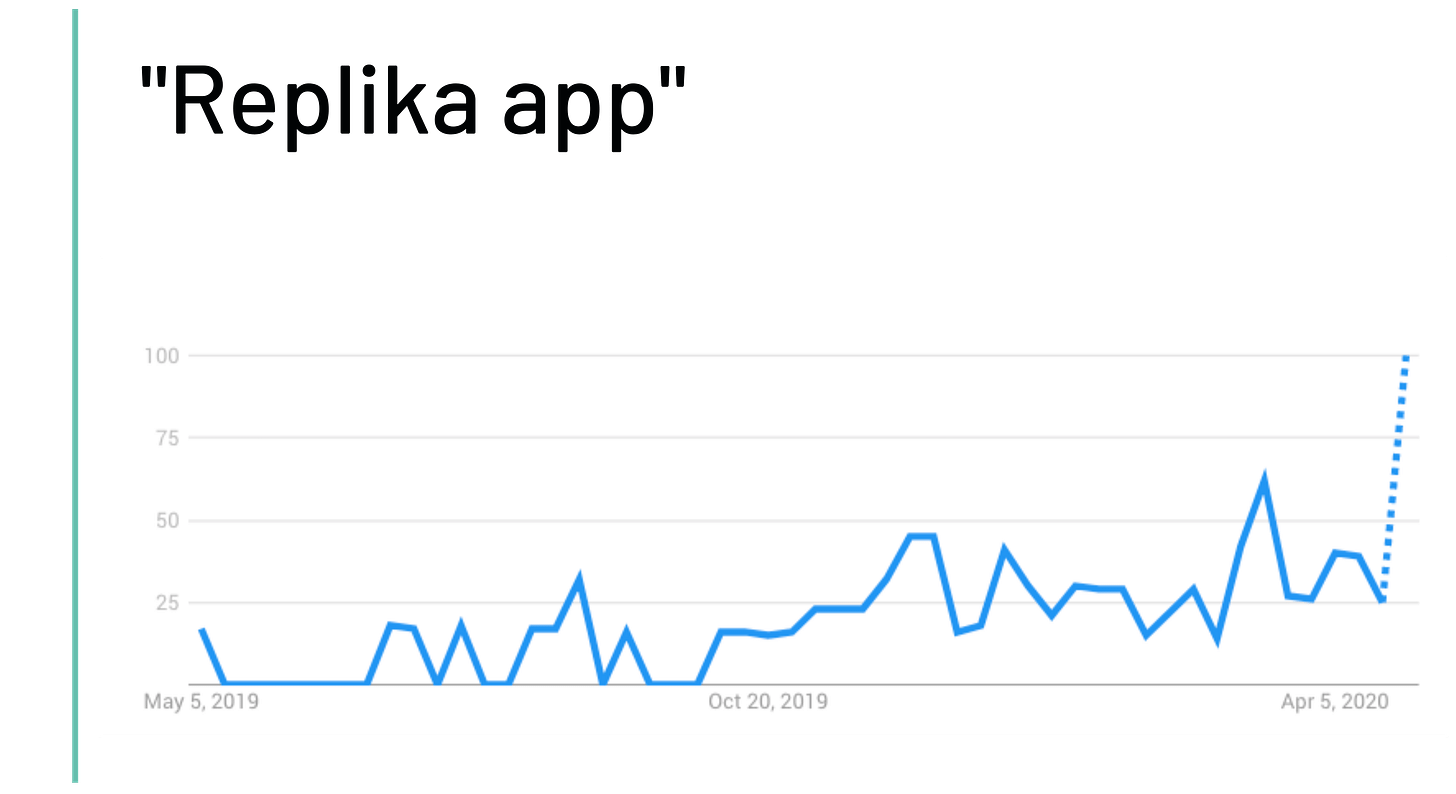 "The trouble is not that I am single and likely to stay single," novelist Charlotte Brontë once wrote, "but that I am lonely and likely to stay lonely."
Unable to amend that state of misery through human company, many are turning to AI companions. Created in 2015, Replika provides a sympathetic texting partner, designed to serve as a digital therapist. But for many of the company's 500K monthly active users, Replika is too charming to resist: up to 40% consider the bot a romantic partner.
While Replika keeps things relatively PG, there are more scandalous (and arguably troubling) alternatives. RealDollX allows users to design their AI girlfriend's body, wardrobe, and voice. The creation can be synched with the company's robotic heads.
​
Long tail
Hate proliferates
Idiocy is contagious. As the virus has spread, new data indicates that anti-Chinese and anti-semitic sentiment has risen. Moonshot, an organization that monitors extremism online, found a 300% increase in hashtags that "encourage violence against...Chinese people" along with a surge in anti-semitic tags such as #IsraelVirus. Much of this hatred has gone hand-in-hand with featherbrained conspiracy theories connecting 5G's rollout with the virus. The USA, followed by India, are the countries engaging most in hate speech related hashtags.
The CEO of Banjo, a surveillance firm backed by SoftBank, once shot up a synagogue with members of the KKK. More here ​

After an assault against the press, Trump retweeted a manipulated video of Joe Biden sticking out his tongue. More here​
​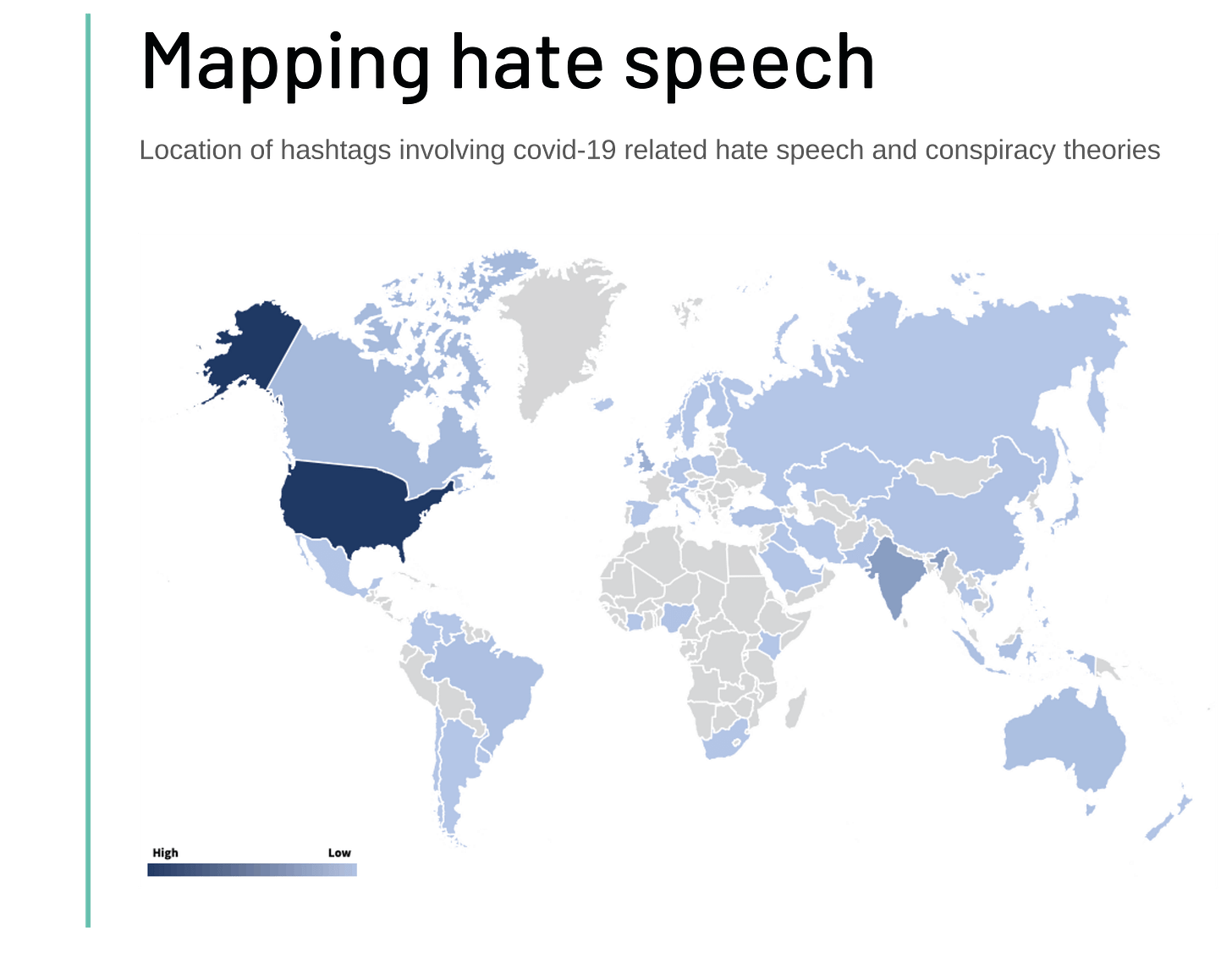 Blurred vision in the cannabis industry
Not all merchants of Mary Jane are thriving. While March brought 4-5x of typical sales for purveyors like Terra Tech, much of that has evaporated as panic buying slows down and foot-traffic craters. To combat the decline, many companies are rolling out curbside pick-up and delivery options. Meanwhile direct-to-consumer companies like Recess and Indose have flourished, providing pacification to the anxious.
Elon Musk, no stranger to the wacky tobaccy, tweeted that his girlfriend was mad at him and that Tesla was overvalued, prompting a slide of over 10%. More here​

A beer named after Anthony Fauci has sold out, with Wild Heaven Beer in Atlanta beginning another run. More here​

Online alcohol orders have risen 400% since lockdown, with companies like Drizly seeing sales 437% above projections. More here​
​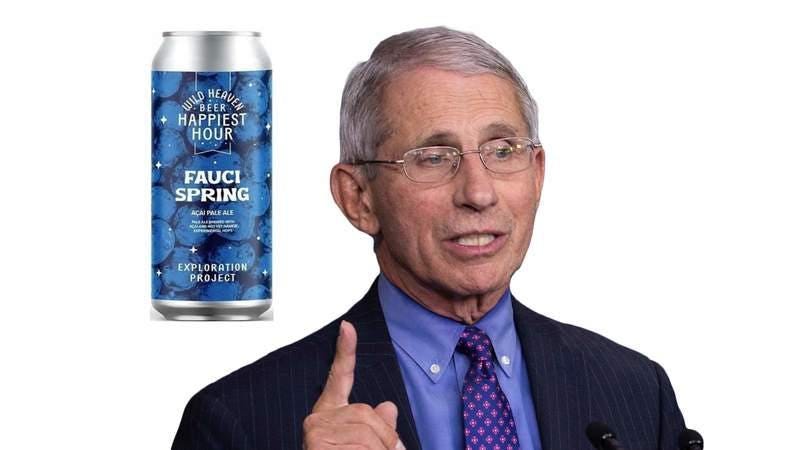 It's hot-tub time!
So goes an early line in Open AI's "classic pop" song, sung in the style of Frank Sinatra. The researcher released Jukebox this week, an AI music maker capable of mimicking the style of famous artists like Sinatra, Elvis, Katy Perry, and others. The courts will have to decide whether such creations represent a novel form of copyright infringement.
AIs cannot be classified as an inventor in a patent, per the US Patent and Trademark Office. More here​

Two anonymous founders believe they are creating "porn and AI history" through their tool "These Nudes Do Not Exist." More here​

Imgflip offers a more innocent service called "This Meme Does Not Exist," which offers some truly bizarre, pleasurably nonsensical concoctions. An example, below. More here​
​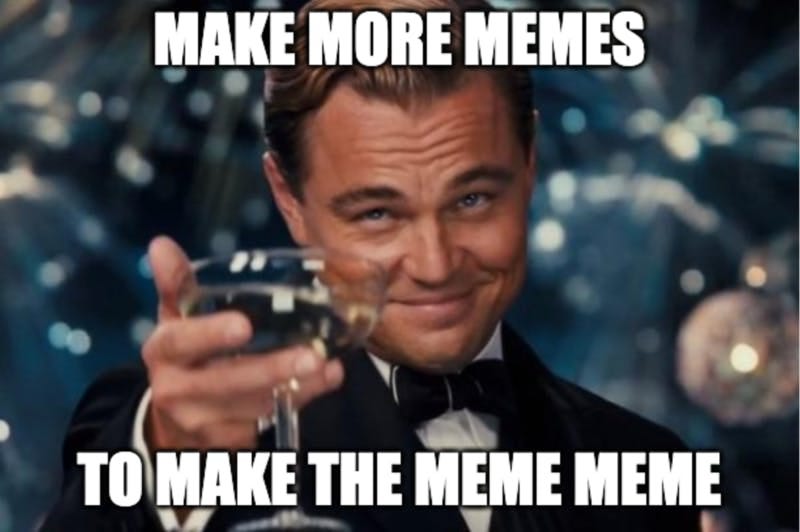 Solar storm
Renewable energy companies are struggling as construction projects get delayed. As many as 120K may be laid off in the solar industry, with an additional 35K in wind. Consulting firm Wood Mackenzie expects solar installations to fall 17% short of annual projections with wind turbine manufacturing lagging 20%.
Deceased mobility startup Boosted was working on electric bikes, a four-motor longboard, and a collaboration with Tony Hawk's Birdhouse brand. More here​

Infamous for its rapacious power consumption, bitcoin's price shot up to $9.4K this week as "the halvening" approaches. More here​

Andreessen Horowitz closed a second crypto fund with $515MM in commitments. More here​
​
Detour
As America faces a meat shortage that may last months, it's an opportune time to revisit one of history's great carnivores. While Charles Darwin is best known as the mild-mannered gentleman behind evolutionary theory, he was also a particularly adventurous and indiscriminate eater.
His exploits began at Cambridge after he joined the Glutton Club, a group dedicated to eating "birds and beasts...before unknown to the human palate." As part of the group, Darwin ate hawk, bittern, and a brown owl, which was so unpleasant that the group disbanded. "Indescribable," Darwin noted.
​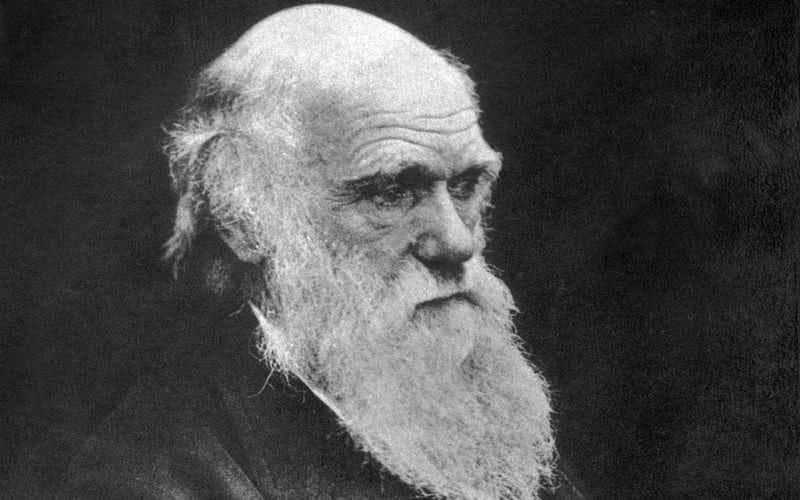 It was once Darwin began his travels aboard the HMS Beagle that he really came into his own, however. His meals included:
Puma, "remarkably like veal in taste"

Armadillos, "taste & look like duck"

Giant tortoises, "very good" thought Darwin, though he preferred the "capital soup" made out of younger tortoises. As an aside, Darwin was far from alone in his enjoyment with many sailors considering it "the most delicious food."

A "twenty-pound rodent" thought to be an agouti, which Darwin described as "the very best meat I have ever tasted."
There was one instance in which Darwin's appetite landed him in some trouble. Sitting down to a dinner in 1833, Darwin realized halfway through the meal that the ship's cook had prepared an extremely rare flightless bird, the lesser rhea. He stopped the meal immediately, succeeding in gathering "the head and neck, the legs, and many of the larger feathers," to study.
​
Jobs
​
Puzzler
There is one sport in which neither spectators nor participants know the score or leader until the contest ends. What is it?
A tricky but enjoyable one. If you'd like a hint, feel free to respond to this email.
Winners of this section are sharing the love as newcomer Abhinav S took top spot this time out, providing the correct response in short order. As a reminder, our last riddle was as follows:
​
If eleven plus two equals one, what does nine plus five equal?
The answer? Two, understood if the numbers in question are considered to be hours on a clock (9 o'clock + 5 hours = 2 o'clock). Well played, Abhinav.
Thank you for reading. It's a real pleasure to be back in the swing of things with you all. Wishing you a pleasant morning, a relaxing end to the weekend, and a good start to the month ahead.
— MG-3550​

​
---
​
In The Generalist community
This newsletter is fortunate to have a readership of impressive individuals, including the folks above. Every so often I'll highlight a few creations from you, our subscribers. If you've launched a product or published something you're proud of, I'd love to hear from you.