Discover more from The Generalist
Learn what matters in tech, AI, and venture capital – for free.
Over 99,000 subscribers
Unity is Manifesting the Metaverse
From the S-1 Club
Welcome to new subscribers. The S-1 Club is a series from The Generalist. We unpack the most vital IPO filings to keep you in the know, before the opening bell. Thank you for being here.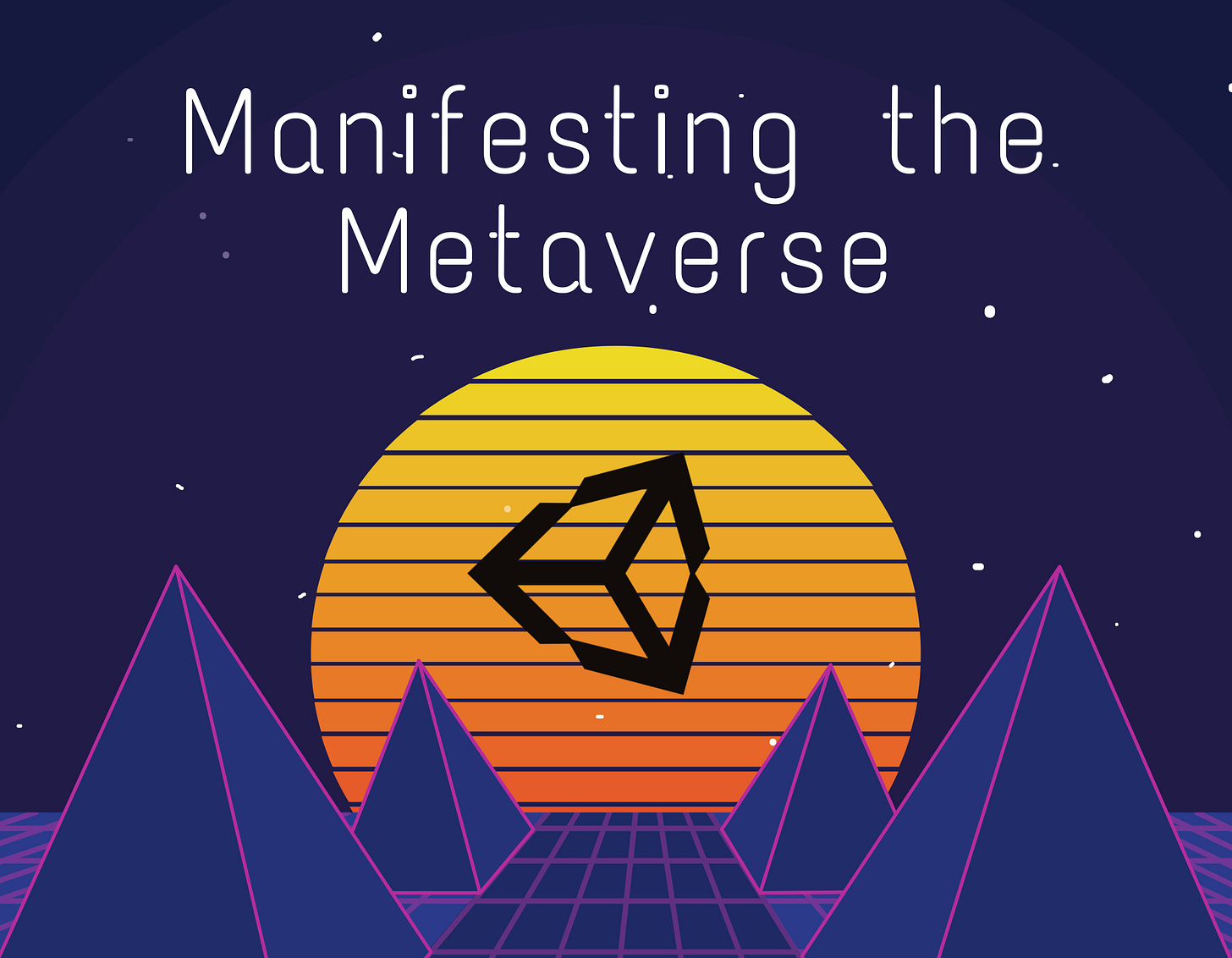 Unity in 1 minute
Founded in 2004 as a game studio, Unity has risen to become a foundational piece of infrastructure in the space. The company's engine — which makes it easier to develop a new game — is used by 53% of the top 1,000 mobile games. Though unprofitable, Unity brought in $541M in revenue in 2019, an annual growth rate of 42%. Big winners of this IPO include Sequoia Capital and Silver Lake Partners.
The challenge for Unity may be in fending off competition. Epic's Unreal engine has captured the top of the market, while Roblox is winning favor with younger players. Unity's management may also be a liability — a sexual harassment case was filed last year.
To learn more about Unity's journey from Gooball to giant, read on.
If you enjoy this analysis, sign up for more S-1s here 👇
---
Analysts
Introduction
Elon leans forward in his chair. It's a strange, high-backed red leather, better suited to a Bond villain than a speaker at a tech conference.
He's just been asked whether he thinks we live in a simulation.
The strongest argument for us being in a simulation is the following: forty years ago, we had Pong. Two rectangles and a dot. That's what games were. Now forty years later, we have photorealistic simulations with millions of people playing simultaneously, and it's getting better every year...If you assume any rate of improvement at all, then games will become indistinguishable from reality.
He pauses for a moment, giving out a small huff.
"It would seem to follow that the odds that we're in base reality is one in billions."
For the uninitiated, the Space X founder has just delivered a précis of the "simulation hypothesis," popularized by Oxford philosopher Nick Bostrom. Borrowing from thinkers like René Descartes, Bostrom proffers a nifty bit of deduction:
In the future, we may attain a level of computing power that dwarves current capacity.

With that power, our descendants may wish to simulate the past. In particular, they may wish to run simulations of their ancestors. Given reasonable distribution, billions, trillions of such simulations may run simultaneously.

Assuming computing has reached a sufficient level of "fine-grained" fidelity, we could reasonably expect these ancestors to possess a level of consciousness similar to our own.
The question is implicit and fundamental. What are we? Are we "real" or living in a simulation? Are we Gods or the dreams of Gods? (Or, indeed, the dreams of dreams of Gods). For Elon and Bostrom, the odds are not in our favor.
Below, we delve into Unity's performance. We discuss the product, profile the management team, and share our takeaways from the balance sheet. But unlike other companies, comprehending Unity and its potential may be less an analytical question, more a philosophical one. This is a business with ambitions far beyond gaming — Unity wants to power realities.
In that positioning, the company radically expands its TAM, an obvious priority of the S-1. Unity hammers its established use in the corporate world, leveraged for construction, urban planning, and other built world projects. Its gaming performance is nothing to sniff at, but management is clearly in pursuit of greater goals.
The sum is a prospect attractive to both sages and shareholders. Not only is Unity angling to be the rails for the Metaverse, the infrastructure that undergirds new worlds, but it's also a recurring revenue business selling a popular product into a rapidly growing market.
Number of mentions in the S-1
Creator: 214

Gaming: 141

Interactive: 87

Beyond gaming: 37

China: 34

Epic: 5
Unity's history
Denmark, 2004.
Three friends, Joachim Ante, David Helgason, and Nicholas Francis, set out to start a gaming company. They had a name for it: Over the Edge Entertainment (OTEE). There was just one problem: They had virtually no experience. Still, that didn't stop them. After a year of painful development, OTEE released its first and last game.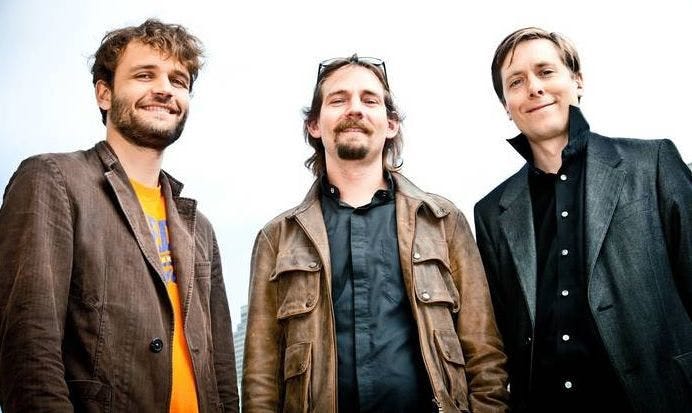 Unity's founding team, Your Tech Story
GooBall tells the story of "Goober," an alien stranded on earth, encased in a ball of protoplasm. Players move the ball around various obstacles, reaching a finish line. Though similar to smash hit Super Monkey Ball, OTEE's creation failed to find an audience.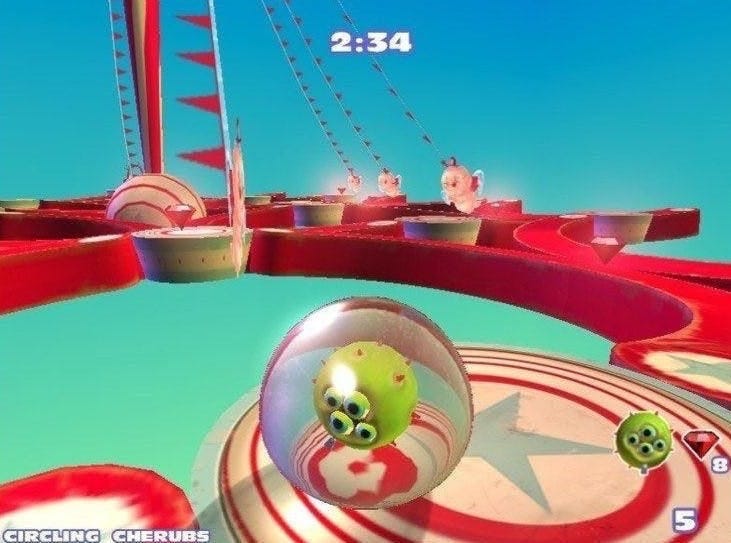 The esoteric joys of
Gooball
, Alchetron
As it happened, that failure was a blessing. Staring down the prospect of another long development slog with an uncertain outcome, the team had a revelation.
Here's how David Helgason, Unity's first CEO, described their discovery:
We realized that we suck at making games, but that we had some sort of strange insight into tool making. I don't know exactly why, but there was something. We just had an intuition as to how to make things easy. So we built a tool that was actually quite terrible from a performance perspective and a features perspective but somehow was easy enough that people could figure out how to use it. We had no funding, we tried to talk to some venture capitalists, and they looked at us like I would look at myself, which is like — "who the fuck are you?" We couldn't explain what the market was. We couldn't explain which market we were even in. And if anybody actually did the math, they would have found that our target audience was a few 100 people. Because the idea of an easy to use game development platform back in 2003/04 was just like a fundamentally bad idea. Because nobody actually needed that. Everybody was so focused on big games and big teams. This is the first massive stroke of luck. Because nobody was trying to do it, there was a bit of air cover for us to stumble around, figure it out, and build a product that was eventually needed.
For the next four years, David, Joachim, and Nicholas waited for the world to catch up. They focused on serving Mac game-developers, improving their product, and honing in on their mission: "to democratize game development." By providing better tooling, they hoped to create a proliferation of creators, building for new platforms.
When 2008 arrived, Unity was ready. In March of that year, Jobs's Apple opened the doors of the App Store. It represented a capitulation for the stubborn Jobs — during the iPhone's development, released the year previous, he had nixed the idea of third-party developers building native experiences for the product. More than most, Unity was a beneficiary of that change of heart: the company was the first product designed to support the development of games for Apple's newest creation.
That represented an inflection point as Unity catapulted up the S-Curve, shifting from "innovators" to "early-adopters." While Mac games had been an interesting beachhead, mobile was a much bigger prize. Venture investors, once disinterested, began knocking on Helgason's door. In 2009, the firm announced a $7.8M Series A from Sequoia Capital, its first venture capital.
Unity made the transition from product to platform with remarkable dexterity. In what Helgason described as the company's "second stage," Unity moved from offering tooling to facilitating a developer ecosystem. As part of this push, the "Asset Store" was launched in 2010, allowing developers to buy and sell artwork, audio, and other game creations.
Unity is like a blank canvas. It's an empty stage. If you're making a game, you are going to populate it with your own characters. Your own props. Your own special effects. That's really hard, and something very few teams can do with real quality. The big companies can throw money at it and outsource it to cheap areas. Small teams don't have that ability. So we created a marketplace for these smaller developers to trade amongst each other. We thought we could make money from this. But honestly, we couldn't in any scalable way. But it became an incredibly powerful way to rally the community together.
As of July 2018, the Asset Store offered over 56,000 "packages" used to build games and was frequented by over 1M developers a month. Earlier figures noted that creators of top packages could bring in north of $20K per month, with Unity estimating that more than 1K developers generated significant income through the marketplace. We imagine that figure has grown significantly over the last couple of years.
While the Asset Store turned out to be a money-spinner for devs, it was an inefficient model for Unity. In its transition into a pure-play platform, Unity grew its workforce from 100 to 400 employees, started a global push, and began to face significant competition. Intel released "Project Anarchy," a free mobile game engine, and down-market and open-source competitors pressed from below. As the company scaled, establishing a viable revenue model became increasingly important. Unity partially solved this issue through acquisitions, buying businesses that added advertising muscle, including game marketing, analytics, and interaction and word-of-mouth marketing tools.
Founded in 1998, Epic Games' Unreal engine had always been a threat. But in 2014, hostilities escalated: Unreal was made free to university students. Just a few months later, it was made free to all users, full-stop. Unity responded by bringing in a pro. In late-2014, David Helgason was replaced by former Electronic Arts CEO, John Riccitiello. He remains at the helm today. Under his stewardship, Unity has made inroads upmarket, signing AAA studios, while Epic has moved in the opposite direction.
Here's Riccitiello's retelling:
We were doing low-end mobile four years ago. We had maybe eight or nine percent market share. It's 50 now. Is that business as usual? We didn't support high-end anything. We have lots of triple-A being built on Unity. We didn't support AR/VR. Now, most AR and VR is built on Unity. We didn't have a monetization platform or cloud services. The velocity on R&D is breathtaking.
Today, Unity is the complete package. The game studio, founded in a Danish basement, now serves 53% of the top 1,000 mobile games, 50% of games across platforms, and 93 of the 100 largest game studios by revenue. Every month, 1.5M creators use their tool, and 1.5B devices download content built with Unity. From the Oculus to the Hololens, Android to iOS, Xbox to PC to Mac, Unity has developers covered. Again, from Riccitiello:
If you try to create a frame, a picture in a traditional tool from an Adobe or an Autodesk or Pixar's Renderman, it might take an hour, a day, or a week to actually produce that frame; based on the input. When you're playing a video game, whether it's on your phone or you're playing on a console. When you hit the X button or the forward button you're creating a frame that's never been seen by another human being on this planet in a sixtieth of a second. That level of performance is astonishing, and it's starting to affect industries well beyond the game industry. It's the future for how films are going to be made. It's the future for so many industries we work with.
If the company's "second stage" was its shift to a platform approach, we may be entering Unity's third act. Fortune 500 firms are already using Unity's solution, but in discussing the company's vision, the S-1 filing not only mentions game developers but the "37 million engineers and technicians" around the world.
In the future, what began as an attempt to make GooBall a hit, could be the tool used to design cars, buildings, and bridges.
The gaming market (and beyond!)
Unity's pitch to investors is simple: not only is the company going to own its market; it's going to grow it, too. This S-1 filing paints a picture of both market dominance and market expansion. It also outlines new frontiers.
First, by investing, buyers are backing Unity to dominate their market. More precisely, they're betting Unity will take share from established players like Electronic Arts, Supercell, or Activision Blizzard, incumbents with the budgets to lure talented game developers, launch big marketing campaigns for new game releases, and re-invest in R&D.
Next, investors are expecting Unity to expand the market itself. The company cites its addressable segment of the gaming market at $12B, rising to $16B by 2025. Gaming is assumed to be the fastest-growing media sector, with 2.5B gamers already. Unity is in a position to power and benefit from this market expansion.
That expected sectoral growth is critical in painting Unity's bull case. With the company approaching market saturation in gaming (that "50% of all games" figure is a double-edged sword), Unity needs to focus on the room left to run.
That's likely a key reason the company is channeling its inner-NVIDIA in seeking new frontiers, as discussed previously. This, from the filing:
Today, Fortune and Global 500 companies in industries such as architecture, engineering, construction, automotive, transportation, manufacturing, film, television, and retail are using Unity across many new use cases, including automobile and building design, online and augmented reality product configurators, autonomous driving simulation, and augmented reality workplace safety training. These new forms of content are emerging parts of our business and represent a significant opportunity for growth.
In industries beyond gaming, Unity estimates the market size for their Create and Operate solutions to be approximately $17B, giving a current TAM of $29B between gaming and other industries.
The leap from gaming to construction may look significant at first blush, but the demand for immersive, interactive content has never been higher. Architecture, engineering, design, and urban planning are embracing the advantages of real-time 3D content to engage municipal and commercial stakeholders in new projects. It also improves collaboration, increasing the speed of design iteration across multiple contributors.
Unity highlights Skanska, one of the world's largest construction companies, as an engaged user outside gaming:
[Skanska uses] Unity for a wide range of applications, from photorealistic interior mockups to coordinated pre-fab animations, 2D and 3D logistics, model management, and 4D sequencing. Additionally, [the] platform is enabling Skanska to provide safety training for workers to experience the job site before the project starts, to learn how to operate complex construction equipment, and to train on risky procedures.
Unity also secured a strategic partnership with Autodesk. This is an impressive piece of corporate wrangling. Not only does a tag-team improve the product for customers, it also neutralizes a competitive threat — Autodesk is a leader in providing software for builders of the physical world. In particular, the collaboration streamlines user workflows and eliminates friction between the two platforms. Creating powerful visualizations and interactive experiences are made significantly easier.
There is something conspicuously missing from the S-1 filing: education.
Anyone who's spent time reading or thinking about virtual worlds has likely considered its pedagogical applications. What might be added to a history lesson by visiting an interactive version of Ancient Rome? How would our understanding of biology improve if we could navigate the human body from the vantage of a red blood cell?
For now, Unity does not refer to its potential in this arena. Given the opportunity the company has to power high-quality educational experiences — especially valuable in remote environments — it will be interesting to see if it shows an interest in the sector going forward.
The Metaverse
We'd be remiss if we didn't discuss Unity's role as a "founder" of the Metaverse, a term coined in Neal Stephenson's Snow Crash, and further popularized by media analystMatthew Ball.
The Metaverse describes a state of interoperability across digital platforms in the virtual world. To date, virtual worlds have been built as walled gardens with their own laws of physics, currencies, and customs. The Metaverse connects walled gardens the way physical networking infrastructure connected internal networks nearly 50 years ago to create the Internet. The Metaverse also powers real-world interactions by enabling multiple people to experience the same event at once and collaborate in highly immersive environments. Fans of Ready Player One will recall the ragers held in The Oasis.
Where does Unity fit in such a world?
One perspective comes from Unity's nemesis, Epic Games. As mentioned in Company History, Epic is the creator of the directly competitive Unreal engine. In a conversation with the LA Times, CEO Tim Sweeney described what the Metaverse will enable:
Just as every company a few decades ago created a webpage, and then at some point every company created a Facebook page, I think we're approaching the point where every company will have a real-time live 3D presence, through partnerships with game companies or through games like Fortnite and Minecraft and Roblox. That's starting to happen now. It's going to be a much bigger thing than these previous generational shifts. Not only will it be a boon for game developers, but it will be the beginning of tearing down the barriers not just between platforms but between games.
If you ascribe to Sweeney's view, then the upside for engines like Unity and Unreal is extraordinary. Rather than merely powering game development, Unity has the potential to serve as the foundational layer — the rails — of a new, shared synthetic reality.
Epic v. Apple
Epic isn't just well known as Unity's key competitor. The company has gotten attention recently for a dramatic struggle with Apple over App Store fees. Epic offers games and the Unreal gaming engine, and their marquee gaming brand, Fortnite, has over 350M registered users. In mid-August, Epic updated the Fortnite iOS app to let users bypass the App Store and buy in-game currency directly from Epic, at a discount. Apple promptly banned the app, and Epic responded with the one-two punch of a legal filing accusing Apple of monopolistic tactics and a parody of Apple's classic "1984" ad.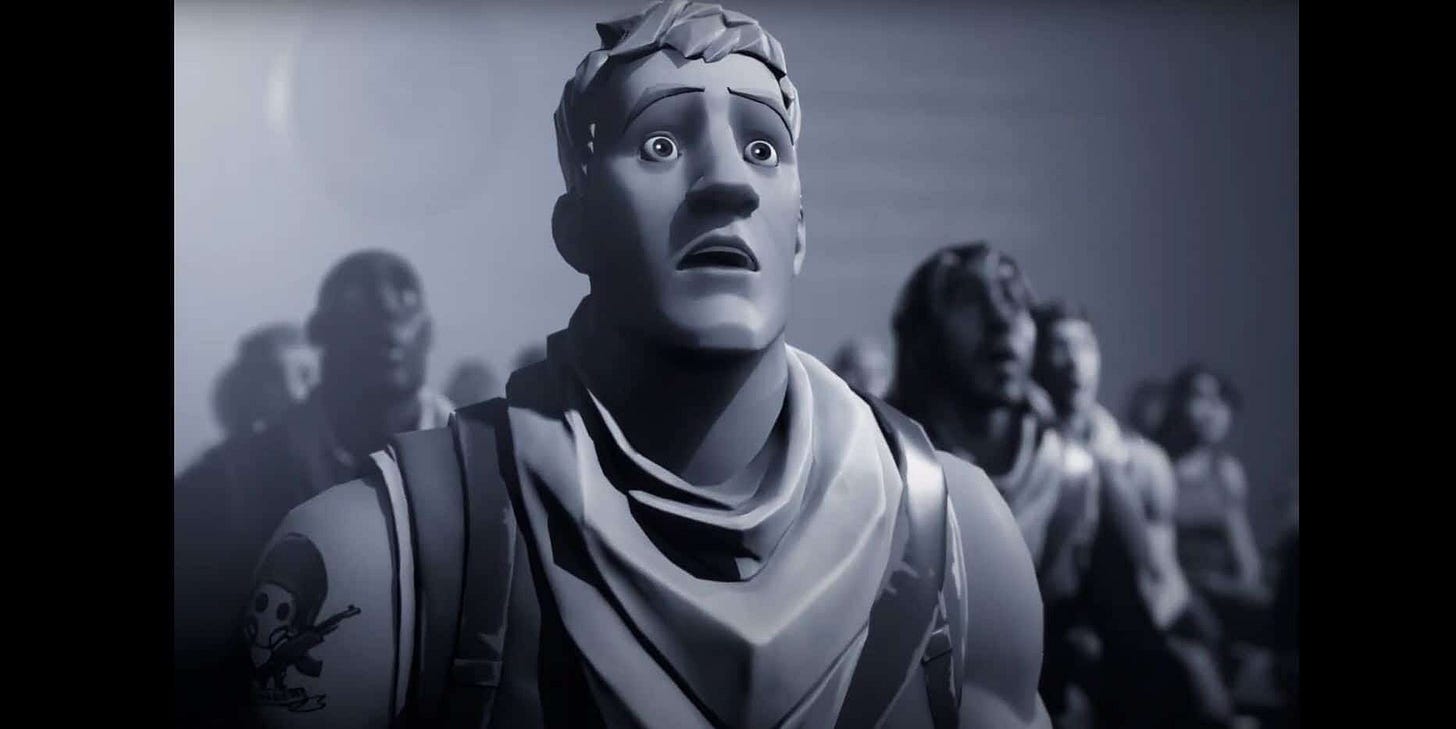 Epic's takedown of Apple, Fortnite Insider
This struggle is currently winding its way through the legal system. Apple and Epic are firing broadsides back and forth, debating whether Apple's behavior is genuinely anticompetitive or Epic is simply violating App Store terms considered perfectly acceptable at a smaller scale.
The more interesting side effect of this struggle is on the game engines themselves: Apple has substantial flexibility to punish Epic by reducing the prominence of Epic's other games, or of any game that uses the Unreal engine. This showcases the new economics of platform businesses: Epic has succeeded horizontally (by getting game companies to adopt Unreal) and vertically (parlaying expertise in games into the game engine itself), but this combination of breadth and depth means that Epic has many fronts on which to fight. A more focused company like Unity is less likely to capture the upside of runaway hit games. It's also less likely to find itself embroiled in distracting, expensive, and potentially strategically damaging disputes with a critical partner.
Product
With all due respect to Pexip, Vroom, Lemonade, and Rackspace, Unity has by far the coolest product of any company the S-1 Club has covered to date.
Fundamentally, Unity helps developers build games through "Create Solutions" and monetize via "Operate Solutions."

Unity's S-1 Filing
Create: A powerful engine for the virtual and real world
At the heart of Create Solutions is the Unity Engine. What's a game engine? According to Unity:
A game engine is the software that provides game creators with the necessary set of features to build games quickly and efficiently.
Instead of having to build everything from scratch every time they develop a new game, developers build with a game engine that handles things like:
How players walk

The physics of an arrow's trajectory

When and how sound effects play in the game

Creating multiplayer games and managing networking

Making sure the game works across multiple platforms

Unity's many supported platforms, Unity Technologies
Gaming
As alluded to, Unity's is one of two game engines on top of which nearly all of the world's games are built. The other is Epic's Unreal Engine. Comparing the two highlights Unity's strengths and weaknesses.
Unreal, launched in 1998, had a seven-year head start on Unity. Before Unity, people believed that Unreal had too big of a lead with which to compete. Since it spreads the development costs of new capabilities over many customers, Unreal can build new capabilities at a much lower cost per customer than a new entrant. Historically, the company has focused on the top-end of the market — A to AAA titles. Blockbusters like BioShock, Deus X, Batman: Arkham City, and Epic's own Fortnite were all built on the Unreal engine.
Unity's initial focus on the Mac was a classic example of low-end disruption. The company captured the long-tail of game developers who didn't need the richness that Unreal offered to AAA developers and, in exchange, made it much easier to develop simple games. As we noted, that strategy really paid off during the mobile gaming gold rush. The vast majority of mobile games are graphically simple and better suited to Unity. Popular mobile games like Cuphead, Flappy Bird, Monument Valley,Angry Birds Epic, and Temple Run 2 were all built on Unity.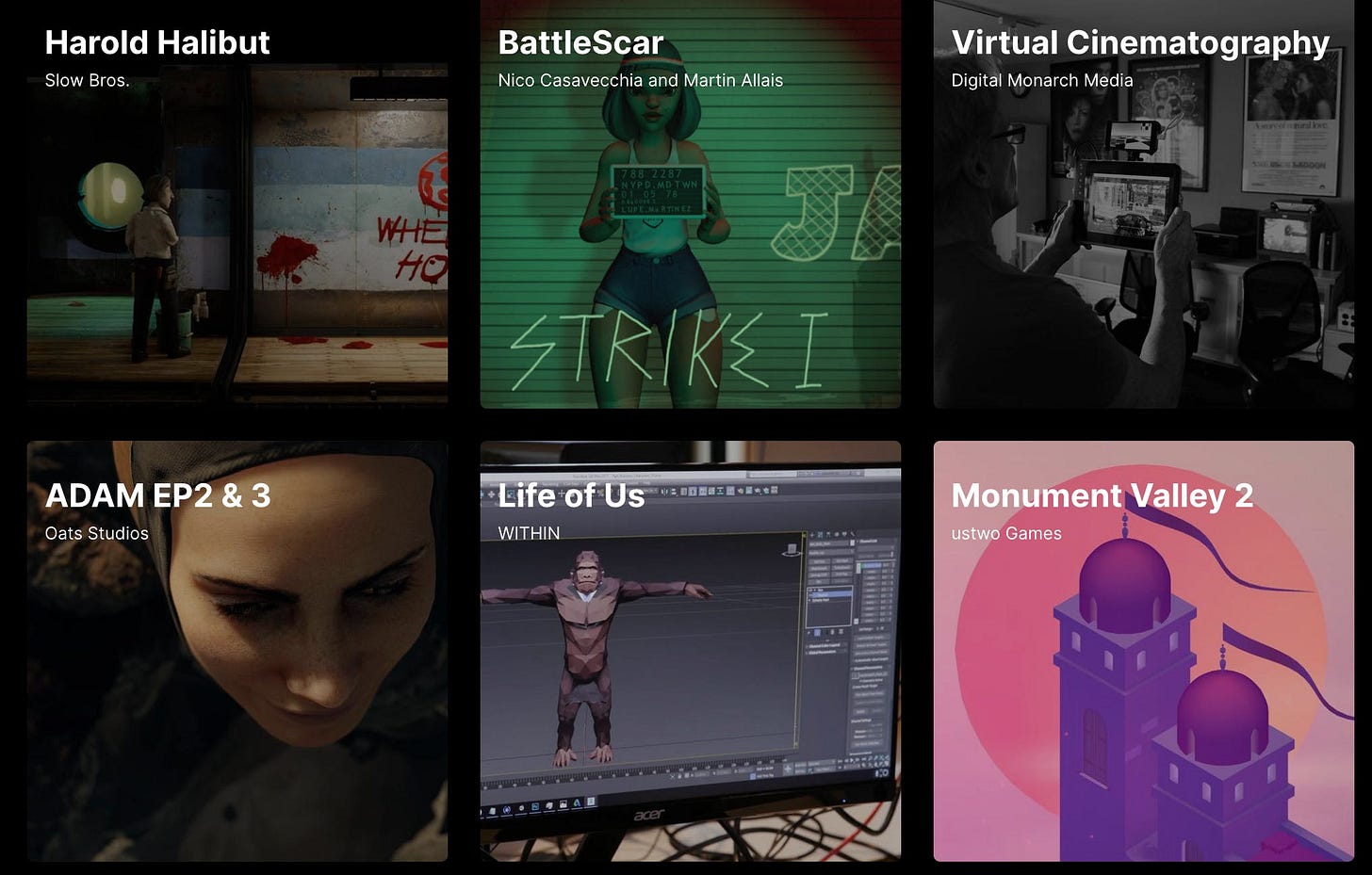 Made with Unity, Unity Technologies
To a certain extent, Unreal and Unity can still be understood in these terms. Unreal is the tool for the top of the market, Unity for the bottom.
Unreal's visual quality still outshines Unity's, and Epic extended the lead with the June release of Unreal Engine 5. As we noted, Unity remains the engine of choice for mobile games, powering 53% of the top 1,000. Intriguingly, Riot Games — owned by Tencent, the same company that owns 40% of Epic — announced its building League of Legends: Wild Rift on Unity to better reach mobile users.
Of course, there are signs of convergence.
Unity is increasingly moving into Unreal's territory, upgrading its engine. The company's new Data-Oriented Technology Stack (DOTS) and Scriptable Render Pipeline have greatly improved visual capabilities, allowing Unity to compete for more AAA titles. As it works towards powering the Metaverse, Unity is serving more VR and AR games and experiences. Rick and Morty: Virtual Rick-Ality and Beat Saber are built on Unity.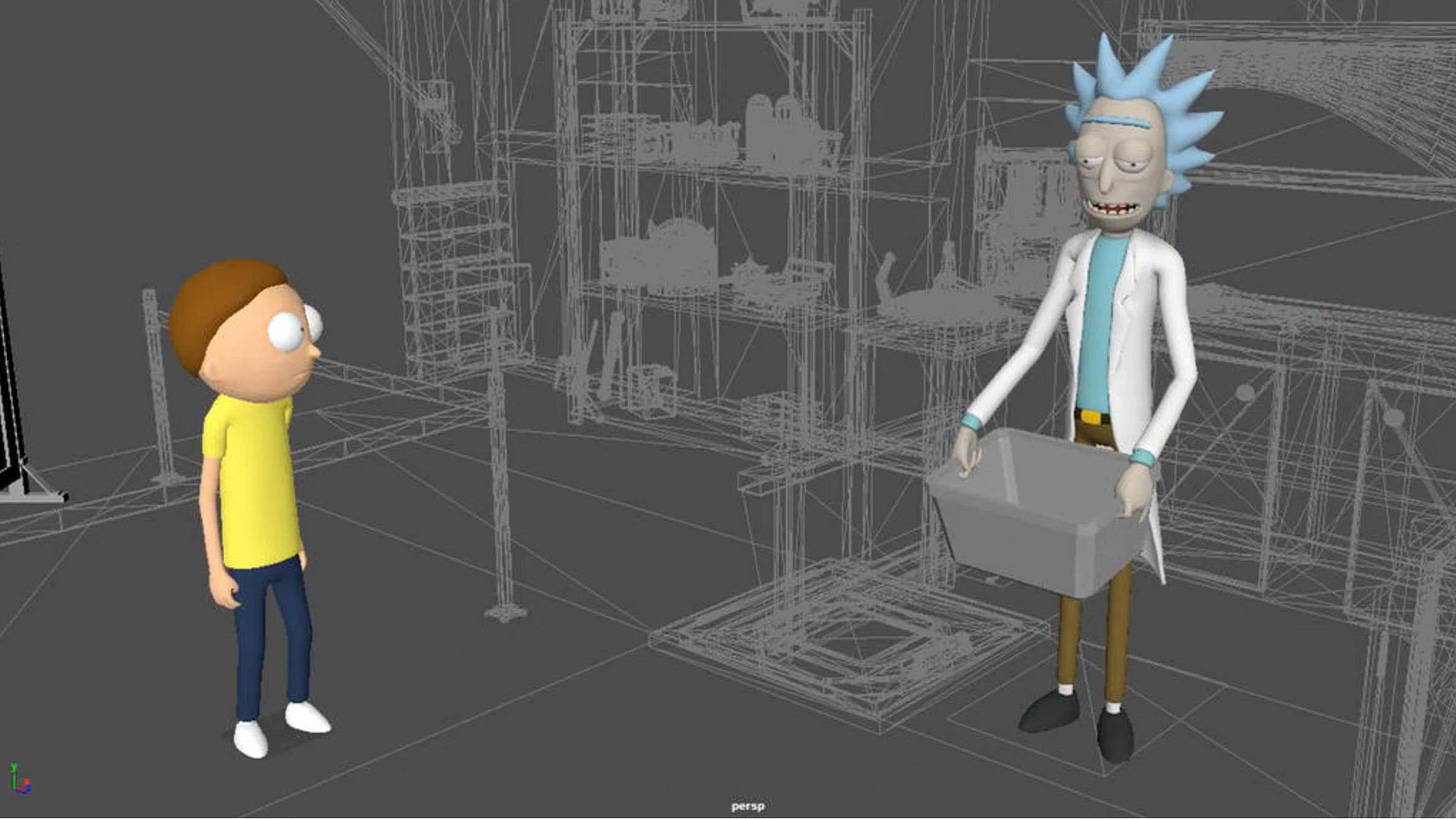 Rick and Morty, Unity Technologies
Niantic built AR smash hit Pokemon Go on Unity, as did the developers of Jurassic World Alive and Angry Birds FPS: First-Person Slingshot.
Unity offers a suite of products that developers use to build in VR and AR, including AR Foundation, Mixed and Augmented Reality Studio (MARS), Instant AR, High-Definition Render Pipeline, Universal Render Pipeline, Spatial Audio, and Particle System.
All to say, Unity is still the easiest way for developers to build games on any platform, from 2D web and mobile games, to 3D console games, to VR and AR. While its graphics aren't yet on par with Unreal's, and may never be, capturing the long-tail of developers remains a strong position from which to build.
Beyond gaming
In building solutions for game developers, Epic and Unity have built the world's most powerful rendering engines, which can be used in many applications.
That's part of the reason Unity sees an even bigger opportunity in non-gaming applications of its engine. As discussed, Unity believes its gaming market stands at $12B and industries beyond gaming at $17B.
In its S-1, Unity highlights its work with Volvo to design, manufacture, and sell cars. It also notes the company's work with Skanska to improve worker safety on construction sites.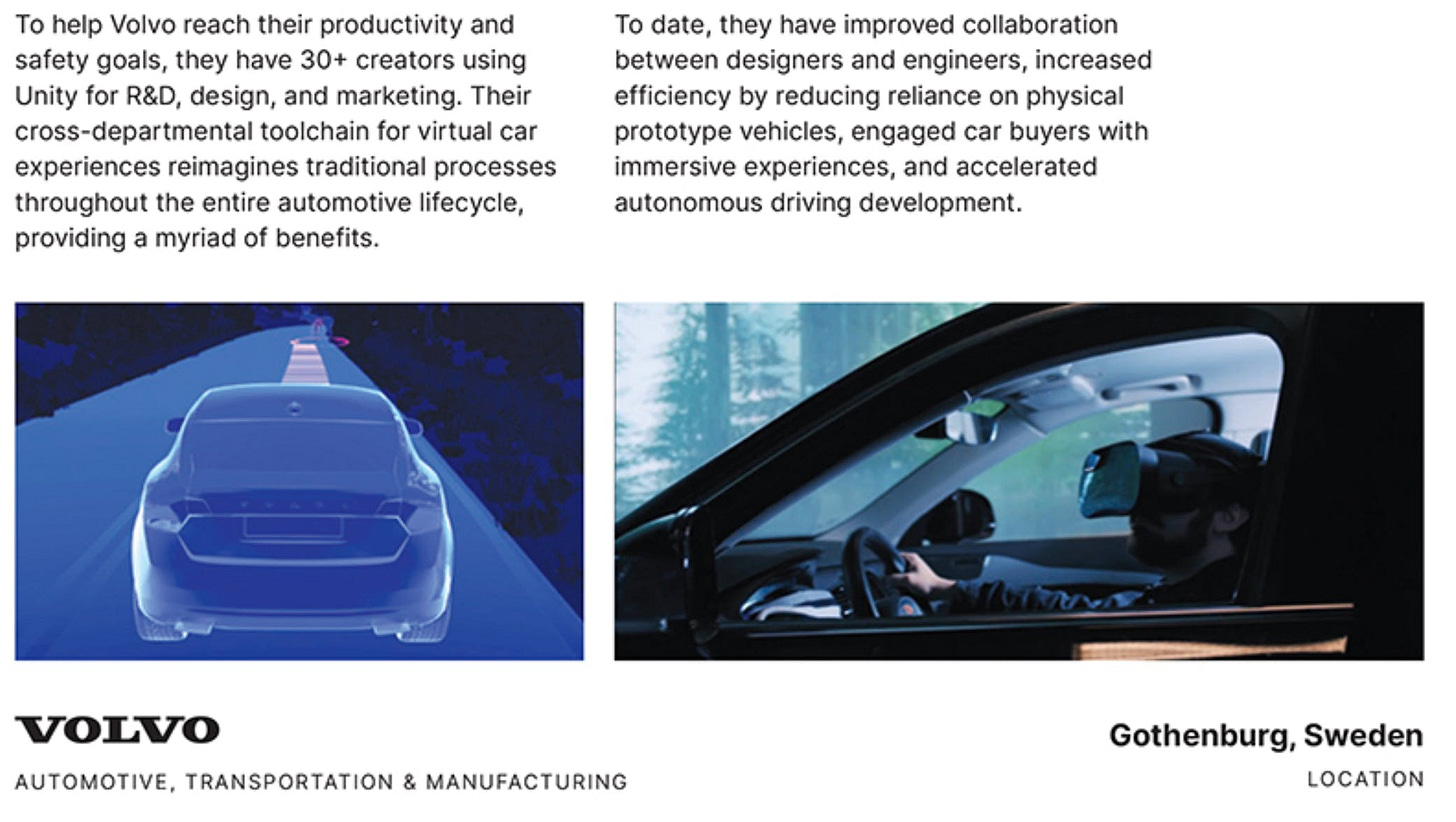 Unity's S-1 Filing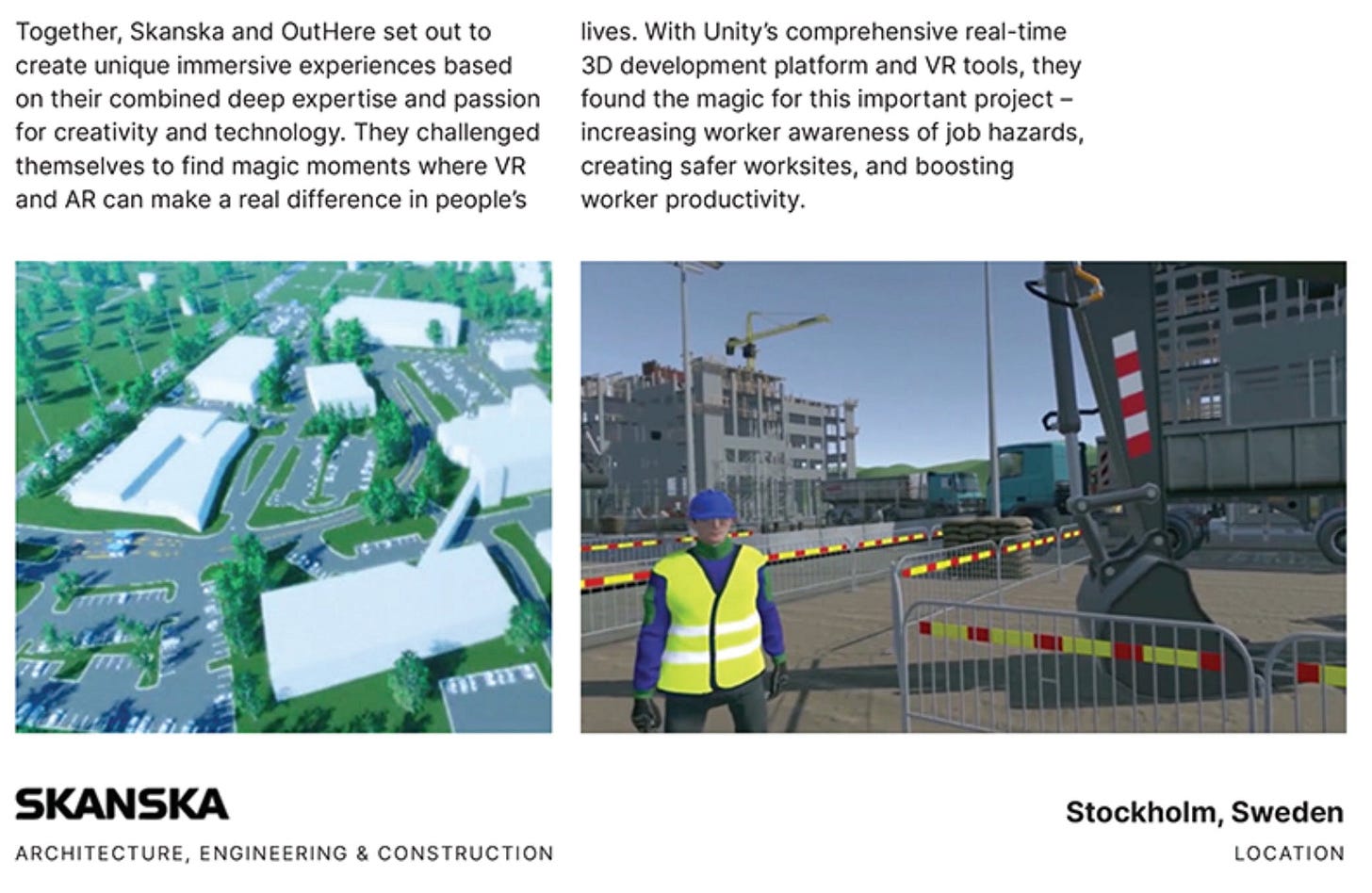 Unity's S-1 Filing
Filmmakers can use Unity to create new worlds and virtual characters without building expensive sets or needing to outfit actors with motion capture suits. Disney, for example, used Unity to shoot The Lion King.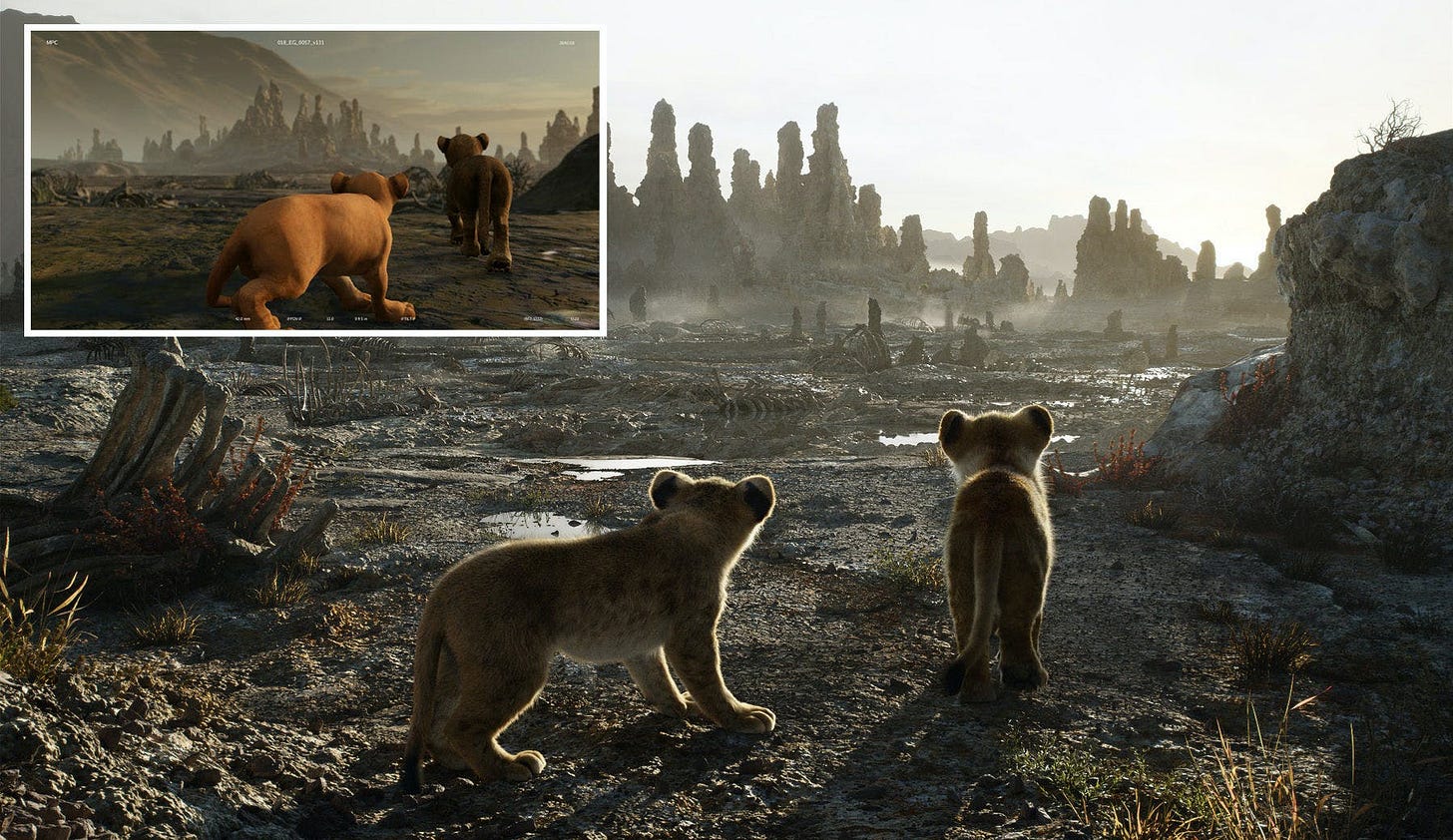 Everything the light touches is Unity's, Disney
Architects and engineers use Unity to design buildings and plan for complex scenarios. The Hong Kong International Airport team built a "digital twin" that allowed them to plan for a wide range of scenarios, including the impact of a delayed flight on a terminal's traffic flow.
SHoP Architects used Unity for everything from acoustic simulation to status tracking to on-site construction documentation in the design and construction of 9 DeKalb, which will be the tallest structure in Brooklyn when it's completed.
Unity is leveraging the competencies developed for gaming into a broad and increasing array of use-cases. That capability allows customers to anticipate challenges and opportunities in bits before moving a single atom.
Operate: Helping developers manage and monetize
Building a game is half the battle. Operate helps developers manage what comes next.
Unity Ads help games monetize by plugging into an ad network. Developers can either show ads in their game or acquire new players by advertising in others.

Unity In-App Purchases (IAP) make it easy to sell items or upgrades within a game. If you're playing Angry Birds 2 and want to buy more lives, IAP powers that. BBC called that particular instantiation "relentless and wearying."

DeltaDNA provides analytics on player behavior so developers can improve engagement.

Multiplay, as the name suggests, facilitates multiplayer hosting in games.

Vivox enables text or voice chat in games. When a teenager yells at you over your headset, you can thank Unity's Operate Solutions.
Taken together, Operate allows game developers to create not just games, but businesses. While Epic serves high-end game developers who have teams of people working on making a game financially successful, Unity focuses on the long-tail of hobbyist web and mobile developers, necessitating a business-in-a-box offering.
Business Model
Unity's days of struggling for a viable revenue model are long gone. Both Create and Operate contribute to the bottom-line, with the former providing recurring revenue. The latter gives the company a way to profit from the "winners" built on the platform.
Create: Subscriptions
As mentioned, Unity's Create Solutions enable customers to develop interactive, real-time 2D and 3D games and applications. Revenue is generated primarily through an upfront subscription cost, typically purchased on 1-3 year terms. This results in an attractive working capital dynamic for the business.
As it's grown, Unity has expanded its offerings. Today, the company sells four-tiers of access: Personal, Plus, Pro, and Enterprise.
The Personal plan is free, as are Student plans. The company recognizes the importance of a bottoms-up sales motion and the power of product evangelists. Subsequent tiers are priced at $399, $1,800, and $2,400 per year, per seat.
Operate: Usage and revenue share
Operate enables customers to grow, engage, and monetize their user base. Unity profits on a usage-basis and by revenue share.
Beyond aligning the company's incentives with customers, there are other benefits to this approach. Gaming is a rapidly growing industry likely to mint megalithic franchises in the years to come. Through Operate, Unity is poised to have an index-like exposure to the market, growing with the "winners" that leverage its platform.
It's also worth noting that Operate positively impacts its LTV: CAC — many Operate customers were previously acquired through Create. For the six months ending June 30, 2020, 64% of Operate revenue (from customers with over $100K in annual revenue) started as Create users.
Management team
The story of Unity is one of constant evolution. From studio to software, product to platform, young founders to seasoned executives. The last few years have seen a changing of the guard as the company prepared for its public debut.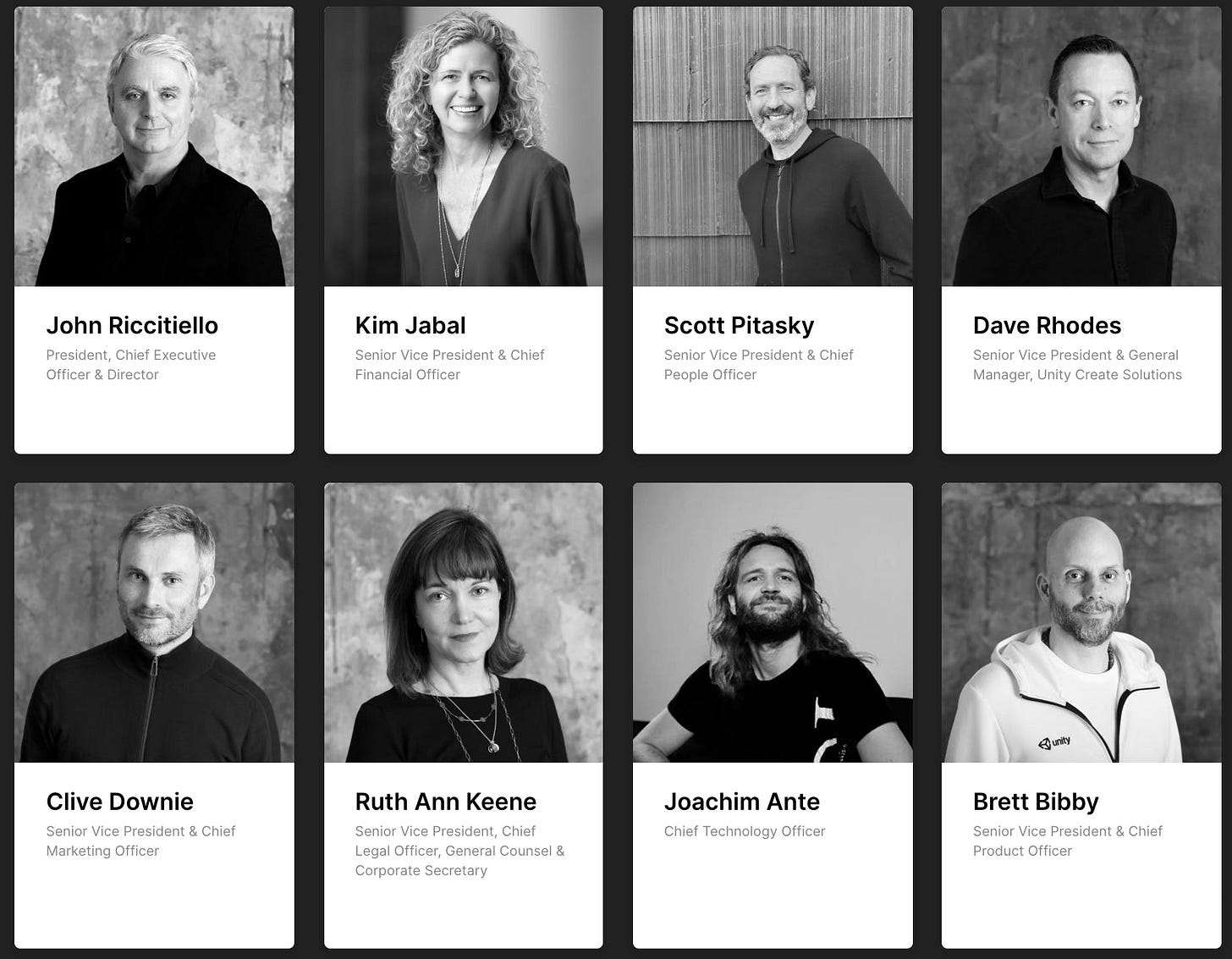 A selection of senior management, Unity Technologies
At first glance, Unity appears to have assembled a diverse Dream Team of executives with experience that perfectly maps to the business.
John Riccitiello, CEO. Previously CEO of Electronic Arts, the second-largest gaming company in the US and Europe.

Clive Downie, CMO. Ex-Zynga, another influential game developer and marketer.

Kimberly Jabal, CFO. Held that role at Weebly, an intuitive, non-technical website builder for creators.

Ruth Ann Keene, GC. Formerly of Autodesk, a leading 3D design product.

Ingrid Lestiyo, GM. Previously the CEO of the Rubicon Project, an early pioneer in the ad-tech world.
Senior management has its bases covered in development, marketing, serving creators, 3D software, and ad-tech — all key to Unity's business.
As alluded to, the majority of these executives were brought onboard in the last six years. Some have only been in position for a year or two. While this isn't a cause for concern necessarily (CFOs are often hired into a late-stage private company a year before an IPO), it's essential to understand why such transitions occur when they do. It's also worth understanding how varying incentives are structured.
On the first point, this transformation maps to Unity's: the business became far more complicated than just a gaming development engine, becoming one part subscription software, one part monetization software, and one part advertising engine. As noted, the new leadership team reflects the critical pillars of the revised business.
On the second point, CEO John Riccitiello appears to have the most at stake, though the filing is light on details. Compensation in 2019 was above $8M, with stock option awards comprising 93% of his earnings. Crucially, Riccitiello's stock is "based upon the achievement of performance metrics established by [Unity's] board of directors and subject to the terms of any bonus plans." While we can't see his exact employment agreement, we can get a sense of his performance during his tenure relative to how he's allocating his personal capital to buy more ownership of the company.
From the filing:
Under the terms of his offer letter, we granted Mr. Riccitiello an option to purchase 8,500,000 shares of common stock with an exercise price of $1.425 per share, which option was fully vested as of December 31, 2018. In March 2017, we granted Mr. Riccitiello an option to purchase 4,000,000 shares of common stock with an exercise price of $4.03, of which 2.5% vested in March 2018, and 32.5% vest annually thereafter. In April 2019, we granted Mr. Riccitiello an option to purchase 1,210,000 shares of common stock with an exercise price of $11.28, vesting in equal portions over four years. In June 2020, we granted Mr. Riccittiello an option to purchase 875,000 shares of our common stock at an exercise price of $19.62 per share, which was the fair market value of our common stock on the date of grant. 20% of the shares subject to the option vest on the second anniversary of the vesting commencement date, 20% vest on the third anniversary, 30% vest on the fourth anniversary, and 30% on the fifth anniversary. In addition, in June 2020, we granted Mr. Riccittiello 437,500 restricted stock units. 20% of the restricted stock units vest on the second anniversary of the vesting commencement date, 20% vest on the third anniversary, 30% vest on the fourth anniversary, and 30% on the fifth anniversary.
Suffice to say, if Unity performs well in the markets, Riccittiello stands to see his compensation multiply. Watching his direct actions will be an important leading indicator as Unity enters the public domain.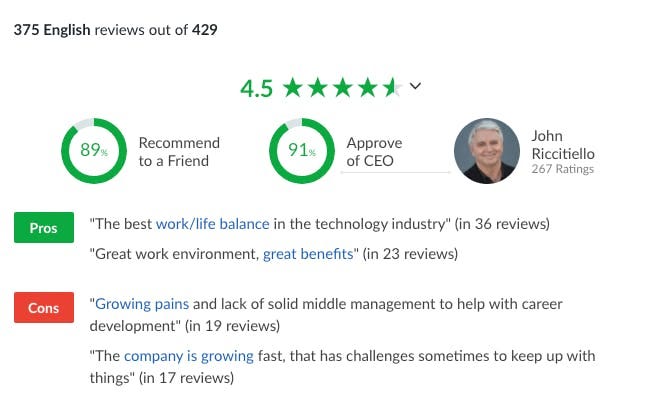 Glassdoor
We mentioned earlier that Unity's management looked like a Dream Team at first glance. There's reason for concern. While 450 reviews on Glassdoor give Riccittiello an average approval rating of 91%, there is a dark asterisk to that figure. Last year, Riccittiello was sued for sexual harassment by former VP of Global Talent Acquisition, Anne Evans. He is said to have aggressively propositioned Evans and permitted a culture of sexual hostility towards female colleagues. Under "Risk Factors," Unity notes, "We are and may in the future become subject to legal proceedings...made by our current or former employees."
Riccittiello and the company deny any wrongdoing.
Facebook's foiled acquisition
In 2014, Facebook dropped $2B to acquire virtual reality platform Oculus. In contrast to the company's other splashy acquisitions (Instagram for $1B and WhatsApp for $19B), the strategic rationale for snapping up Oculus was less clear.
In February of 2019, an internal email surfaced from the year following the Oculus purchase. Addressed to then-Oculus CEO Brendan Iribe, Sheryl Sandberg, and a half-dozen other Facebook leaders, Zuckerberg lays out his argument for prioritizing AR/VR and proposes another acquisition. Under the codename "One," Zuckerberg suggests buying Unity.
Our vision is that VR/AR will be the next major computing platform after mobile in about 10 years. It can be even more ubiquitous than mobile - especially once we reach AR — since you can always have it on. It's more natural than mobile since it uses our normal human visual and gestural systems. It can be even more economical, because once you have a good VR/AR system, you no longer need to buy phones or TVs or many other physical objects — they can just become apps in a digital store.
With that view of the future in mind, Zuckerberg notes Facebook's challenge in dominating the space given Google and Apple's over the major mobile platforms. Zuckerberg outlines how Facebook can "own the protocol" by building VR/AR's primary platform and the industry's key apps with a sense of urgency.
If we only build key apps but not the platform, we will remain in our current position. If we only build the platform but not the key apps, we may be in a worse position.
Unity — or the "One" deal — is seen as critical, serving as the integration point for this new ecosystem's software and hardware components. By owning Unity, Zuckerberg argues, Facebook is well-positioned to ensure that its VR/AR services — an "avatar marketplace" is mooted — will be "superior and easier to use." The added benefit is the pressure such a maneuver would place on "other engines like Unreal." To maintain parity, they would become more amenable to prioritizing features favorable to Facebook.
There's little detail available on how far down the path Facebook and Unity went. But reading Zuckerberg's email, it's evident how important he considered Unity to the company's plan.
Given the overall opportunity of strengthening our position in the next major wave of computing, I think it's a clear call to do everything we can to increase our chances. A few billion dollars is expensive, but we can afford it. We've built our business so we can build even greater things for the world, and this is one of the greatest things I can imagine us building for the future…
Has Facebook missed its window?
Salesforce set a standard in participating in high-flying IPOs, tripling their money in Zoom before exiting recently. Perhaps Unity's debut will see Zuckerberg seek to do something similar.
Investors
A familiar name is first up on Unity's cap-table: Sequoia Capital.
As we mentioned in "Company History," the fund first invested in 2009 and has participated in every round since. Not only has Sequoia protected its ownership, they've succeeded in growing it, more than doubling it over time.
What began as a ~10% stake has grown to 24.1%. Along the way, Unity's share price has steadily increased from $0.33 to $22.00 per share. Interestingly, the largest jump occurred between Unity's Series D-1 in 2018 and its most recent round, with an increase of over $10.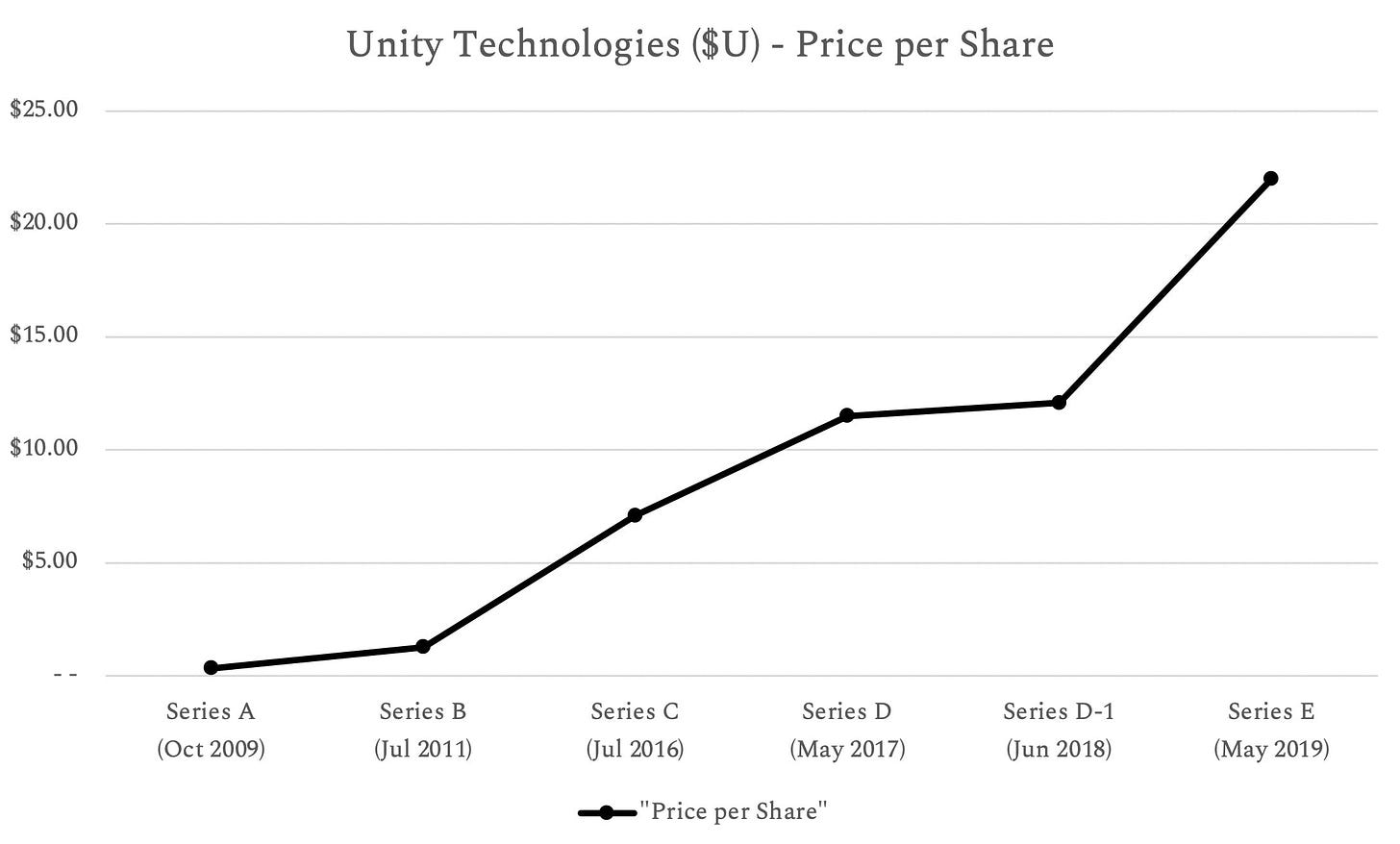 Crunchbase, Unity's S-1 Filing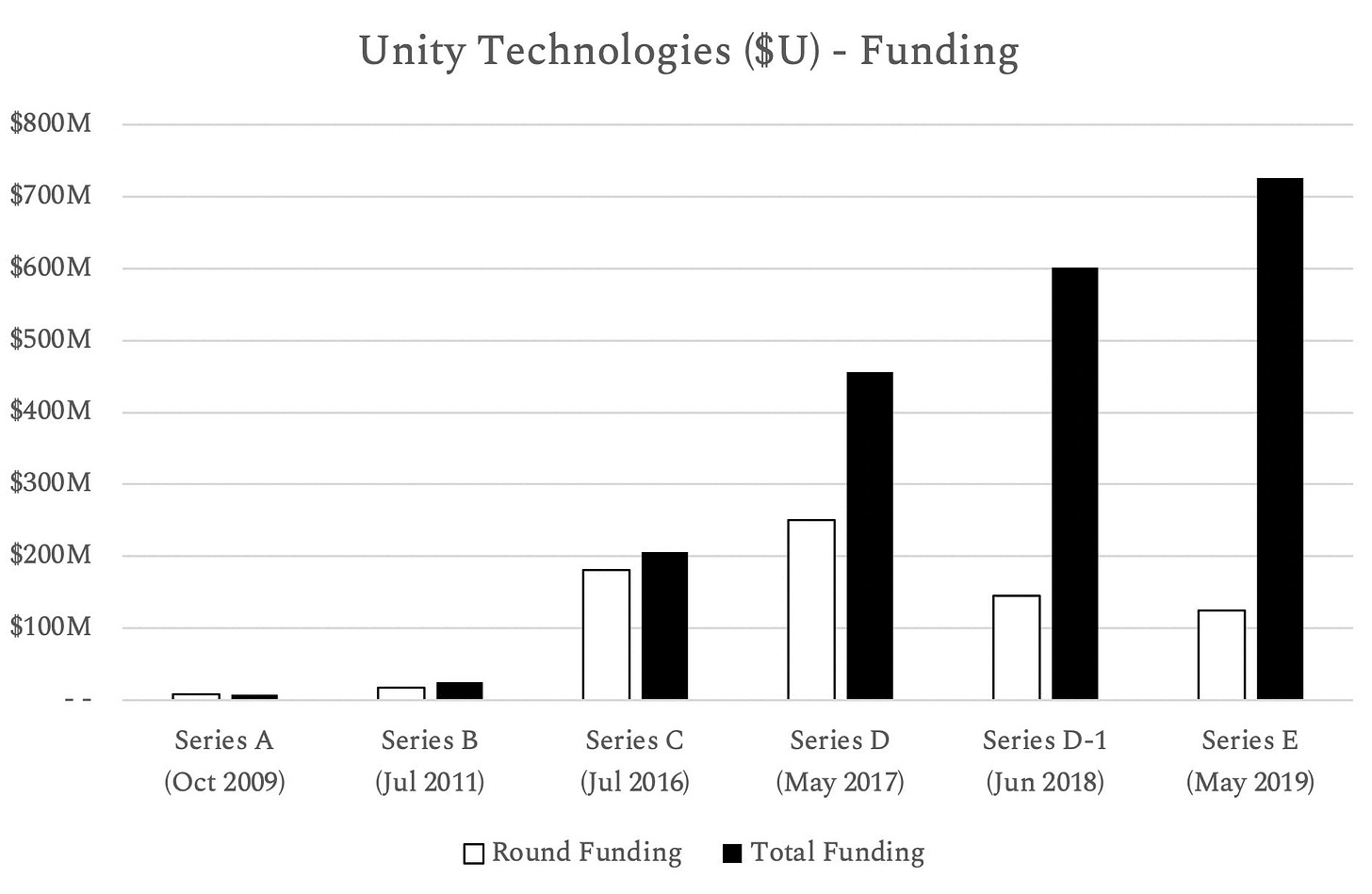 Crunchbase, Unity's S-1 Filing
The second-largest institutional investor is another recognizable name: Silver Lake. The firm led Unity's Series D, resulting in an 18.2% share at IPO. Incidentally, the lead partner on the deal is Egon Durban, co-CEO of Silver Lake. He's been climbing the ranks at the tech investment behemoth since 1999, earning serious respect for leading an investment in Skype. Silver Lake purchased Skype from eBay in 2009 for $1.9B and sold it 18 months later to Microsoft for $8.5B in an all-cash deal. Durban sits on Unity's board (among many other companies, including Twitter, Dell, Motorola, and VMWare).

Unity's S-1 Filing
Several notable Silicon Valley executives invested in the Series A, as well. That includes Diane Greene (founder & former CEO of VMWare), David Gardner (former CEO of Atari and Electronic Arts senior executive), and Paul Heydon (a prolific angel investor). Max Levchin, co-founder of PayPal, invested in the Series C and gained a board seat at that time.
Financial highlights
Unity's financials are an investment banking analyst's dream. So many up and to the right charts, so little time. While we could nerd out on these numbers with you until the lockup expires, we'll spare you some time and hone in on three critical considerations because let's be honest, we all have a Flipboard's worth of other S-1s to sift through this week.
An Epic Dollar-Based Net Expansion Rate
Before oohing and aahing at Unity's unicorn-worthy metrics, it's worth exploring what a Dollar-Based Net Expansion Rate (DBNER) tells us. For those of you who didn't sell your soul to an investment bank out of undergrad, DBNER is all revenue generated over the current period from a defined set of customers divided by all revenue generated in the prior period from that same set of customers. If you have a customer spend $100 with you one year and spend $110 the next, their DBNER is 110%.
Accordingly, this number reflects all customer renewals, expansion in spend, contraction in spend, and churn. Unity's DBNER rate tells us that the company is successfully landing customers and expanding their spend over time. As a result, Unity can expect to earn more revenue from the same base of customers each year.
Take 2018, for example. The revenue from customers that Unity acquired in 2018 increased from $21.4M as of December 31, 2018, to $57.0M a year later. That represented an overall expansion of 266%.
A flywheel at its finest — but how does that compare to other publicly traded players?
The average expansion for public SaaS companies is around 117%. With Unity's DBNER increasing from 122% to 142% over the past several quarters, they sit comfortably above several public software peers.

Unity's S-1 Filing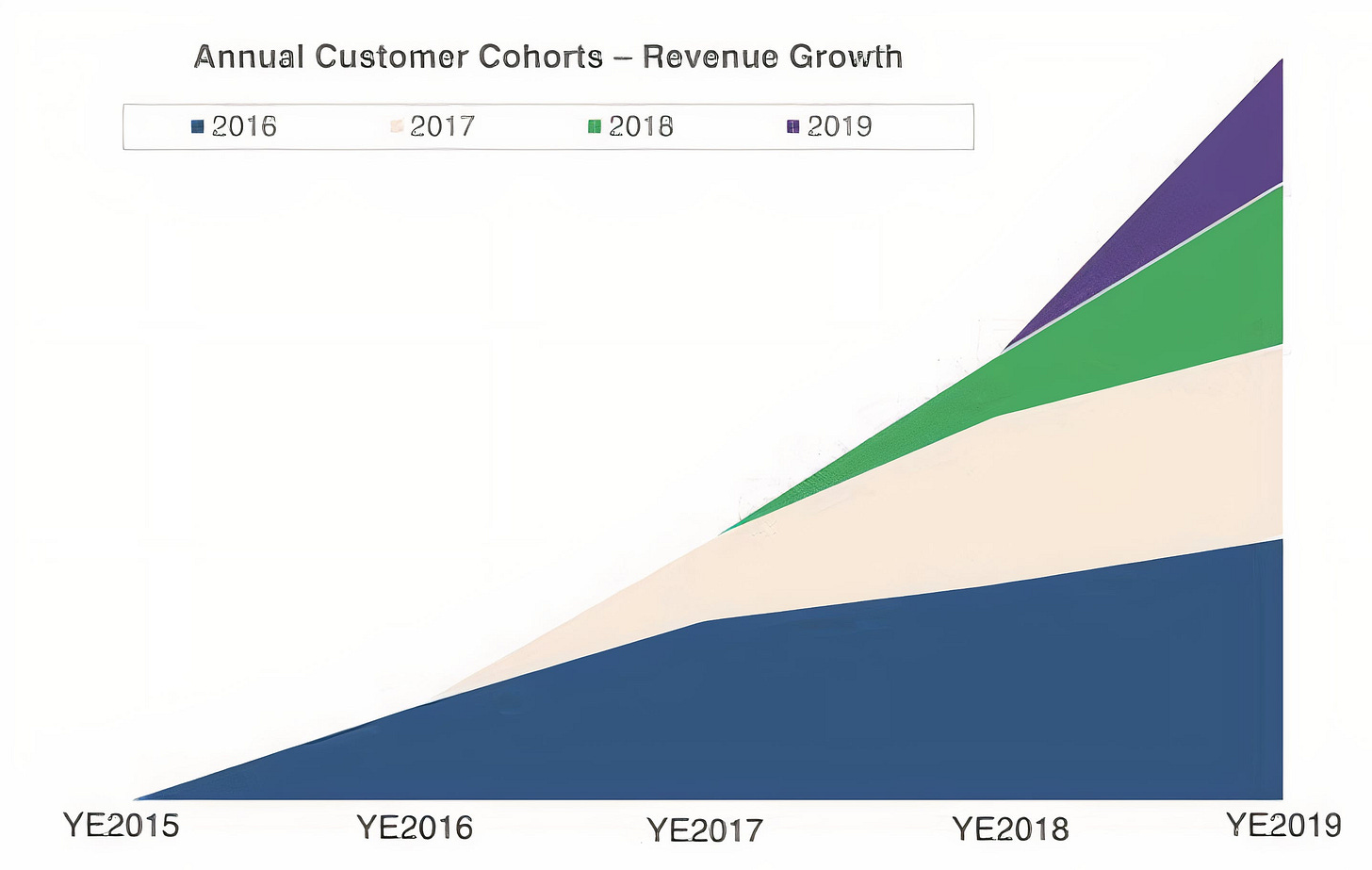 Unity's S-1 Filing
The big keep getting bigger
Unity's revenue contribution from enterprise customers (those generating >$100K in annual revenue) has grown. This is true in terms of their number and the percentage they contribute to Unity's overall revenue. Why do we care? Because public market investors are generally more trusting of enterprise customers vs. SMBs. These customers are less likely to churn due to price sensitivity, bankruptcy, or other cyclical considerations. Furthermore, enterprise customers have much fatter wallets, underscoring the opportunity to continue expanding average contract value (ACV) within individual accounts instead of relying exclusively on customer acquisition success to fuel growth. Today, with 74% of Unity's revenue coming from customers paying >$100K in revenue, Unity can position itself as an enterprise solution.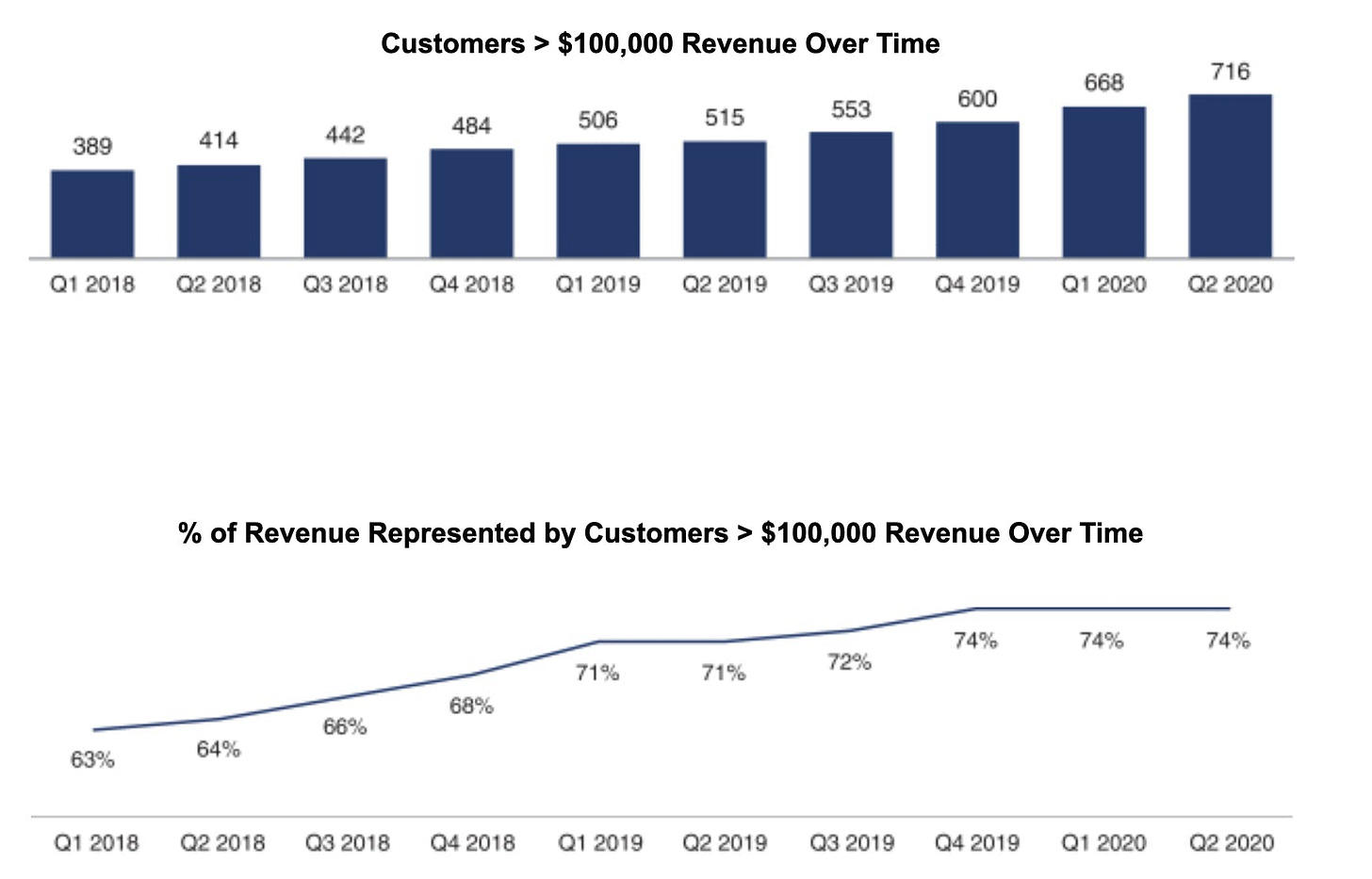 Unity's S-1 Filing
Real deal revenue
Finally, it's worth giving Unity a few claps for its revenue growth and scale. Unity's revenue grew an impressive 42% in 2019 and has maintained similar momentum in the first half of this year. The company maintained this high growth rate despite already sitting at >$500M in annual revenue. What's even more exciting about Unity's momentum is that the greatest growth and scale are coming from Operate Solutions (59% growth in 2019), highlighting its ability to land and expand, outlined above. This gives us confidence in the company's ability to continue firing on all cylinders Apex-Legends-style over time.
If we want to pick at anything, Unity doesn't quite tick the "Rule of 40" box — a popular SaaS benchmark that suggests a company's combined growth rate and profitability rate should surpass 40 — thanks to its lack of profitability. Like many of today's highest-flying tech companies, Unity appears destined for perpetual R&D mode. That will likely weigh on cash flow for years to come. But this shouldn't get in the way of an otherwise growing and healthy company.
Competition
Unity faces a complex competitive dynamic. Not only do they face a major competing product, Unreal Engine, but they face a competing model, since Unreal's parent company, Epic Games, also produces games alongside its gaming engine. The decision to sell a product and compete with the buyer is a fraught one—it means that Epic's customers always have to ask if (and why) they're subsidizing competition. But it also means that Epic can afford to make experimental games, knowing that even if the experiment doesn't turn out to be profitable, it will suggest new use cases for the underlying engine.
Unreal and Unity have different pricing models: Unreal offers a revenue share model, so they get a piece of each successful game's upside, but don't earn much when a game is a flop. As discussed in "Business Model," Unity charges a flat fee but has an indirect revenue share via Operate. Unreal and Unity are both designed to take advantage of gaming's core economics: they're a hit-driven business, and games that push technical frontiers are more likely to be hits. But they make two different bets on the nature of gaming hits. Unreal's bet is that the biggest hits will be AAA titles with splashy upfront marketing campaigns. Unity's bet is that there's a long tail of potential games, with the newest and most interesting concepts skewing towards mobile.
Both Unity and Unreal run a separate risk: the risk that they're building for the wrong platform, and that games as a meta platform will be the winning model. The best example of this today is Roblox, a game that lets players create games-within-a-game. Roblox isn't directly competing with either Unreal's highly polished titles or Unity's long tail of smaller games; its games are generally lightweight, and the target audience is younger. But it illustrates the unstable nature of software supply chains: gaming engines succeed because game distribution has grown, and publishing is more commoditized; by being the next layer of the supply chain after a commodity, they end up with monopolistic economics and a growth tailwind. But their growth comes from the fact that someone else has built the platform on which their customers publish games, so they face platform risk without controlling the platform itself.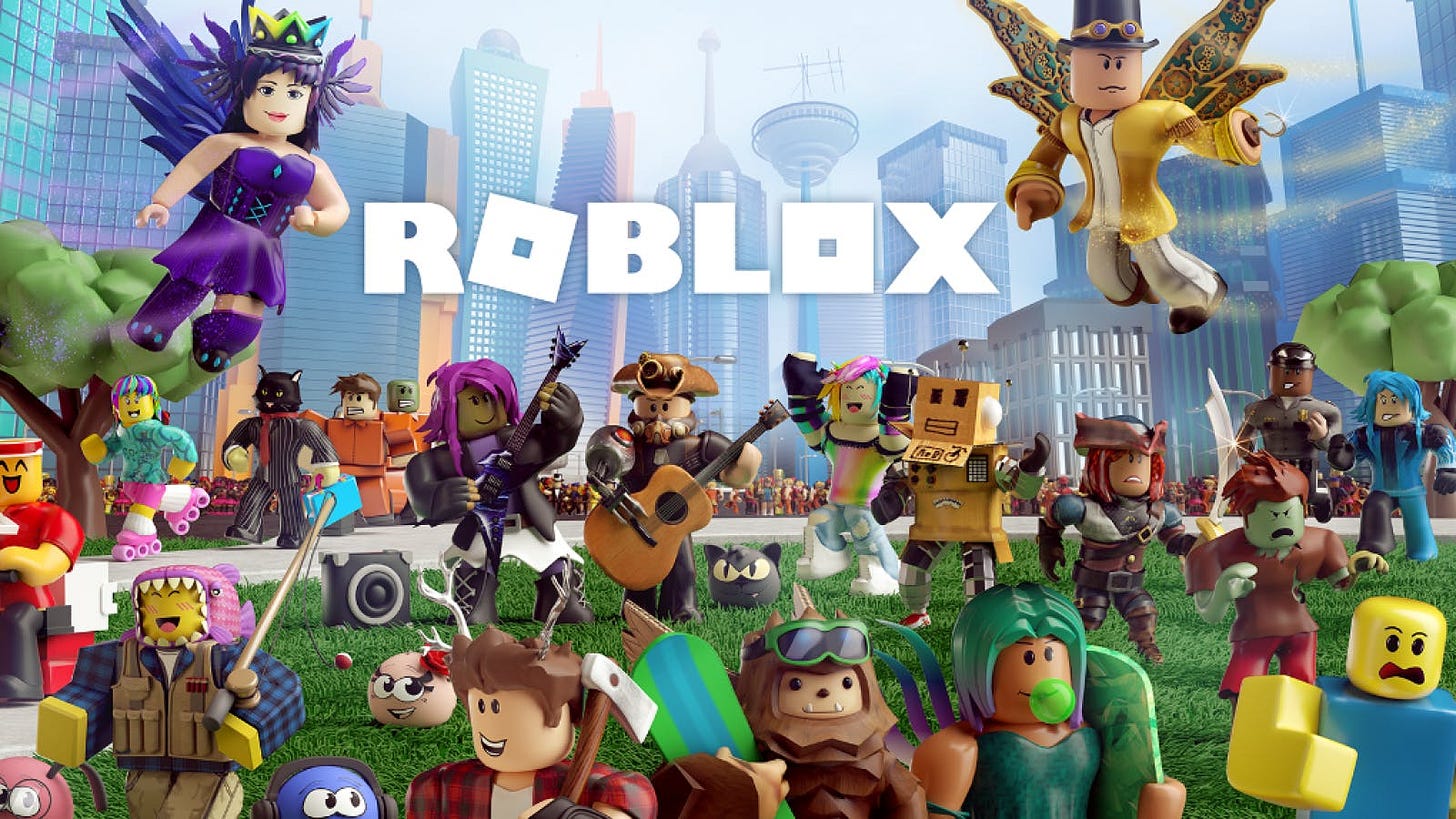 The kid-friendly world of Roblox, Newsweek
If Roblox's rise indicates that games need less emphasis on amazing graphics and more emphasis on interesting gameplay, that's a tailwind for Unity relative to Unreal. Unity is less full-featured than Unreal, and easier to start using, so it's tailor-made for smaller, lower-cost games. But if that trend runs too far, Unity and Unreal might find themselves fighting for a shrinking piece of the overall games market.
Why now?
Many have quipped that Unity is going public now because Epic is fighting with Apple. Apple's threat to remove Epic's developer account means it can't push updates to the thousands of iOS games built on Unreal. That kind of uncertainty is likely to make new game developers think long and hard about going with Unity instead of Unreal.
But that assessment is too clean and doesn't fit the realities of a standard IPO timeline.
According to Clay Fossum of Embark, companies spend 4-6 weeks preparing to file their S-1, then another 10-14 weeks to finalize the SEC Review process. Much of that is spent just sitting around waiting for the SEC to get back to you.
So if it's not Epic's Apple battle, why is Unity going public now?
We are staying indoors and doing everything online, including playing more games. Time spent playing video games has increased by 45% during COVID. In addition to driving revenue in the short-term — Unity makes money when people spend time and money in their games — the digitization of everything has opened people's eyes to the possibility of a Metaverse. Investors are waking up to gaming companies' potential to be much more than what they are today. Unity can raise money more cheaply today than at any point in time.
It doesn't hurt that the market for tech stocks is on fire. The NASDAQ has dramatically surpassed the S&P 500 this year, currently up 33% YTD. Within tech, gaming is outperforming. Three ETFs that track games — ESPO, HERO, and NERD — are beating both the S&P and NASDAQ. All three have grown ~58%.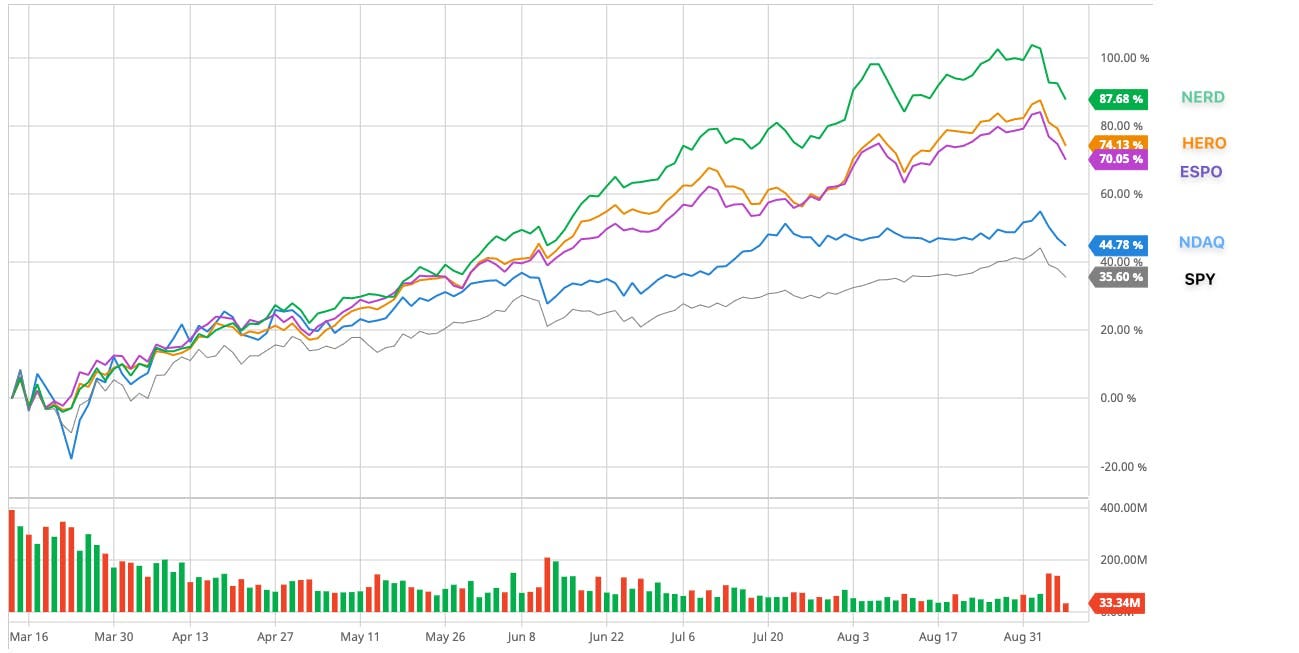 Barchart
As discussed in "Financial Highlights," Unity has grown well. However, that growth has slowed slightly. Revenue rose by 42% between 2018 and 2019, but only by 39% when comparing the six months ending June 30, 2020, with the same period a year prior.
Unity needs the cash to move upmarket and compete with Unreal. Each company is spending to move into the other's territory — Unreal is trying to win some of the higher-volume 2D and mobile games business. At the same time, Unity is attempting to challenge Unreal's dominance in the A to AAA titles category. That development isn't cheap.
Unity's R&D expenses grew from $118M in the six months ending June 30, 2019, to $166 million in the same period this year, a 40% increase, slightly outpacing revenue growth. Unity currently has $453M on its balance sheet — less than three years' burn at 2019's $163 million net loss.
All to say, the conditions are favorable for the company. While we're locked up at home, and the market is friendly to gaming stocks, it's the perfect time to replenish the coffers and prepare for the battle ahead.
---
Discussion panel