Discover more from The Generalist
Learn what matters in tech, AI, and venture capital – for free.
Over 104,000 subscribers
The Six-Billion Dollar Stare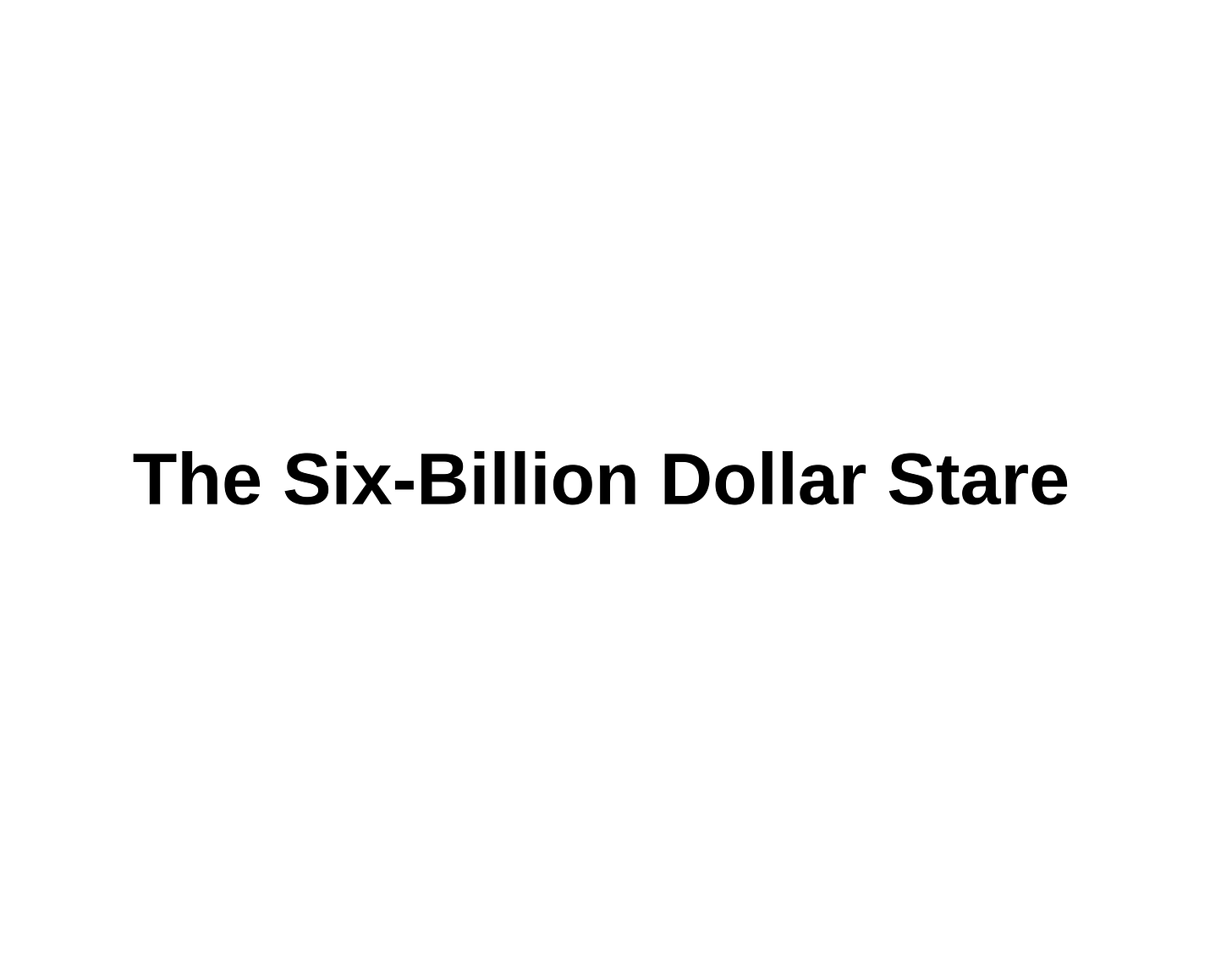 An explanation of why The Generalist's initial piece on compounders was removed from the website, and why it has returned in a revised form.
---
As many of you will remember, on October 18, 2020, The Generalist published "C.R.E.A.M." the first part in a series on "compounders," companies that grow double-digits over an extended period.
It was a piece I'd written with a collaborator. I'd enjoyed the research and writing, and I was proud of it. As with most of my work, the goal was to explain a concept many might have heard about, framing it in a way that contributes to the conversation, making it more memorable. I thought we'd taken a dry topic and made it accessible, fun.
Then I was told I had to take it down.
I woke up the day after publication to a flurry of frantic text messages and four missed calls from my collaborator. Out of respect for his desire for privacy, let's call him Frank.
Proud of our work, Frank had sent our briefing to one of his Columbia Business School professors. Let's call her Ana. She was one of the people that had introduced Frank to the concept of "compounders," along with the class's co-professor. He'd enjoyed the course, continued to research the topic himself and even gone on to contract for the $6 billion hedge fund at which Ana is a partner: Durable Capital.
When I called Frank back, he relayed that Ana had demanded the article be taken down, claiming we had used information proprietary to Durable. Nearly two weeks earlier, on October 8, Frank had told Ana he was planning on writing about compounders, news which Frank says Ana received enthusiastically. But apparently she'd had a change of heart. In between expressing his bafflement at Durable's claim, Frank noted he was in a difficult position: pressured by an influential old boss during a period when he was out of work. He needed a positive reference as he applied to new posts. I agreed to take the article down temporarily.
In advance of a call scheduled for the next day, Frank and I brainstormed constructive solutions. Would Durable like us to reference their work? Add a citation? Would Ana like to be interviewed so she might share her perspective? Maybe I could pull together an open panel with other investors interested in the subject?
On the call with Ana, I outlined these ideas, inviting her to participate in an interview or panel, and offering to cite Durable's thinking on the subject directly.
These offers were rejected. Ana maintained that the piece could not stand. When I asked what precisely she objected to, she struggled to articulate particulars. Later, she claimed that she and her co-professor had created the definition we used in the article that compounders grow "20% or more over ten years." She also argued that the patterns we identified at the bottom of the piece ("good to great," "cluster horses," and "reload for growth") were proprietary.
I did not understand or agree with her position. When I tried to ask follow-up questions, she responded that maybe it was time to get the GC involved.
For the sake of de-escalation, I agreed to take out the entire section outlining compounder patterns and either add a citation to Ana and Durable regarding the compounder definition or reference another source. (There are plenty of others). Whatever they preferred.
We also discussed plans for the rest of the compounders series. Frank and I had planned to write Part 2 digging into common compound patterns, and Part 3 identifying potential future compounders. When Frank suggested that perhaps he should extricate himself from Parts 2 and 3 so as not to further complicate things, Ana went out of her way to say that this was not necessary. She emphasized that she saw no problem with us writing those pieces, providing we didn't use the terminology (or concepts, I still don't know) "good to great," "cluster horses," or "reload to growth." Not a problem — Durable could have its cluster horses.
I left the call believing we had reached an agreement. I made the edits discussed and sent the revision to Ana, adding a changelog so that she could see what we'd altered. I also shared public resources we relied upon to write the piece and others that demonstrated that the topic had been covered elsewhere, including in reports from Morgan Stanley, T.Rowe Price, and Brown Advisory. Moreover, the fund Ana's co-professor works at, Polen Capital, has published brilliant whitepapers and podcasts on the subject. Indeed, less than a week before our conversation, Ana and Durable's founder appeared on a podcast in which they talked openly about compounders...and the "good to great" pattern. (For what it's worth, it's an excellent podcast.)
Ana didn't respond that afternoon. When I followed up the next day, Ana accused the article of being "largely plagiarized," and she demanded the "project" stop unless I wanted the matter escalated to Durable's general counsel or Columbia Business School.
As a brief digression, the invocation of Columbia was particularly strange to me. Isn't the very purpose of higher education to pass on knowledge in the hopes students bring it into their work, into the world? As a very proud two-time Columbia alum, I would hope and imagine the institution would view a professor's heavy-handedness in this way with as much disappointment as I did. I wrote back expressing my disagreement.
Ana followed this up with an insinuation that we had copied two graphs from PowerPoint decks presented to her Columbia class — graphs I had never seen, and which I consider very basic and general. I mentioned this, but it did not make a difference. Her mind was made up.
I was frustrated in the extreme. I knew that we had not done anything wrong, that "compounders" is a well-known business concept, and that we had not plagiarized or improperly taken "proprietary" information. But Ana had twice threatened to take the matter to Durable's General Counsel. Durable is a six billion dollar hedge fund. The Generalist is a start-up newsletter with $0 in revenue. Six-billion dollars can stare you down, no matter how right you are. It can cow you and shame you and make you slink to your bedroom in the middle of the afternoon and cover your head with a pillow and think about crying, which I did.
On Thursday, October 22, I flew to Denver for one of my best friends' wedding. We arrived, bused to the rental car depot, and began the journey towards Estes Park, a town at the base of Rocky Mountain National Park. You might have seen: Colorado's been burning. We drove in the direction of the flames, a strange orange lightness seeping into the sky. I barely noticed it. My mind was elsewhere, spinning through what happened, trying to figure out what, if anything, I could do.
After an hour and a half of driving, we arrived at The Stanley Hotel, a lodging famous as the inspiration for the Overlook Hotel in Stephen King's The Shining. Though not much of a horror fan, I'd gleefully told my friend, the groom-to-be, that the primary reason for my visit was to "get murdered at The Stanley." The place matched my mood.
The sky over the Stanley had taken on a sickly shade of grey, and as we walked towards the main house, specks of ash floated down like flakes of snow. We were in the lobby for no more than ten minutes, wondering whether we would see our room before we got the evacuation order. The fire was moving, drawing closer. It was time to leave.
Rarely does life arrange itself so metaphorically. As we swept down US-36 West, putting the wildfires behind us, I jumped on a call with a writer friend of mine, Brad Wolverton, the Head of Content at the Hustle. Brad told me about his own experiences and how he'd gotten through them. And he said something else too, "This is important." It was a small moment, but over the past few days, it is a message to which I keep coming back. He also referred me to a media lawyer.
Steeled by my conversation with Brad and others, I emailed Ana again this past Wednesday. I stated my intention to post the revised article to The Generalist website on Friday (today) and again expressed my desire to understand their position beyond a generic objection.
Rather than responding directly, Durable's general counsel first pressured Frank to pressure me to rewrite the piece. This is, of course, what we already did a week prior. There was little more clarity this time around. Frank relayed to me that Durable objected to our use of the term "compounders." Would we revise the piece to call them "high-quality growth businesses," in addition to other, unspecified changes?
Early this morning, Durable's general counsel wrote directly to me, requesting I delay reinstating the article, asking me to send her my sources and the of draft the revised article (which I had already sent to Durable a week earlier), and accusing Frank of using "proprietary" materials developed as part of his work at Durable. I declined to delay posting the article (it is now up), I declined to re-send materials I had previously sent, and I do not believe that Frank used any protected "proprietary material." Frank attended a class on this very subject and developed resources for it – there is no valid reason why he should not be allowed to write about what he learned and researched in a graduate school class he paid for.
I asked Ana and Durable for a comment for this article, to present their side of the story. They did not respond.
In the not-too-distant future, I intend to write Parts 2 and 3 of the series. In the meantime, I have begun curating public resources on compounders below.
I am not out of the woods. The asymmetries remain. If they want to, if they consider it in their interest, Durable could sue me. They could crush The Generalist and me. They can bleed me of time and energy and money, without merit.
My mother has asked me not to write this piece. When I talk to her about what is happening, I can tell that she is scared, and her voice clogs with emotion, on the edge of tears.
But then I think about some words I heard, outrunning a wildfire, about standing up to bullies: This is important.
---
Below, you'll find some interesting resources on compounders. If you have any favorites feel free to respond to this email or
DM me on Twitter
.
Seeking Durability, Polen Capital
Standing the Test of Time, Polen Capital
The Equity "Compounders", Morgan Stanley
Podcast: Value Investing with Legends, Polen Capital
Seeking Capital Appreciation Through Business Value Compounders, Artisan Partners
Daniel Lobe Adds Opportunistically to 3 Compounders, GuruFocus
Podcast: The Multi-Faceted Future of Value Investing with Henry Ellenbogen and Anouk Dey
Launching Quality Compounders, Seeking Alpha