25+ tech acquisitions that could happen
​
Welcome to new subscribers. For those just joining the party, The Generalist exists to help the curious to go beyond the headlines, and understand how technology is changing the world. This week you'll learn about the companies Amazon and Apple should buy, where retail will be hardest hit, pandemic preppers, Carnival's revival, Zocdoc's big moves, and Caroline Calloway's newest venture. Thank you for being here.
​
---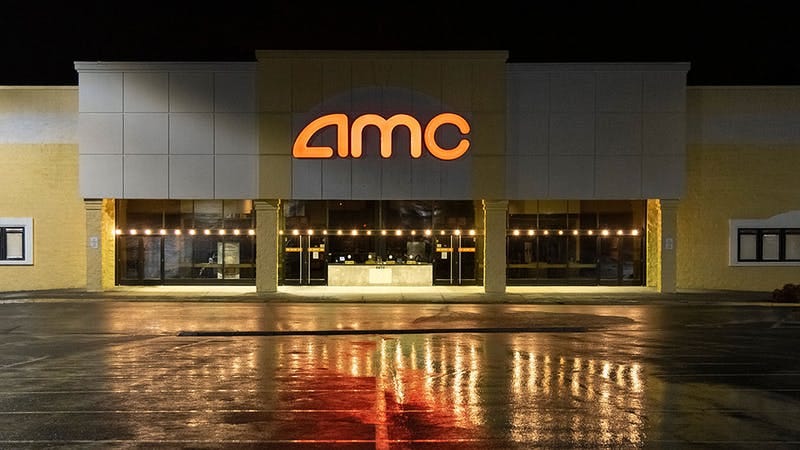 Editor's Letter: Big tech's buying spree begins
In the middle of the Great Depression, Forrest Mars made a decision: he was going to buy a dog food company. For the creator of the Milky Way bar, and the catalyst behind one of America's largest candy-makers, Mars Inc., it wasn't the most natural of acquisitions.
"He was always prepared to consider outlandish ideas," a colleague later noted of Forrest. For many, purchasing Chappel Brothers, a small UK-based purveyor of pet food — itself a category that had only just emerged — was precisely that. But Forrest's mind was made up, and in 1934, he brought "Chappie" into a Mars family boasting Snickers, Mars, and Three Musketeer bars.
It was a stroke of genius. With virtually no competition, Chappie became a best-seller in Europe, dominating the region, and setting the groundwork for Mars's pet-focused empire. Over the years that followed, the company would go on to launch Pedigree and 38 other pet brands, in addition to purchasing a large chain of veterinary clinics. Today, the company synonymous with M&Ms and other sweets earns the majority of its revenue serving animals.
The current recession may present similarly transformative M&A opportunities for tech's titans. While orthodoxy suggests that buying activity declines in a downturn, the rules may not apply for Google, Amazon, and others like them. For one thing, global catastrophe excepted (a large caveat), circumstances are favorable for buyers. Corporate balance sheets are fatter than they've been in decades, and interest rates are low, making it easier to borrow the money to make a deal happen. A study by Gartner indicated that 71 companies have at least $5B on hand, excluding those with high debt. Of those 71 businesses, 57 touch IT and internet services, collectively controlling $1.1T in dry powder.
​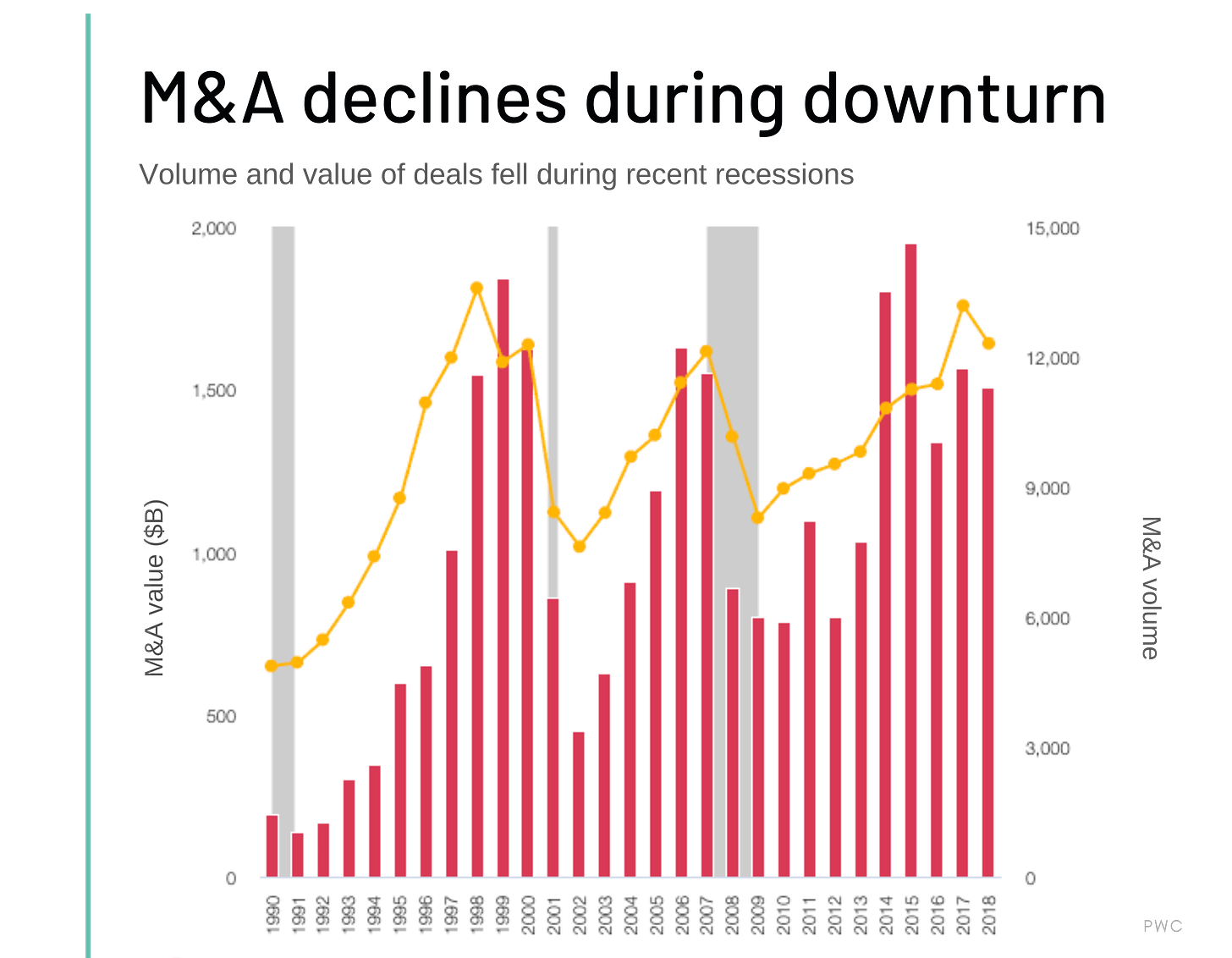 There are also clear benefits to buying during a recession. A study by Bain indicated that acquisitions completed during and immediately after a recession produced nearly 3x in excess returns compared to those bought in boom times. That may be part of the reason that Microsoft, Amazon, and Oracle all completed more acquisitions during the Great Recession than either before or afterward.
All in all, one industry commentator may have put it best: "this is going to be a perfect time to just be a buyer."
​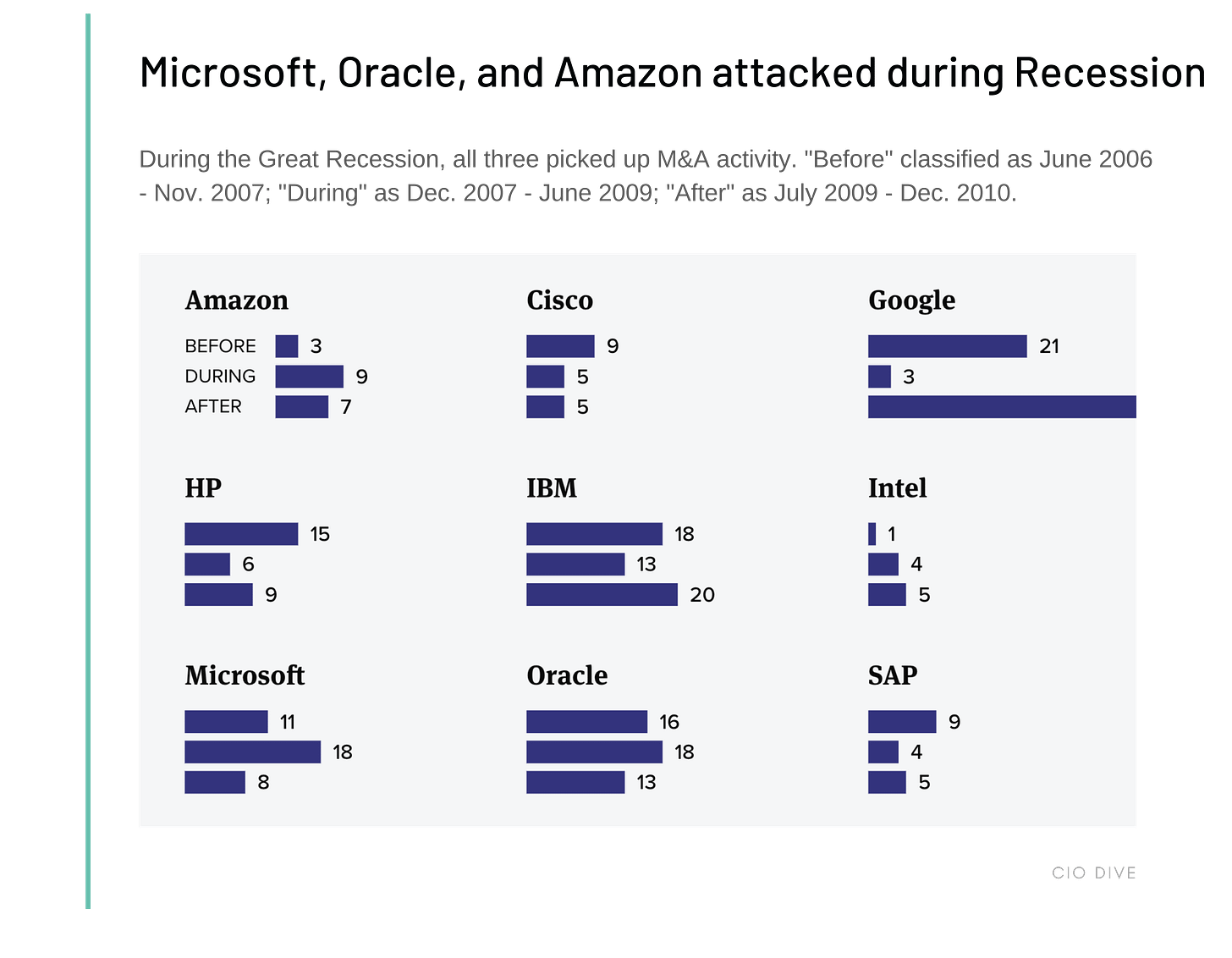 With that in mind, here are some moves that could make sense for some of America's largest tech firms. As a disclaimer, I have no inside knowledge of any companies discussed.
Amazon
While AMC's stock surged 30% after rumors surfaced that Team Bezos had discussed a buyout, there are several more interesting places Amazon could invest, particularly in healthcare, staffing, and education.
Apple
While Uber and Amazon dominated headlines this week, the accountants at Cupertino have been plenty busy: DarkSky, Voysis, and NextVR have all joined in recent months. With iPhone sales projected to drop 36% next quarter, Apple may look to expand services revenue and add hardware products that relate to health — consumers' highest priority — or enhance the home.
Facebook
With Giphy tucked in safely at 1 Hacker Way, and investment in Jio wrapped up, Facebook has already been busy. While Zuckerberg is unlikely to bring Zoom into the fold, he may still have targets in mind. He could do worse than turning his attention to creator tools and gaming.
​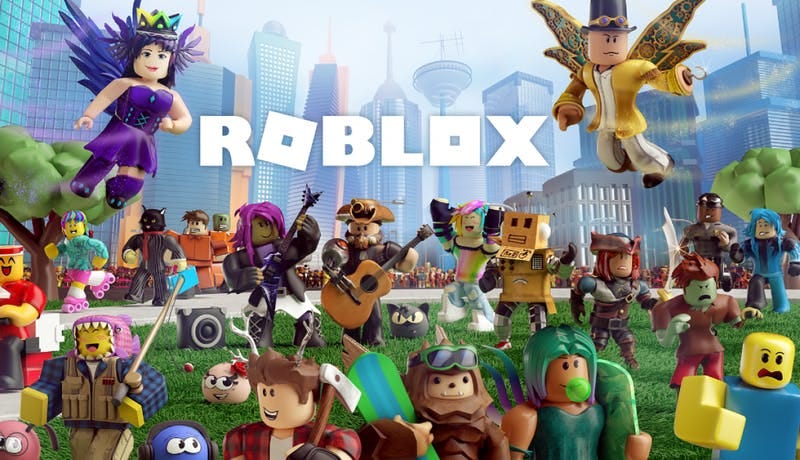 Other possibilities
With a single acquisition, right in the heart of a depression, Forrest Mars set his family's business on an entirely different trajectory. There was no reason to believe the company known for the Mars-O-Bar, would come to be dominated by dog food a century later. In the years to come, we may return to this period and find similar tales of metamorphosis. For Big Tech, there may be few better opportunities for reinvention and expansion.
In other news...
​The S-1 Club launched this week. This new community will break down a business prepping for its public bow, once a month. Beyond The Generalist's analysis, you'll have the opportunity to share your thoughts on the company in question and hear from the rest of the community. The first edition, developed with Onejob, covered Pexip, a Zoom competitor. The company popped 54% in its first day of trading. You can read more about why that might have been the case, below.
​
Brief
Mary Oliver, on listening to your soul's yearning

Facebook content moderators get a payday

The death of Neiman Marcus

Keeping up with the Kardashians: Apocalypse Special!

Winner of the 2020 Darwin Awards? Anyone who booked a Carnival ticket

The Caroline Calloway of Ancient Greece

Working at Felicis, Coinbase, NFX, and others

"Not" a "ton" wrong with this week's riddle winners
​
Overheard
​
"The most regretful people on earth are those who felt the call to creative work, who felt their own creative power restive and uprising, and gave to it neither power nor time." - Mary Oliver
​
Good news
Japan, a garden of zen
In his seminal novel, Kokoro, Natsume Sōseki's protagonist describes the stress of his education, "From then on, my thesis hung over me like a curse, and with bloodshot eyes, I worked like a madman." For many of Japan's students and workers, coronavirus has served as a balm, offering a reprieve from the crushing demands of the office and classroom. The result is a 20% decline in suicides compared to a year ago.
Some justice
In a decade, we may look back on the conditions faced by content moderators as akin to those meatpackers were subjected to in the early 1900s. Vile, deleterious to health and well-being, dangerous. Facebook agreed to pay $52MM to thousands of workers this week in a landmark settlement. The money is meant as recompense for those that have suffered the psychological damage of watching execution, rape, child abuse, and murder for hours on end. Hopefully more protections will come.
​
1000 words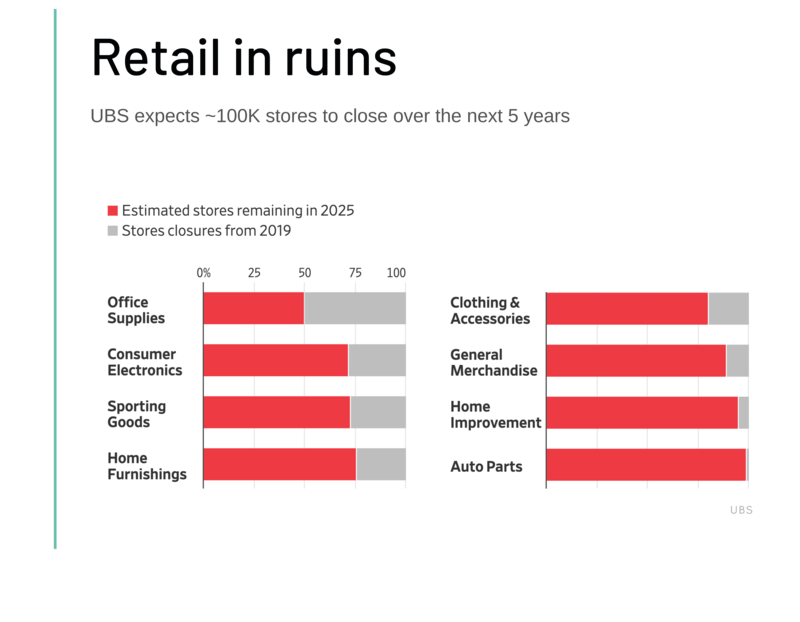 When assessing how to invest their $25K in savings, Carrie Neiman and Herbert Marcus looked at two options. The first was investing in a "sugary soda pop business," the second, building a retail business of their own. They went with the second, forgoing the chance to invest in a fledgling company called "Coca-Cola" in the process. One of the company's subsequent CEOs, Peb Atera, was fond of joking that the department store was "founded on bad business judgment." After filing for bankruptcy this month, the heirs of Neiman and Marcus may find that quip rather less funny.
It may be just the start of retail's collapse, according to recent research from UBS, with many expected to follow Neiman Marcus, JC Penney, and J Crew into bankruptcy. UBS expects +100K stores to close between now and 2025, considerably more than the ~28K that closed as a result of 2008's recession. Stores selling office supplies, consumer electronics, and sporting goods are expected to be particularly hard hit while auto part sellers may see relatively little change. All of this will, of course, benefit e-commerce, with its share of retail sales jumping from 15% to 25%.
Entering insolvency on the same week that, Pepsi, mortal enemy of the company Carrie Neiman and Herbert Marcus rejected, rolled out their own e-commerce properties feels nearly poetic, if not quite tidy enough to bring things full circle. Regardless, with retail facing a bleak future, if offered the same investment choice today, "Neimies" founders might have chosen to "have a Coke, and smile."
​
Signal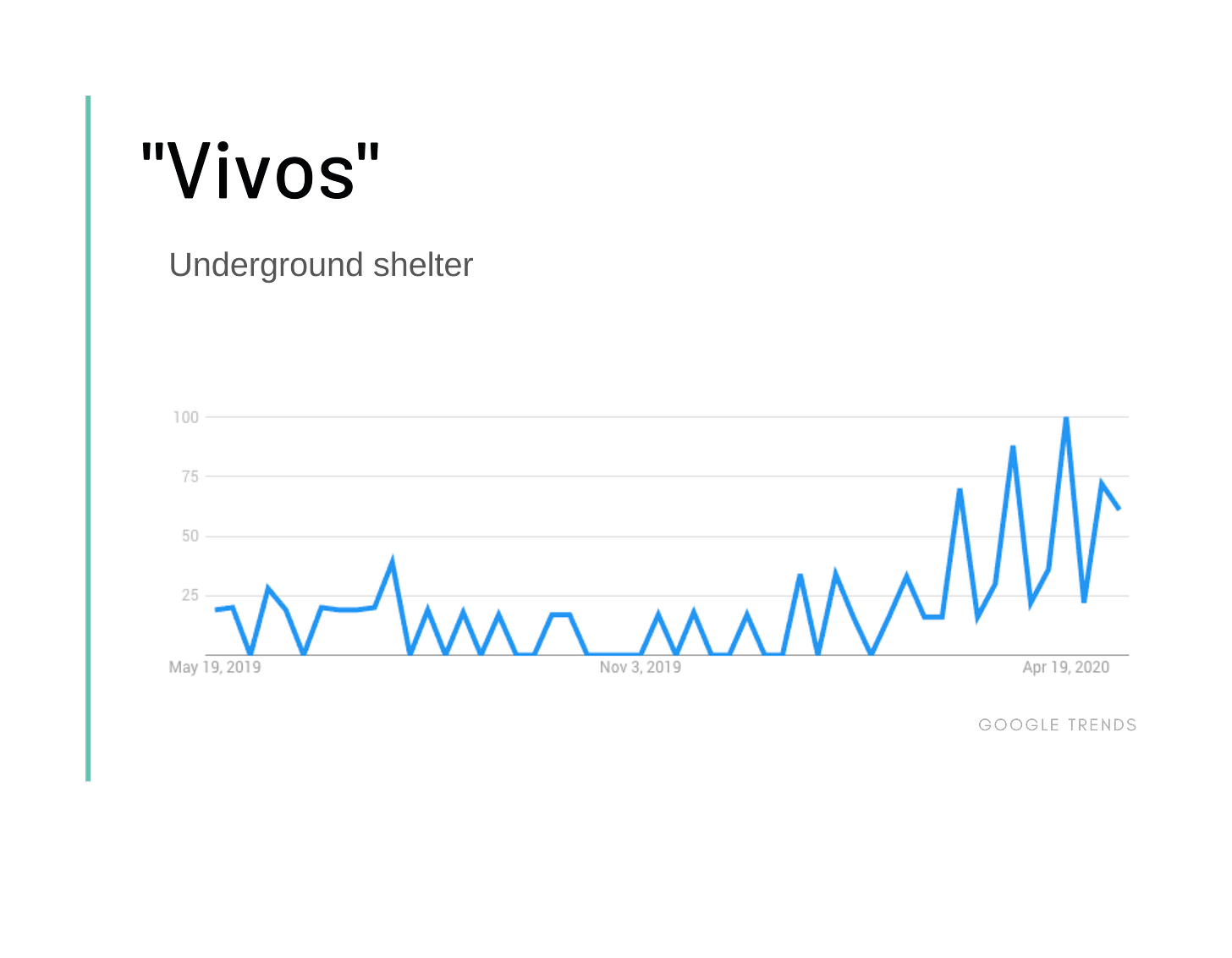 Interest in Vivos, a community for emergency bunkers, has risen since the outbreak of the coronavirus. Founded in 2008 and located in South Dakota, Vivos provides both low and high-end facilities with locations in the "xPoint" facility going for $35K, considerably less than the swankier "Vivos Europe" campus, costing $2MM. Since the pandemic, Vivos' founder notes that the company has done as much as $1MM/day in revenue, considerably more than before coronavirus broke out.
Other doomsday accessories have seen demand swell, including emergency medical kits, two-way radios, and even nunchucks. Companies like Preppi, Doomsday Prep, Judy, and others have benefited. The final of those businesses has sought to capitalize on newfound attention by releasing a Joe-Exotic-inspired safebox and receiving promotion from the Kardashians. It may be only a matter of time until we see Kim trundling a Louis V valise into Vivos' finest.
​
Long tail
Messing with the algorithm
"Automation is in a tailspin," according to one industry observer. Trained on pre-pandemic data, many machine-learning models are struggling to adapt to human behavior during a black swan event. For example, one AI system was trained to make investment predictions based on sentiment analysis of the day's news — the doom-and-gloom of covid has warped results. Even Amazon's listing algorithm has required manual intervention as low-demand items become top sellers, and volume skyrockets. The company has recently shifted policy to promote sellers that don't use Amazon's logistics, a volte-face intended to ease the stress on overburdened warehouses.
Cruisin' for a bruisin'
As Jack Dawson bobbed next to the door that he absolutely could have shared with his beloved Rose in James Cameron's Titanic, he may have consoled himself that of all the cruises he could have taken, at least he hadn't selected Carnival's maiden voyage, post-coronavirus. Remarkably, it looks like he would have struggled to get a ticket. After announcing plans to return to the sea August 1st, Carnival saw bookings rocket 600% compared to the three days prior. That was a lift of 200% YoY. We can only hope that patrons will take advantage of relaxed cancellation policies as departure dates loom larger rather than forming a sun-creamed and spluttering mass awash in international waters.
​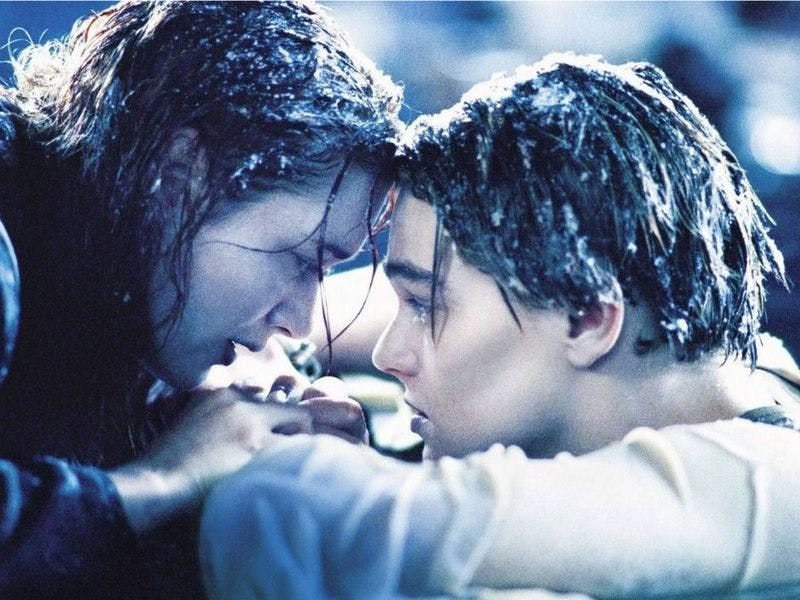 What's up, Doc?
"A fringe phenomenon." That's how Zocdoc CEO Oliver Kharraz categorized telemedicine pre-virus. But with in-person visits evaporating, the booking platform was quick to pivot, partnering with Twilio to create a full-stack video service that patients can use without downloading another piece of software. Impressive innovation from a company that looked asleep at the wheel just a few months ago.
​
Detour
Manic-pixie-nightmare-girl Caroline Calloway caused quite a stir after announcing the creation of an OnlyFans account recently. With a $50/month subscription, the charming/insufferable huckster announced she would net $223K a year, aggravating many sex workers struggling to make ends meet.
​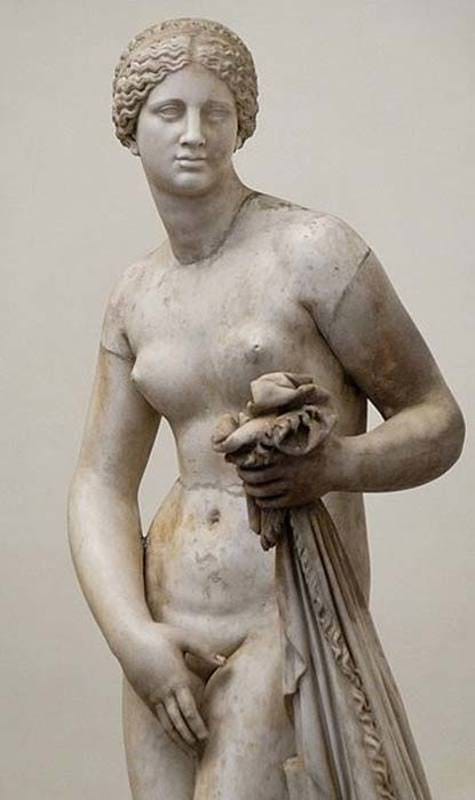 That brings to mind another woman whose nudity brought her both riches and controversy, Phryne of Boeotia. Nicknamed "toad" because of her sallow skin, the courtesan was nevertheless considered to be one of the foremost beauties of the ancient world, serving as the model for the great sculptor Praxiteles, one of her clients. Praxiteles masterpiece, shown above, was bought by the city of Cnidus. It became so popular that by charging to view it, the city was able to pay off the entirety of its municipal debts.
Phryne herself was said to have made quite a pretty penny through her line of work, becoming one of the wealthiest self-made women of her day. Civic-minded, Phryne offered to use some of her capital to rebuild the walls of Thebes, decimated by Alexander the Great. She had only one condition: the restored bulwarks must bear the phrase, "Destroyed by Alexander, restored by Phryne the courtesan." Thebes' conservative elders nixed the idea, and the walls remained in ruins.
​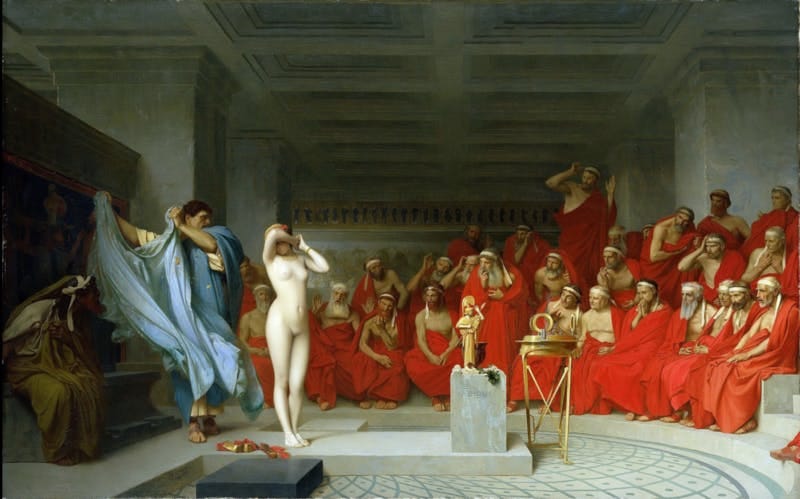 Phyrne's most famous moment came as a result of a criminal trial. Charged with the nebulous crime of "impiety," Phryne was called to the Aeropagus, an ersatz court, to be judged by Athens' patriarchs. When it appeared as if Phryne might be sentenced to death or imprisonment, her advocate Hypereides (another client), is said to have torn off her robe, baring her breasts. Daring the assembled court to blaspheme the work of the gods by condemning such a stunning creation, Hypereides succeeded in winning the case.
​​
Jobs
​
Puzzler
What has a head, no legs, a tail, and is brown in color?
All guesses welcome and clues given to those curious enough to message.
We have a new winner in our midst. Sam P engraved his name into the annals of history by claiming top spot this week, answering swiftly and correctly. He was joined in short order by Violette Z who also had one of my favorite alternative responses to last week's riddle.
Forward I am heavy, backward I am not. What am I?
The right answer? Not and Ton. Like all of the most enjoyable and infuriating puzzlers, the right answer was contained in the question. Credit to Violette Z for her imaginative initial response: iron and nori. Jimmy S had another thoughtful submission, suggesting "magnets" might fit the bill. Eminently plausible and mentally dexterous. Congratulations to them all.
Thank you for reading. If you've been enjoying The Generalist, consider sending today's edition to your most curious friend. Wishing you a sleepy Sunday from cloud-lidded Brooklyn.

​
---
​
In The Generalist community
This newsletter is fortunate to have a readership of impressive individuals, including the folks above. Every so often I'll highlight a few creations from you, our subscribers. If you've launched a product or published something you're proud of, I'd love to hear from you.